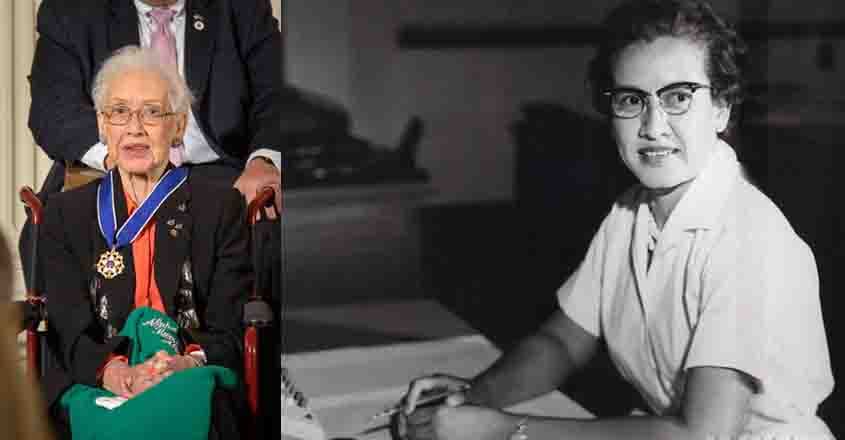 The life of NASA mathematician Katherine Johnson, who broke several glass ceilings, is an inspiration for women. She grew up during a period when colour prejudice was at its height in the USA. African-American girls like her had few job opportunities and could, at the most, dream of being a teacher in a school for black students.

However, Katherine dreamt of the stars. Her persistence led the bright youngster to make significant contributions to man's space flights and human moon missions.
Born at White Sulfur Spring, West Virginia on August 16, 1918, Katherine loved numbers and calculations since childhood. Her mathematical genius was recognized early and she studied maths, French and music at Virginia Public School. Afterwards, she joined the same school as a mathematics teacher.
In 1953, Katherine received a call from Langley Research Center that changed her life forever. She joined the centre as an assistant to Dorothy Vaughan. Within two weeks, Katherine was shifted to Flight Research Division. Unfortunately, in 1956, Katherine's husband James passed away and the responsibility of raising three children fell solely on her.
In 1957, Katherine was given an opportunity to serve NASA's engineering section. Soviet Union had launched Sputnik that year and the Space Race began. Katherine was tasked with helping NASA to tackle the emerging challenges. Her duties included calculating the orbits and determining the time taken by a space vehicle to reach its destination. By being given this responsibility, Katherine broke a big glass ceiling as she was the first coloured woman to be employed in the Engineering division of Flight Research Division.
However, Katherine initially had to suffer much humiliation at division. There were separate areas for blacks and whites and even teacups and washrooms had to be separately used. So, each time she had to carry out basic needs, Katherine used to rush 500 metres to her house.
She made important breakthroughs at work but the credit was given to other people. Katherine loved her job, she took everything in her stride. Moreover, as NASA was in need of Katherine's talents, the white people could never ignore her.
In fact, Katherine played a crucial role in determining the travel path of Allen Shepherd, the first American to reach space in 1961. The following year, computers had taken over many tasks when John Glenn travelled to space.
Though she had a major role in NASA's missions she was reverted to Langley Research Centre in the last phase. However, Glenn insisted that he would not take part in the space mission unless Katherine checked the accuracy of his flight path. Katherine returned to her former workplace in all glory and carried out the necessary calculations.
In 1969, she was involved in the project that led to man's first landing on Moon. "I have prepared the travel path for you. As soon as you reach there, the Moon, too, would have arrived," she told the first Moon travellers.
Katherine retired from NASA in 1986 and in 2015 US President Barack Obama presented her with Presidential Medal of Freedom, the country's highest civilian honour. Her life is explained in a book titled 'Hidden Figures,' based on which a movie was made later.