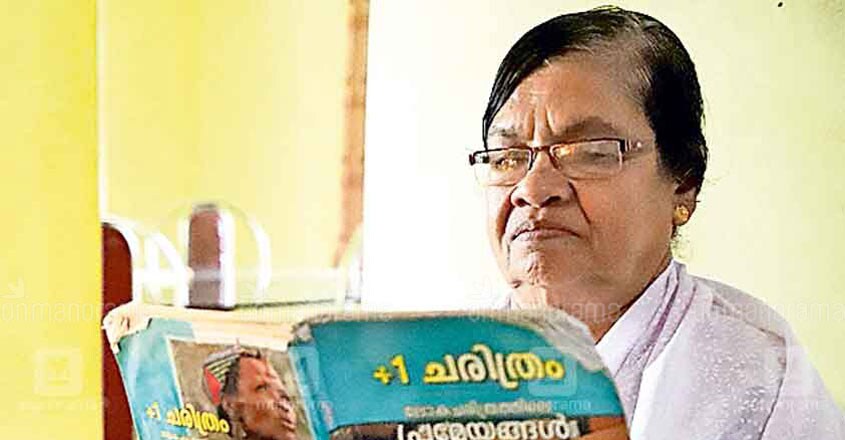 Pinarayi: Parents often try to encourage their children to study better by offering several gifts or incentives. But a 78-year-old woman was promised a pleasure trip by her grown-up children if she cleared the SSLC.
And N Pankajakshi of Parapram at Pinarayi in Kerala's Kannur district took up the challenge and emerged victorious. And her children too kept their word and Pankajakshi went on a picnic to Mysore and Ooty.
She cleared the SSLC equivalency exam conducted by the Saksharatha Mission at the Pinarayi panchayat. She is now a plus-one humanities student.
With just her class 4 education, Pankajakshi had become the chief of the education-health permanent council in the Pinarayi panchayat. During this time, she was invited to a ceremony to awards students who secured A+ in the SSLC exam. This made her reflect at her own educational background and decided to continue with the studies.
First, she cleared the class 7 exam but then she met with the roadblock of class 10. She failed to clear the SSLC exam thrice. In between, she came down with heart ailment. Her son Sajeevan, a teacher, came out in her support. And finally in her fourth attempt, she cleared the exam.
At the age of 77, she learned swimming and obtained a certificate. She also completed a fashion designing course via Kudumbashree. During the Women's Day in 2019, the block panchayat gave her the award for the best social worker in the panchayat.
Pankajakshi has been a member of the Communist Party of India (CPI) since 1973. She is currently a member of the local committee in Pinarayi, president of the Mahila wing in the mandalam, and chief of the Kolode woman cooperative bank.
Pushpa, Usha, Suma, Sathyan and Sajeevan are her children, while her husband Balan had died earlier. Her daughter N Usha is the CPI's Kannur mandalam secretary. She is the first woman to make it to the position of the CPI mandalam secretary in the district.