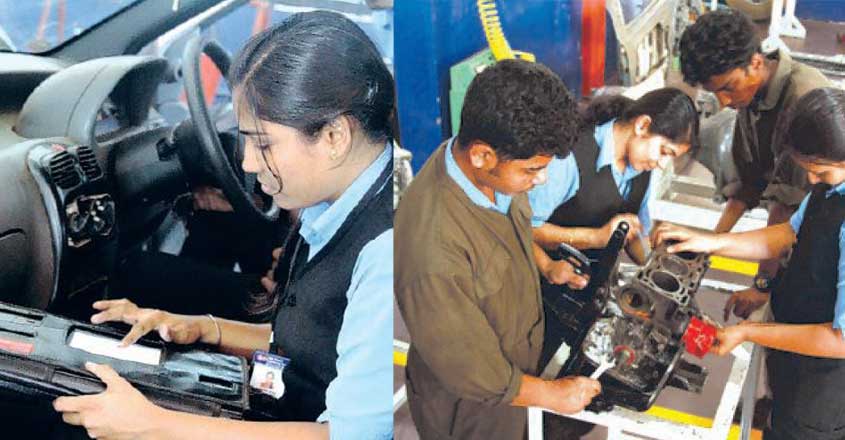 In the modern times, there aren't many fields where women haven't made their mark. However, the automobile mechanical industry was one field where women were rarely seen. In an impressive initiative, Tata Motors is all set to bring women into this field where one can learn the nuances of the automobile technology and work and earn alongside the men.
Reiterating their commitment to the social causes, Tata Motors have introduced many projects all over the country that ensure overall development of human skills. As part of this project, the automobile giant has begun an automobile technician course for women at the Little Flower Engineer Institute in Kalamassery.
From the brand new luxury cars to the heavy duty trucks, women would be able to deal with the repair and maintenance of it. Tata Motors and its dealers have joined hands to organize one-year long training courses for women. Theory classes would take place for the first 3 months in the selected institutes. The remaining 9 months would be reserved for imparting practical knowledge either at Tata Motors' dealerships or official service stations. Here, women would have the opportunity to work while gaining the practical knowledge. Stipends too would be paid during this period of practical training sessions.
The talented girl students of Little Flower Engineering Institute have proved their skills at the National Skill Fest. They were winners in the fest for two consecutive years that took place in Kolkata in 2018 and in Goa in 2019. More women are joining the course as the project proved to be extremely successful.
The women are selected as part of the LEAP project whose motto is to learn, earn and acquire progress. This project has proved to be greatly helpful for those women who drop out of schools, to hone their skills as service technicians. After the course is completed, the participants' skills would be evaluated by the Automotive Skill Development Council. Around 80% women who complete the training get placed for an average monthly salary of Rs 8000. At least 4% become entrepreneurs in this field, thereby creating jobs for more than 50 skilled technicians. This project aims to increase the local annual income of women to at least Rs 1 lakh per annum.
The course has become extremely popular in the last 4 years with huge number of women enrolling for it.
Tata Motors offer 6 month long mechatronics courses for diploma and engineering graduates at LFEI.
This course helps gain in depth knowledge about the automotive mechatronics and its subsequent systems.