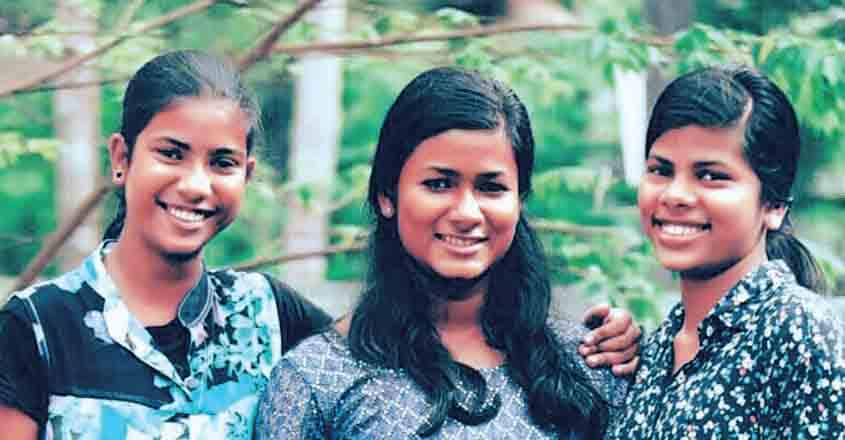 Paravur: Sisters Julie, Liya, and Mariya could rightly be called the gold fishes of swimming pool. The trio has made it a family affair to win medals at the various swimming competitions held in different parts of Kerala.

It was Julie, the eldest one, who turned to swimming first, soon followed by her younger sisters. The swimming champions are daughters of Pallamthuruth Thooyithara Padayatti Joseph and Lali.
Julie works as a swimming instructor at the Delhi International Public School in Kollam. Liya is a second-year Bcom student at Aluva St Xavior's College. Meanwhile, the youngest sister Mariya is a plus two student at GVHS School in Kalamassery.
Presently, Mariya is the one who actively participates in the various events and competitions. She won the first place with record in the 100-meters butterfly stroke, first place in the 50-meters butterfly stroke and third place in the 100-meters free-style events at the recently concluded state senior swimming competitions.
She also got qualified to take part in national-level competitions. Earlier, she was the champion in 50-meters butterfly stroke at the junior meet as well. Mariya practices at the swimming pool in Rajagiri. Julie and Liya, too, have won many medals in the state level competitions and inter-university championships as well.
The trio began their swimming lessons at a local pond in Arankavu, Chendamangalam. It was N V Licy, physical education instructor at the Paliyam government higher secondary school who motivated Julie to take up swimming. She then impressed everyone with countless wins at many major swimming championships. Her younger sisters Liya and Mariya soon followed her and made a mark for themselves. With the wholehearted support of their parents, it became easier for the trio to have constant presence on the winners' podium in all the major swimming events, both inside and outside the state.