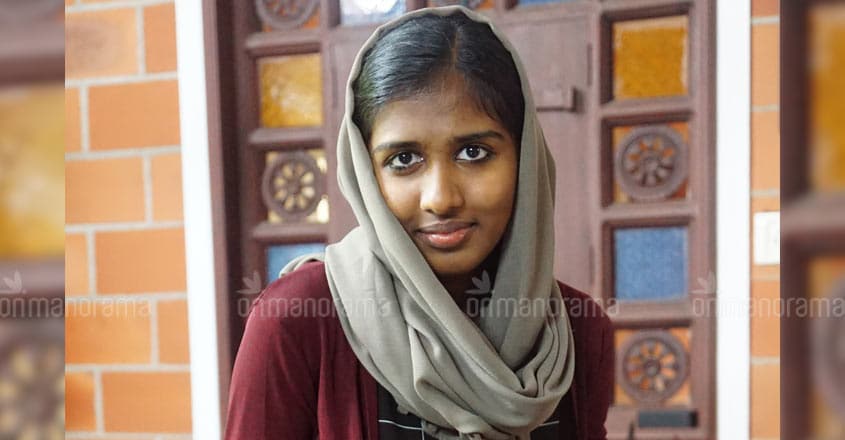 Wayanad native Anjitha K Jose and Faheema Shirin of Kozhikode do not have much in common. But what connects these two students from Kerala is their sheer willpower to fight for women rights!

Anjitha fought for freedom to travel at night for girls staying at hostels, while Faheema waged a legal battle to win the right for using mobile phones at hostels.
Both of them won favourable verdicts. But it was not an easy path to success.
What time is right for girls?
If authorities of the college hostels were asked about by what time should the girls return to hostel, then some would say by 4.30 pm, others by 6 pm and for another one it would be 7 pm. However, boys have no such time restrictions.
Anjitha, a student of the Kerala Varma College in Thrissur, filed a legal petition against this. Girl students are allowed to go out for only three days in a week and then too, they have to return by 4.30 pm. However, this rule is not applicable for boys.
Though she questioned the inequality several times, college authorities did not take any action.
That's when she heard about the Legal Collective for Students' Rights. She spoke to the then executive director of the collective, P K Arjun and decided to take the legal course. Surya Binoy, daughter of senior CPI leader Binoy Viswam, represented Anjitha in court. The favourable verdict was out after 1.5 years.
The complaint was filed, while pointing out that freedom to travel was a fundamental right. When the case was filed, Anjitha was a final year degree student. When she completed her studies, another student Rinsha Thasni took over the case and won the favourable judgement.
Anjitha said that when the case was under court's consideration and after the verdict was filed, she had to endure several problems. Several people made statements defaming her.
All that she asked was to give them the consideration of being humans, not even women.
After the court verdict, the government issued an order that girls and boys of the government college hostels can stay out till 9 pm.
Is mobile phone the villain?
Even when we make tall claims of the digital revolution, girls are not allowed to use mobile phones at hostels. At some hostels, girls were not allowed to use to phone after 10 pm. At others, the diktat was during study time.
Though degree and PG students pointed out that smartphones and internet were vital for studying, none paid any heed. Some of the authorities asked the girls to shift the hostels if they were not ready to follow the ban on mobile use.
A second-year degree student at SN College at Chelannur in Kozhikode, Faheema also faced the same dilemma. However, when she walked out of the hostel, Faheema vowed to react against this.
Thus, she began her legal battle. Legal Collective for Students' Rights came to her aid as well. Legith T Kottakkal agreed to represent her in court and the petition was filed.
The High Court ruled in Faheema's favour on October 19. The court observed that the use of mobile phone was a fundamental right and nobody had the authority to stop it.
Legal protection for students
Jishnu Prannoy, a first-year engineering student, was found dead under mysterious circumstances at his college hostel in January 2017. The teenager's death had shocked Kerala's conscience. A bunch of law students then came together and formed the Legal Collective for Students' Rights to give legal aid for students. The collective also started a Facebook page 'Your Lawyer Friend.'
Fourteen law students and four advocates started the collective on February 8, 2017. The collective has helped students in 50-odd cases so far. The current executive director of the collective is J Sreenath, a fourth-year student of the National University of Advanced Legal Studies (NUALS).