Latha Nair's humanitarian career started in the All Saint's College in Thiruvananthapuram. While her classmates in the pre-degree class celebrated the lunch breaks with the delicious food packed from home, she noticed one of them going out of the class room. The brilliant student never joined her classmates at lunch time. She went to sit under a tree with a book in hand, everyday. Latha Nair found it unusual. She asked her solitary friend, who eventually said that she had nothing to pack for lunch.
The next day, Latha Nair went to college with two lunch packs. It went on for a while, until the other students warmed up to the idea and took their turn to pack food for their less privileged classmate.
Latha Nair made it a way of life even after passing out of the college. Her guide was her favourite teacher, Sr Letisha. The nun convinced the student that god appeared as a pack of food or a pair of dress.
Firm on path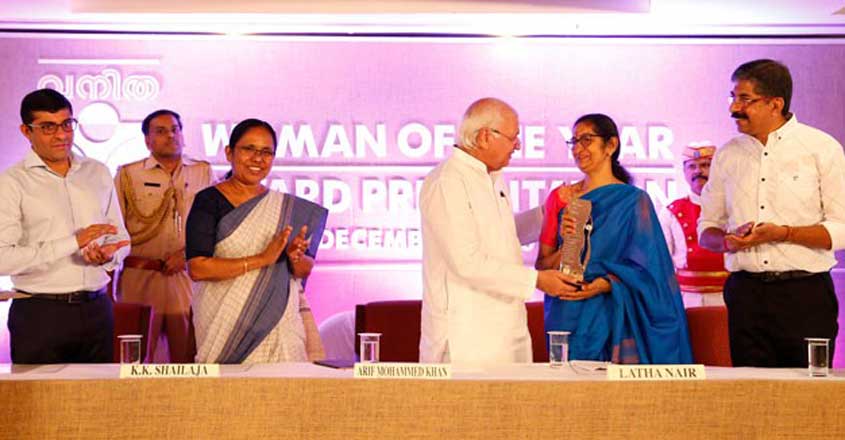 Early lessons in life prompted Latha Nair to set up a home for children suffering from the rare brittle bone disease. She has been selected as the Vanitha Woman of the Year.
Latha Nair is the daughter of Sarala Devi and Appukkuttan Nair at Kowdiar. She got married after earning an MA in English literature. A few days before the wedding date, her fiance K G Gopalakrishnan, an officer in the Intelligence Bureau, met with an accident that left him bedridden.
Latha Nair's relatives advised her to break the engagement but she did not. She got married in the hospital. She cared for her husband throughout. She found a job with Matsyafed. Her modest income and the financial burden of caring for her husband did not turned her away from her calling. She kept helping the needy.
She had not crossed 40 years when her husband finally succumbed to his illnesses. She became lonely after her daughter married a US resident and flew abroad. Latha Nair realised it was time for her to pursue her original passion for charity.
Towards Amritavarshini
She was active in charitable works for a decade. Then she came across a rare disorder that made life miserable for children. She formed an association for brittle bone disease patients.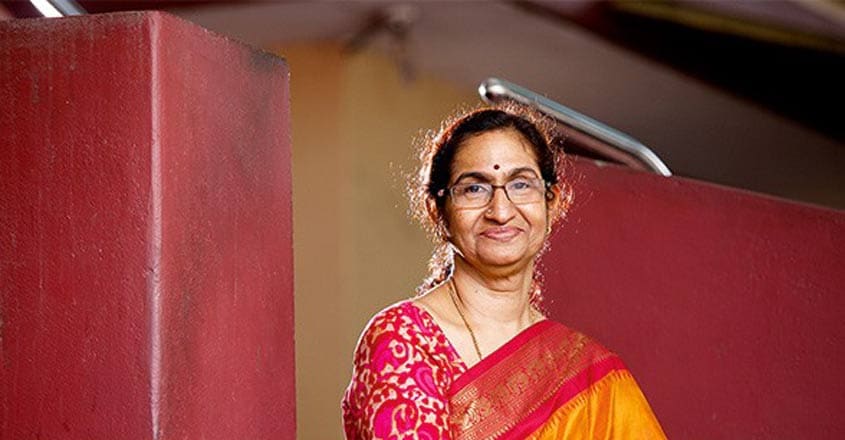 Latha Nair came to know of Binu Devasia, a resident of Sulthan Batheri who struggled with the disorder that caused his bones to break like chalk pieces. Sooraj, the friend who told Latha Nair about Binu, asked her if she could help the patient.
She met Dr Harikumar, who treated Binu at Sulthan Batheri. She came to know more about the disorder and its effects on people. She formed an organisation for people like Binu. Today she is a refuge for hundreds of people.
Latha Nair travelled the length and breadth of Kerala to identify people afflicted with brittle bone disease. She got her leads from doctors and medical practitioners. She found patients as young as two years old and and as old as 50 years old. All of them looked like toddlers. They had to be cared for as if they were babies. Most of them break a bone for about 400 times in their lifetime.
Amritavarshini is based at Marappalam near Pattom in Thiruvananthapuram. The institution provides the conditions for the treatment of the patients and ensures them a livelihood.
Amritavarshini cared for the patients, who would otherwise live a miserable existence at home under a constant fear of breaking bones. The institution is perhaps the only such house in India.
Latha Nair personally knows each of the inmates in Amritavarshini. She is proud of Sajitha, who managed to sit up on her own after 35 years. She is always supportive of Latisha Ansari who is preparing to write the civil service exams.
Latha Nair's work has been a haven for the patients for 20 years.