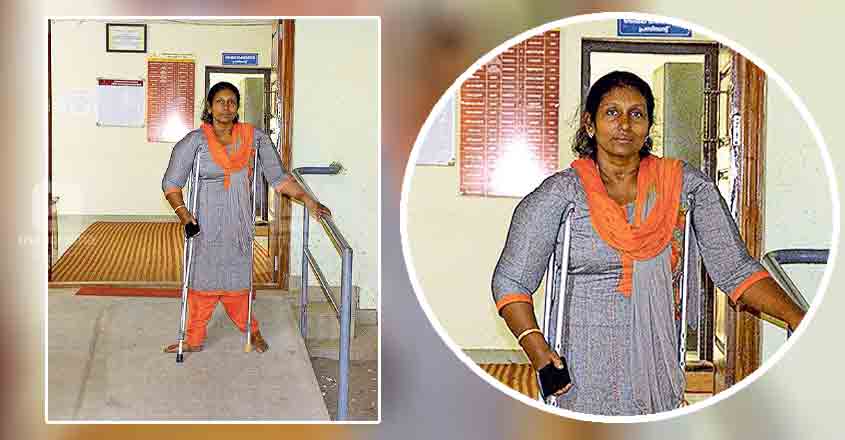 Mavelikkara: When life kept throwing curve balls at her, AK Sini (46) the secretary of the Thekkekara panchayat faced them all with a smile that is immensely inspiring. Most people who enter the office of the panchayat secretary hardly notice the crutch that is kept beside her. Sini was just 8 months old when she got infected with polio.
Though her body was paralysed because of polio, she got a new lease of life when she was 6 years old following the treatment at the Thiruvananthapuram medical college. Though the size of the crutch increased as she grew up, it was never a burden for her. Sini is the daughter of MA Kunju and Aisha Beevi, both of whom are no more. Hailing from Vavvakavu in Karunagapally, Kollam Sini passed class 10th as the school topper from Madathil HSS. She completed her under graduation in Economics from St. Joseph's College Alappuzha. In 1997, she got appointed as a lower division clerk at the Ochira panchayat. Meanwhile, Sini, enrolled for the post graduation course as a privately registered student.
It was in 2001 that Sanoj came to her life. Though many didn't support Sanoj's decision to marry a woman with physical disabilities, he was determined to become Sini's strength in life. The couple has two kids, Nahida and Navid. In 2016, when the family was in Bahrain, to spend their vacation with Sanoj, Sini had begun displaying some health issues.
In a detailed diagnosis that was conducted after she returned home, it was revealed that Sini had breast cancer. It was found out that the cancer was beginning to spread to the bones as well. After the rigorous treatment at Kochi Amrita Institute of Medical Sciences, Sini began showing signs of recovery. On 8th August 2018, she got promoted as the panchayat secretary. For the first time in the history of Thekkekara, Sini led the panchayat to the records of 100% revenue collection and 100% distribution of the panchayat funds.
However, fate wasn't ready to leave her alone. In June last year, while coming out of the panchayat office, she stumbled and fell down, injuring the bones on her left calf. Sini, who is determined to face every hurdle with confidence, returned on 16th September to the same office, driving her scooter.
Sini's excellent leadership abilities and confidence has played pivotal roles in turning Thekkakara into an ISO certified panchayat. On 23rd December, the panchayat received the ISO certificate. As per the data until 31st December, the panchayat has registered 94% tax returns. Meanwhile, Sini, doesn't forget to smile and continues to spread her incredible energy and confidence.