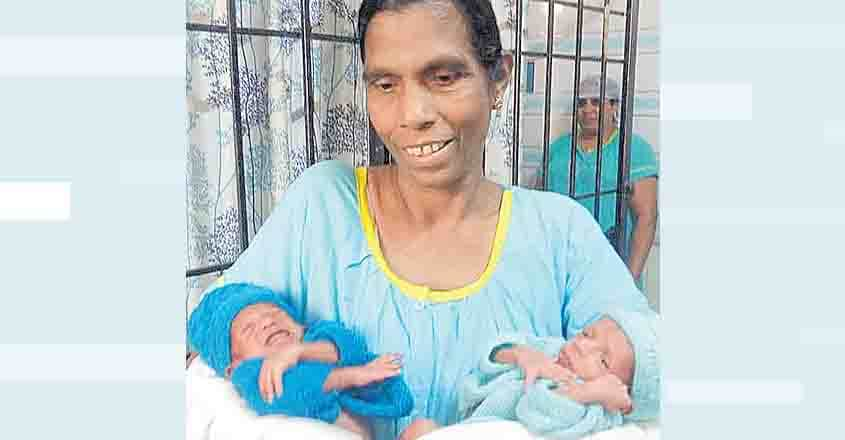 Mulankunnathukavu, Thrissur: Holding on to her twin sons, 54-year-old Lalitha sheds tears of joy. A native of Thalore in Kerala's Thrissur district, Lalitha thanked God for blessing her with these two babies and helping her return to life.
Fate had dealt her a heavy blow after Lalitha and her husband Mani lost their only son Gopikuttan in an accident. He was killed when a lorry rammed his bike on May 17, 2017. Lalitha and Mani were shattered. Lalitha could not free herself from the clutches of grief and finally she spoke about her wish – "I want to be a mother again".
Challenges
But there were several challenges in her path. Lalitha had entered menopause and her age was also a concern. But she refused to back off.
She had undergone postpartum tubal ligation at the age of 35.
Mani took his wife to gynaecologist Dr Krishnan Kutty. He took up Lalitha's case as a challenge.
The course of the treatment ran up to seven months. As Mani, an auto driver could not bear all the expenses, the doctor too chipped in.
She had three babies through artificial insemination. Her age and health concerns created problems again. It was even feared that both mother and children would be lost forever. Before delivery, one of the three children died in the womb. But Lalitha held on.
She was admitted to the Medical College Hospital on November 2. She was on the hospital bed for 1.5 months. She gave birth to two baby boys on December 17.
But the twins were born at 33 weeks and also, they were underweight. The babies were put on ventilator support at the neonatal intensive care unit (ICU). Lalitha watched over her tiny tots from outside the glass door of the ICU.
The treatment of the children was taken up by paediatric department chief Dr K K Purushothaman and his team comprising Dr Parvathy, Dr Febi, Dr Sithara, Dr Rose Mary, staff nurses and gynaecology doctors. And they finally succeeded in their mission.
The mother and her two babies would leave the hospital on Thursday.
The house that wore a desolate look after Gopikuttan's demise would now be filled with the laughter of these tiny tots.