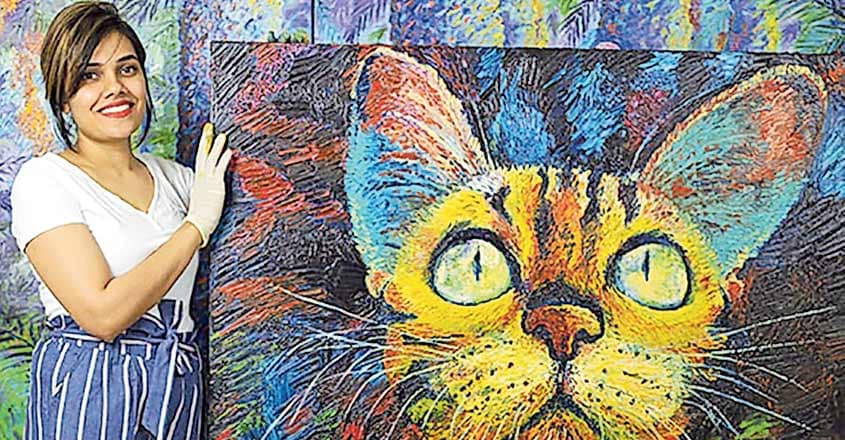 Thrissur: Vini can literally create magic using her fingertips. This woman from Thrissur has drawn more than 200 paintings, all using her fingers.
Vini has been living with her husband in Saudi Arabia for the past three years.
She had won much accolades during a recent painting exhibition held at the Naila Art Gallery at Riyadh in Saudi Arabia. The exhibition included a picture of the Saudi Crown Prince Amir Mohammed bin Salman. This painting was bought and moved to the Saudi palace.
Indian Ambassador Dr Ausaf Sayeed inaugurated the event.
The viral talent
Vini took to drawing and painting when she was just three years old. But her tryst with finger-painting happened much later in life.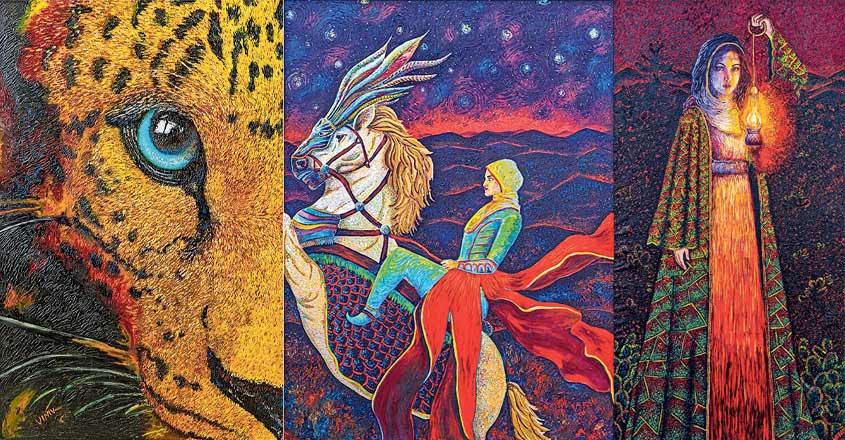 It was in 2012 that she started finger-painting when a curious Vini just followed her hunch. While Vini gets busy with her work, she used to give her son Gehan some food colours and all-purpose flour to play around.
Looking at the images and figurines created by her son, Vini was inspired to look at the medium more carefully.
She trained herself on finger-painting using watercolour, acrylic, and pastel. Oil paint gave the painting a more finished appearance. And she fixed on that.
While she was at home, Vini draws the all-too-dear pond, sea and sand houses and children playing. Her canvases are also filled with the Kambala buffalo race in Karnataka, ferocious-looking tigers and cats.
When she shifted base to the Gulf, her painting too started reflecting the Arabian life and its nuances such as an Arabic woman with a lantern, camel safari amid palm trees, desert, and cactus.
Leaving a mark
She had conducted painting exhibition at the Lalitha Kala Akademi in 2012 and 2017. A 3-D painting exhibition conducted at Behrain also helped her have a go at the Guinness records.
She also won the Dr APJ Abdul Kalam International Women's Excellence Award in 2018.
Vini is the daughter of Venugopal and Geetha of Karuvankadu in Thrissur. Her husband Saneesh is a software engineer at the Riyadh Bank. He is a native of Sreekrishnapuram in Palakkad.