Kochi: An IT company in Kerala on Thursday gifted a Mercedes-Benz to one of its employees, in a gesture it termed a testament to its commitment to recognising hard work and dedication.
Webandcrafts, a leading global IT solution provider from Infopark, Koratty, Thrissur gifted the luxury car to Clint Antony, the chief creative officer of the firm.

A native of Kattappana in Idukki, Antony is the first employee with Webandcrafts since its inception in 2012 and has been instrumental in its growth, according to a press statement from the company.
He was selected for the top honour as the management decided to appreciate his exceptional performance and dedication to the company over the past 10 years.
"Our employees are the backbone of our company and we are honoured to have such a dedicated and hardworking team. Clint has been with us since the beginning and has played a vital role in our success. We wanted to show our appreciation for his efforts and loyalty and what better way to do it than by gifting a luxurious Mercedes-Benz C-Class," Said Abin Jose Tom, CEO and founder, Webandcrafts (Wac)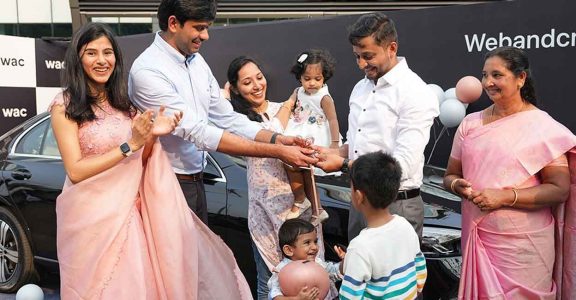 Starting ith four employees in 2012 with website development, Wac now has over 320 employees. The company provides various services such as custom-made mobility solutions, e-commerce development, web and mobile applications and dynamic digital marketing strategies for around 650 clients spanning across the globe,  including Asia, the Middle East and Northern and Southern parts of America. Webandcrafts has offered its services in different industries including hospitality, education, finance, retail, real estate and is associated with many of the most globally recognised Fortune 500 companies like IKEA and industry giants like Lulu, Joy Alukkas, Federal Bank, Geojith, Synthite and KSFE.
"We are committed to recognising and rewarding the hard work and contributions of our employees. These individuals have gone above and beyond, and we are thrilled to be able to offer one among them, this special gift as a way to show our gratitude," said Jilu Joseph, vice president, Wac. 
Abin Jose Tom, an engineering dropout and dyslexic by birth is the youngest CEO in the state, who started his own company when he was 19 years old. He was able to finish over 40 websites' work during his engineering days.
He gained global recognition by the US Secretary of Commerce Penny Pritzker at ICANN's 51st Public Meeting held in Los Angeles. He was listed as the most promising entrepreneur in Small Big BANG, a book published about the top 30 diehard entrepreneurs by IIMs.  
Susanth Kurunthil, CEO, Infopark, K G Girish Babu, founder CEO, Infoparks Kerala, Joseph Matappally, mentor of Webandcrafts, Shamim Rafeek, corporate trainer, business coach attended the event.