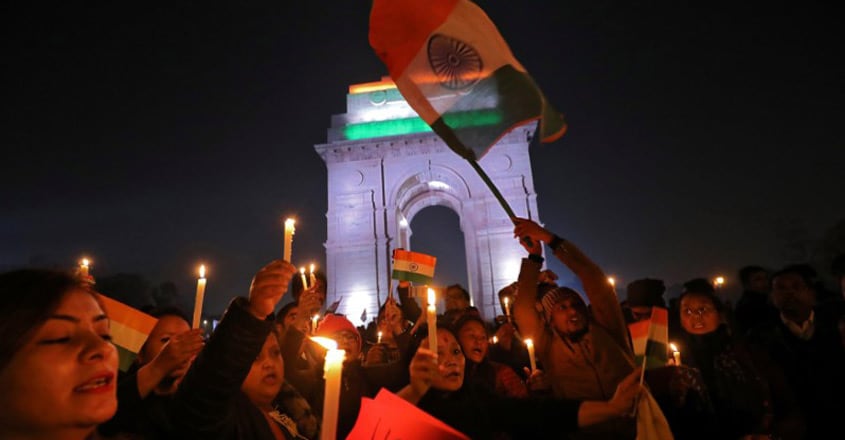 After the unprecedented terrorist attack in Pulwama, the mood in India is of anger and frustration. We are angry with Pakistan, with Jaish-e-Mohammed (JeM) and with the bomber, who was apparently a Kashmiri. We should also be angry that we are unable to end the cycle of violence. We should be angry that we are unable to find a diplomatic or military solution to Pakistani intransigence. We should be angry with our politicians, who use the J&K for their political purposes and not as a strategic challenge and believe that we can absorb the losses and carry on regardless. Our anger should have no limits.
Prime Minister Narendra Modi spoke for the entire nation when he condemned the terrorist attack in Pulwama: "The terrorists...they have made a big mistake. You will have to pay a very heavy price...I assure everyone that the forces behind the attack...we will bring them to justice......The forces behind this act of terrorism and those responsible for it will definitely be punished."
Modi has announced that he has given the armed forces a free hand to take any action at any time at any place of their choice.
We also pledged to isolate Pakistan in the international community through diplomatic means.
Limits
But there are limits for our power and influence. That will be demonstrated once again in the next few days. We can do another strategic strike and inflict some damage on the terrorist camps and Pakistan army across the Line of Control (LoC). We can even bomb some of the Pakistani posts on the border and destroy their men and equipment. But a large scale war has to be ruled out because of the change in the strategic context on account of the nuclear capability of the two countries.
Crossing the LoC is fraught with the danger of nuclear blackmail by Pakistan. No nuclear warheads may ever be launched, but Pakistan will threaten to use nuclear weapons on the ground that since the Indian army is more powerful and lethal, they need to multiply their force by resorting to nuclear arms. The moment that happens, the international community will flock to New Delhi and Islamabad to find a compromise.
The fear of a nuclear conflagration will lead to various pressures being exercised to bring about a compromise. We cannot resist these pressures beyond a point and no punishment will be meted out to Pakistan. The lack of any economic leverage with Pakistan was demonstrated by our withdrawal of the 'Most Favoured Nation (MFN)' status accorded to Pakistan, which will not make any dent on Pakistan's economy or trade. Pakistan had declined to accord the same status to India on the ground that it would be inappropriate to give MFN status to a country, which is the least favoured in the eyes of Pakistan.
We have the power, but we do not have the freedom to exercise it the way we did in 1965 or 1971. The efforts the then US President Bill Clinton exerted on July 4, 1999, to get Pakistan to withdraw from Kargil were precisely for fear of the two countries moving to a nuclear war. We shall face a version of that against us if we were to cross the LoC and attack Pakistan.
The answer
Where power cannot be exercised by declaring a conventional war, diplomacy becomes the answer. Our own diplomacy in Pakistan should convince them that they have to pay a heavy price if they persist with terrorism. The other option is to seek to isolate Pakistan as a terrorist state, by sharing the intelligence about the attack and Pakistan's role in it. The major countries, particularly the permanent members of the United Nation (UN) Security Council and our neighbours have already been briefed with a view to get them to condemn Pakistan and join in a protest, if not to take punitive action for masterminding the attack.
Many countries have condemned terrorism in general terms, without specifying the direct responsibility of Pakistan in the dastardly act. This is fairly easy to do because there are formulations in many consensus resolutions of the UN, which have been endorsed by Pakistan itself, which often claims to be a victim of terrorism. But to expect any country to condemn Pakistan by name and threaten any kind of punitive action against it will be unrealistic.
The positions that countries take on bilateral disputes tend to be based on certain principles, without taking sides and without considering merits. The US, for instance, strongly condemned the terror attack and called on all countries to "deny safe haven and support for terrorists."
The US State Department said that it was "resolutely committed" to working with the Indian government to combat terrorism in all its forms. The statement went on to say: "The US condemns in the strongest terms the terrorist attack today (February 14) on an Indian Central Reserve Police Force convoy in the Indian state of Jammu and Kashmir. The UN designated, Pakistan-based terrorist group Jaish-e-Mohammed has claimed responsibility for this heinous act. We call on all countries to uphold their responsibilities pursuant to UN Security Council resolutions to deny safe haven and support for terrorists." There is nothing in this statement or other US comments to suggest that Pakistan is guilty of instigating terrorism. Such statements cannot lead to any political or economic action against Pakistan. In fact, when Pakistan is accused only of giving safe haven to terrorists and supporting them, they are being let off the hook.
If the present attack leads to a reconsideration of the US decision to withdraw from Afghanistan, it will be a positive outcome. After all, terrorism that is supposed to have ended is alive and kicking and the US should realise that if it is not rooted out, their mission in Afghanistan will remain incomplete and terrorism will remain threat to the US themselves.
The Chinese statement was even less specific about Pakistan."China has noted the reports of suicide terrorist attack. We are deeply shocked by this attack. We express deep condolences and sympathy to the injured and bereaved families," it said.
When asked about China's stand on listing Masood Azhar as a global terrorist by the UN Security Council, a Chinese Foreign Ministry spokesperson told the media: "As for the issue of listing, I could tell you that the 1267 Committee of Security Council has a clear stipulation on the listing and procedure of the terrorist organisations. As to the listing of an individual, we have always upheld an earnest, responsible and professional manner," he said, adding, "JeM has been included in the UN Security Council terrorism sanctions list. China will continue to handle the relevant sanctions issue in a constructive and responsible manner." This is what China has been saying while repeatedly blocking efforts by India and other UN Security Council members to list Masood Azhar as a UN designated terrorist.
Even when countries like France, Russia and others say that they stand by India in its fight against terrorism, they may not have Pakistan in mind. Terrorism, in their mind, is not cross border terrorism, but global terrorism like IS and others, who pose a threat to them. Russia specifically stated at an Afghanistan related conference in India not long ago that cross border terrorism was not a serious threat to international peace and security.
The visit of the Crown Prince of Saudi Arabia Mohammed bin Salman on Wednesday had raised hopes that India would get the support of Saudi Arabia for their fight against Pak terrorism. The Crown Prince had visited Pakistan earlier and promised heavy investments in Pakistan and promised to be "Pakistan's Ambassador to Saudi Arabia." He signed several agreements with India, but neither PM Modi nor Prince Mohammed uttered the "P" word. There were only some pious words about cooperation in the combat against terrorism.
In other words, the limits to the use of our military power and wielding of our global influence, place us in a dilemma which will remain even in the face of the most gruesome terrorist attack. The biggest challenge for India today is to stop the cycle of violence emanating from Pakistan. Where and how we will break the cycle will be the determining factor in our struggle against terror. The nation should stand united with the government in whatever action it would take to deal with this menace.