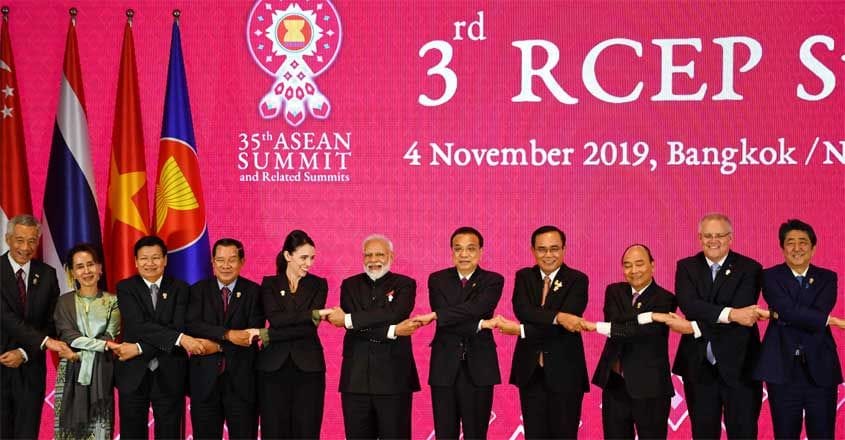 India's exit from the Regional Comprehensive Economic Partnership (RCEP) at the last moment of the negotiations has created another hurdle to regional economic cooperation in the Asia Pacific. Speaking on the episode, the External Affairs Minister Dr.S Jaishankar : "what we saw in Bangkok recently was a clear eyed calculation of the gains and costs of entering a new arrangement. We negotiated till the very end, as indeed we should. Then knowing what was on offer, we took a call. And that call was that no agreement at this time was better than a bad agreement."
The decision had the backing of the entire nation.There has been no other occasion in recent history, when India has been so united on a foreign policy decision as when it demanded unanimously that India should keep out of RCEP, at least for the time being. No political party, no economist, no China watcher, no free trade champion expressed dissent over that decision. Even the Kerala legislature, which normally cannot agree on anything, unanimously appealed to the Union Government to save the manufacturers and farmers of India by keeping out of the biggest trade deal, which India has been negotiating for nearly seven years. The Chinese President, who spent a couple of days in Mamallapuram patiently listening to the Indian Prime Minister did not indicate any flexibility towards India's needs in Bangkok. Equally adamant were our ASEAN friends in isolating India, without even extending the time for negotiations.
Of course, we had very good reasons to be wary of joining RCEP, as enumerated by Ambassador Mohan Kumar, Chairman, RIS, in a recent article in the 'Hindustan Times'. It was a lose-lose situation for India as there was no agreement on the starting point for bringing down tariffs, no safeguards against import surge, no strict rules on origin of goods, no exemption to concessions obtained by India from others being applied to RCEP members, no resolution of non-tariff barriers vis-à-vis China and ASEAN, no guarantee against excessive dairy imports and no accommodation of India's interests in the services sector. If there was a genuine interest in keeping India on board, it would have been possible to find some solutions to these issues. If there was a genuine interest in keeping India on board, it would have been possible to find some solutions to these issues.
Looking back, one gets the impression that there has been a clear design on the part of China and others to keep India out of the various economic groupings in the Asia Pacific if India does not accept their terms.
The APEC (Asia Pacific Economic Cooperation), SAARC (South Asian Association for Regional Cooperation), BRI (Belt and Road Initiative) and now RCEP are instances of groupings which have become out of range for India for various reasons.
Is this accidental or is there a pattern in making them inaccessible to India? Was the RCEP yet another step, after APEC, BRI and SAARC to deny India the benefits of economic groupings in Asia?
When APEC was set up 30 years ago, India should have been included in it, but when it was not, it looked like an aberration, which would be corrected. Even though the members acknowledged strategic convergence on the economic value of India's APEC membership, they noted significant divergence between India and APEC.
Firstly, India bears the burden of an unfinished developmental agenda, rising inequality and the insistent weight of an agrarian population that accounts for anywhere between one half to two-thirds of its citizenry.
Secondly, India's pursuit of foreign trade as a balance sheet of exports versus imports was seen as an impediment. A poorly developed manufacturing sector, insufficient structural reforms and gaps in investment and innovation have resulted in a lack of global competitiveness, and a defensive posture at trade negotiations. An overriding objective to achieve ever-higher exports and fewer imports was seen as a flawed understanding of the benefits of trade liberalisation.
India is being advised to rethink how it defines 'national interest' when it comes to global trade, especially in the face of its domestic priorities and structural economic changes.
Only then will APEC be convinced about India's intent to engage with the outside world. Several APEC members are wary of India playing spoiler to the forum's economic agenda.
Given the consensus-based nature of the forum, India could slow the pace of reform. Indeed, APEC's framework of voluntary and unilateral liberalisation, within an environment of regional peer learning and pressure as well as technical support, offers a time-tested pathway for India's integration within the region. In other words, substantial difficulties remain to be resolved for India to enter APEC.
As far as the BRI is concerned, China desires India to participate because it is a part of the Chinese design to dominate Asia and the rest of the world and the absence of any country, particularly India, will be seen as deliberate defiance.
The sovereignty issue involving POK (Pakistan Occupied Kashmir) is real and India had indicated a way out to resolve the issue, but China was adamant that no concession would be given.
India has also substantive objections to Chinese priorities being imposed on our neighbours to drag them into a Chinese debt trap. The string of pearls should not get any tighter.
If BRI becomes a reality and India keeps out of it, we are likely to be isolated in our own region and therefore, there is a section of opinion in India that we should join at some stage. But the Chinese will have their own game plan as to how they should engage India in the BRI.
SAARC is moribund today, essentially because of Pakistan, but without China's encouragement and plotting, Pakistan would not have confronted India in SAARC.
The SAARC was designed in such a way that the smaller countries do not gang up against India, but with China offering an alternative agenda for development of the region, SAARC has ceased to be indispensable for regional cooperation.
China's admission as a member of SAARC has the support of all the other members and it may become difficult for us to maintain the Indian veto for long. India is trying to develop BIMSTEC (Bay of Bengal Initiative for Multi-Sectoral Technical and Economic Cooperation) as an alternative, but it does not have the potential to replace SAARC politically or economically.
PM Modi had envisaged the rise of India together with its neighbours, though Chanakya had taught us that our immediate neighbours would remain hostile, but the larger neighbourhood would be friendly. South East Asia and the Pacific should have, by that consideration, remained cordial. But, after the RCEP experience, there appears to be a concerted effort to isolate India in the region.
The author is a former diplomat who writes on India's external relations and the Indian diaspora.