New Delhi: Prime Minister Narendra Modi has inaugurated the new Parliament building in the national capital.
He installed the historic 'Sengol' near Lok Sabha speaker's chair on Sunday morning. The sceptre was reportedly handed over to the then prime minister Jawaharlal Nehru as the British left the country. Opposition leaders have questioned the authenticity of the 'Sengol' while boycotting the inuagural.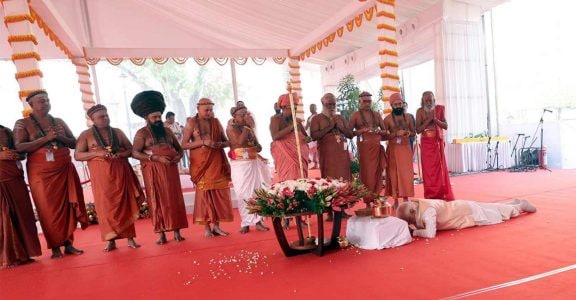 Meantime, dressed in traditional attire, Narendra Modi walked into the new Parliament's premises through Gate No. 1 of the complex. He was welcomed by Lok Sabha speaker Om Birla.
Amid Vedic chants of priests from Karnataka's Shringeri Math, the prime minister performed a 'Ganapati Homam' to 'seek blessings of the gods' during the opening of the new Parliament.

The prime minister prostrated before the 'Sengol' in the presence of the high priests of various 'adheenams' - sect of seers in Tamil Nadu - with the sceptre in hand.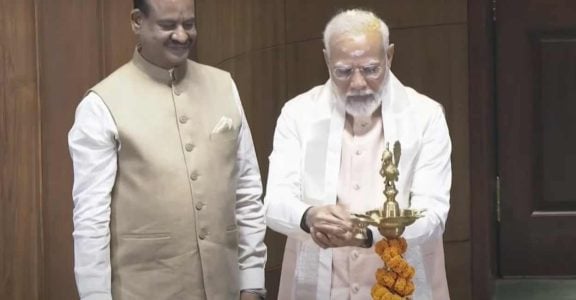 Modi then carried the 'Sengol' in a procession as 'nadaswaram' music and chanting of Vedic mantras reverberated around the new Parliament.
The PM installed the 'Sengol' in a special enclosure on the right side of the speaker's chair in the Lok Sabha chamber. Further on Modi and Birla unveiled the plaque to mark the inauguration of the new houses of people's representatives.
Union ministers Rajnath Singh, Amit Shah, S Jaishankar and Jitendra Singh, chief ministers of several states and BJP president J P Nadda were present on the occasion.

The prime minister felicitated some workers who played key roles in the construction of the newest temple of democracy.

The opening of the new parliament building commenced with a puja attended by the PM and Lok Sabha speaker. 

As many as 25 parties attended the inauguration of the new Parliament building even as 20 opposition parties boycotted the event. Former vice president M Venkaiah Naidu, former prime minister H D Deve Gowda and Rajya Sabha deputy chairman Harivansh, among others, were in attendance during the formal inauguration of the new complex.
The triangular-shaped four-storey Parliament building has a built-up area of 64,500 sqm. The building has three main gates -- Gyan Dwar, Shakti Dwar, and Karma Dwar.
Thousands of police personnel have been deployed in Lutyens' Delhi and multiple layers of barricades put in place as part of the security arrangement in and around the new Parliament building, officials said.
The wrestlers protesting at the Jantar Mantar, about two kilometres from Parliament, said they are going ahead with their planned 'Mahila Mahapanchayat' near the new building.
Police, however, said that no protester will be allowed to move towards the new Parliament building as permission has not been granted to hold the 'Mahila Mahapanchayat'.
Police have issued a traffic advisory that New Delhi district will be treated as a controlled area and entry of vehicles will be restricted.
The Parliament building is located in a high-security area. Besides additional deployment, there is continuous monitoring through CCTV cameras, the police said.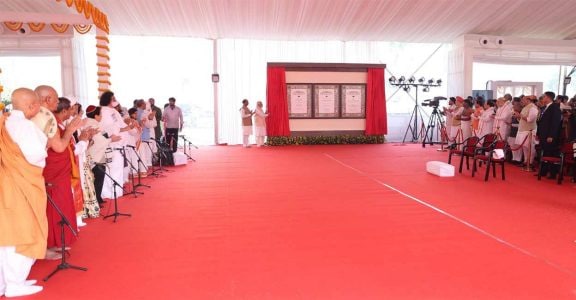 (With PTI inputs)