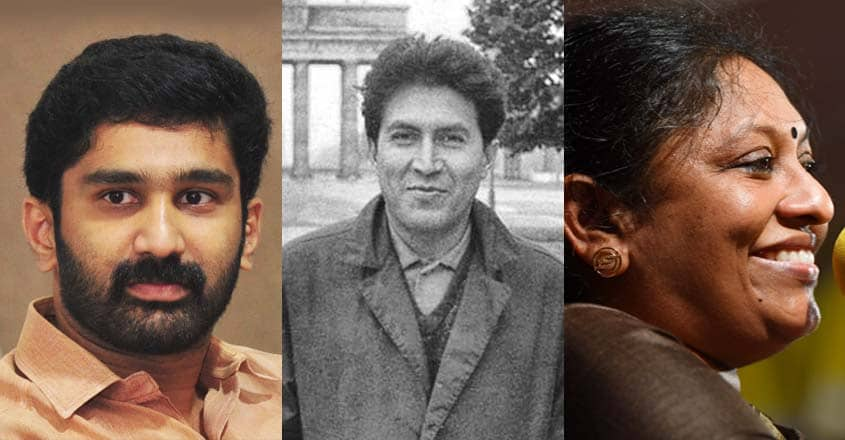 Ever since K G Sankara Pillai's powerful translation of Guatemalan poet Rene Otto Castillo's poem 'Apolitical Intellectuals' came out in the late seventies, a time when Emergency had mauled the psyche of its youth, Kerala has always wanted its poets, writers and academics to speak against all forms of oppression.
Here goes Castillo's lines. One day/the apolitical intellectuals/of my country/will be interrogated/by the simplest/of our people. What did you do when the poor/suffered, when tenderness/and life burned out of them? A vulture of silence/will eat your gut. Your own misery/will pick at your soul. And you will be mute in your shame.
This was a warning, soon taken up as a war cry. All of a sudden, writing and thinking became unabashedly political. Anything less was seen as something of a let down.
Latin American spirit
Nearly half a century later, it looked as if young Congress legislator V T Balram was trying to revive the 'Spirit of Castillo', though he made a crude spectacle of it. "Cultural criminals" was the term he used to describe writers, poets and thinkers he thought had not sufficiently condemned the murders of two Youth Congress workers at Periya in Kerala's Kasaragod district.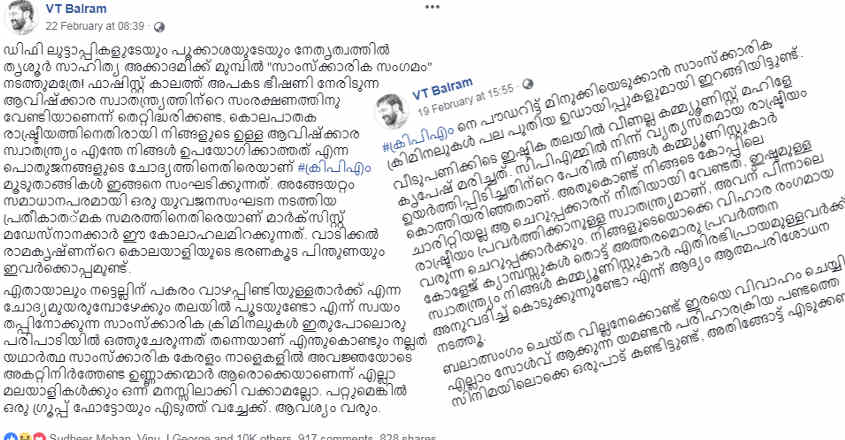 He should have had felt sorry, sheepish at least, when it was revealed that the writer for whom he had reserved his sharpest sarcasm, K R Meera, had actually put up a note of protest. Instead, Balram found even her words of condemnation "intolerable". She promptly cut him to size; "Bala-rama" (child-Rama), she called him.
From then on, things went south. A stung Balram, in his retort, warned his followers to be careful while spelling Meera lest it turns into a foul word in Malayalam. As if on cue, his followers openly addressed her using that word, and even stinkier ones.
Anger that came too late
But was Balram right in chastising public intellectuals, insisting that they condemn the murders? "This is not the first political murder in the country," said B Rajeevan, one of Kerala's sharpest political commentators, and who along with poet Satchithanandan was highly critical of the Left in the eighties. "Balram's anger has swelled only after the murders of the Youth Congress men. Not a single party in the state, the Congress included, has done anything to awaken public sentiment against such murders," he said.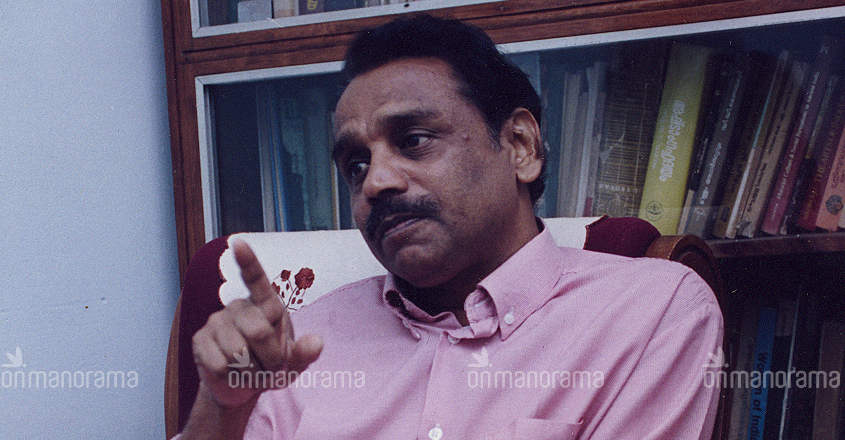 Nonetheless, Rajeevan said it was also a fact that certain writers owe allegiance to political parties. "They speak like political leaders, and are no better," he said. "Some writers have put out public statements against the Periya murders but if you look at the list carefully it can be seen these are people closely associated with the Congress. This happens the other way too. Strangely, they also make it a point not to invite neutral voices to be signatories of the joint statement," Rajeevan said.
"It is a tragedy that even the cultural world has been divided along political lines. Neutral voices have shrunk," he said. Such voices seem to be heard less, too. Balram, for instance, had apparently not taken note of neutral voices. Many writers and thinkers like Rajeevan, Satchithanandan and Manoj Kuroor had condemned the murders.
According to writer and poet Manoj Kuroor, writers should be stripped of their 'cultural leader' tag. "This looking up to the writer is a remnant of the troubled seventies when writers were given a revolutionary halo. The political climate has changed, and now it is high time they are seen as mere writers," Kuroor said.
Writer as Jekyll and Hyde
Since they have been highly politicised, as Rajeevan said, the opinions of writers can be highly problematic also. "I know writers who blindly take Leftist positions in public but who in their writings have a very nuanced, even confused, view of life and politics. So it is better not to take opinions from them," he said.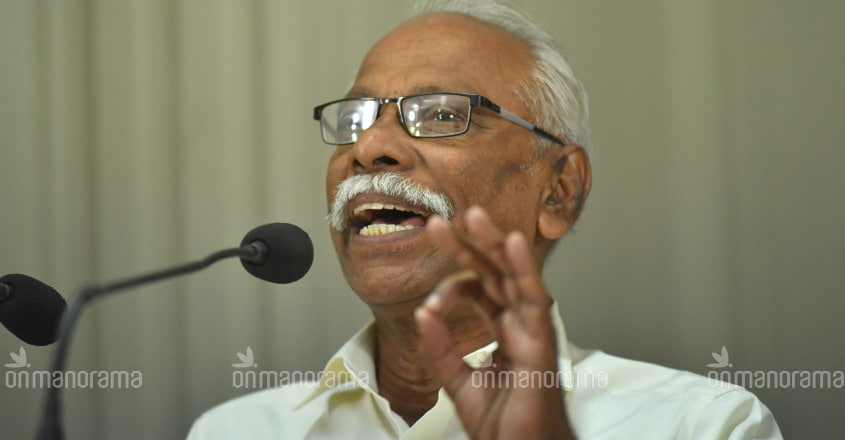 Social commentator professor M N Karassery said the problem with Balram's comments was that he had effectively, though unwittingly, shifted the focus from the Periya murders to a sideshow, his spat with K R Meera. "He should also know that indecent language is also violence," he said and added: "Should I remind V T Balram that Mahatma Gandhi was once the president of his party. He should realise that if he wants to fight the violence of the CPM, he has to avoid undemocratic and indecent language."
Two types of anger
However, Karassery, too, felt that public intellectuals have become "choosy". "But that is no licence to criticise them like Balram did," Karassery said. Poet Manoj Kuroor said there was a reason why writers and academics were perceived to be choosy. "It is true that their anger has an edge when it comes to taking on the Sangh Parivar. This is because their brand of politics is fundamentally narrow, unlike in the case of the CPM or Congress. It is in their nature to suppress free speech, which writers need to exist," Kuroor said.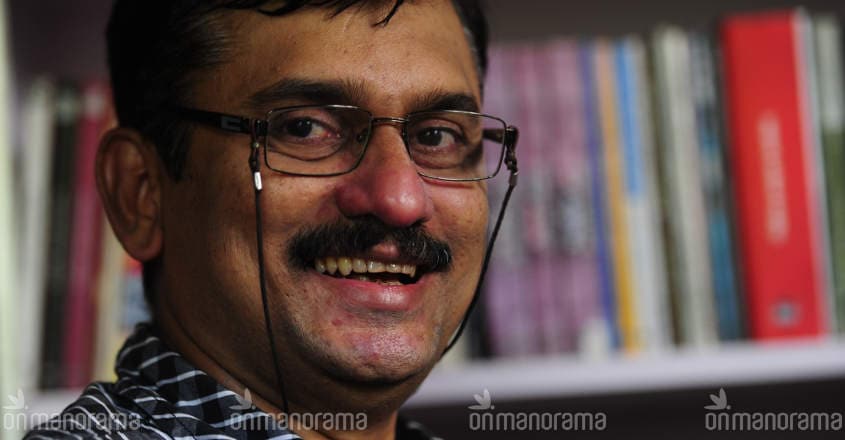 Volkswagen dilemma
Noted scholar and political analyst Hameed Chennamangalur said the entire mechanics of protest was hollow. "Normally what happens is that one or two would draft a message and then call up others and seek permission to include them as signatories," he said.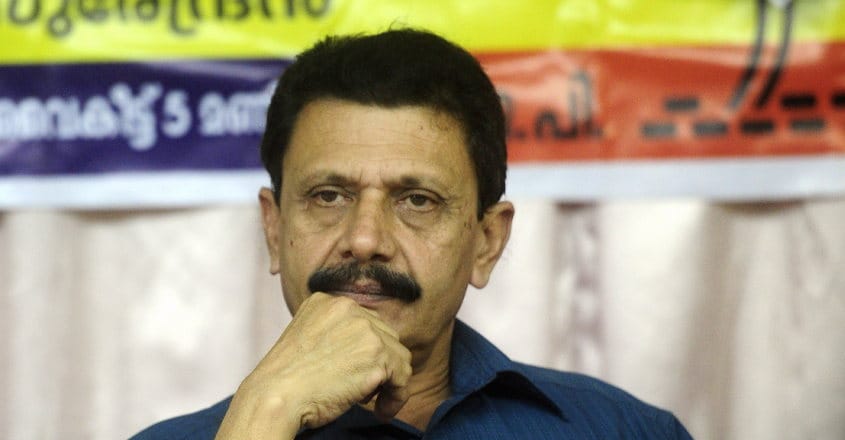 Chennamangalur said that they would express serious anguish at the sedition charges slapped on Umar Khalid but only in the luxurious confines of elite clubs. "But not a single one of them would bother to fly straight to Kashmir and stage a protest there," he said.
Chennamangalur is as dismissive of public intellectuals as Noam Chomsky. The American linguist and philosopher had famously said that no progressive public intellectual had ever been inclined to stage protests out in the streets. "If at all there are, their number would be less than that could be held inside a Volkswagen."