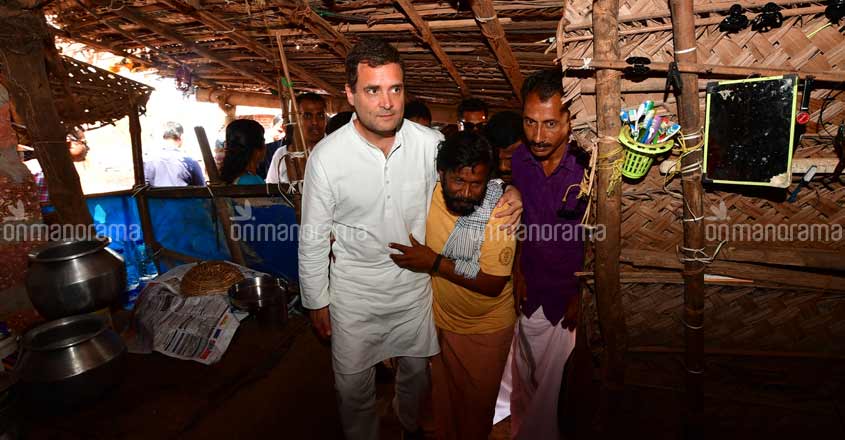 Kasaragod/Kannur: Congress president Rahul Gandhi Thursday met with the family members of three slain Youth Congress activists allegedly killed by CPM workers and assured they will get justice.
Gandhi visited the homes of Kripesh and Sarath Lal, who were hacked to death last month at Periya in Kerala's Kasaragod district, and met with the family members and consoled them.
"My promise to them is no matter what happens, they will get justice. We will ensure that whoever has done this will be punished. I understand the situation right now.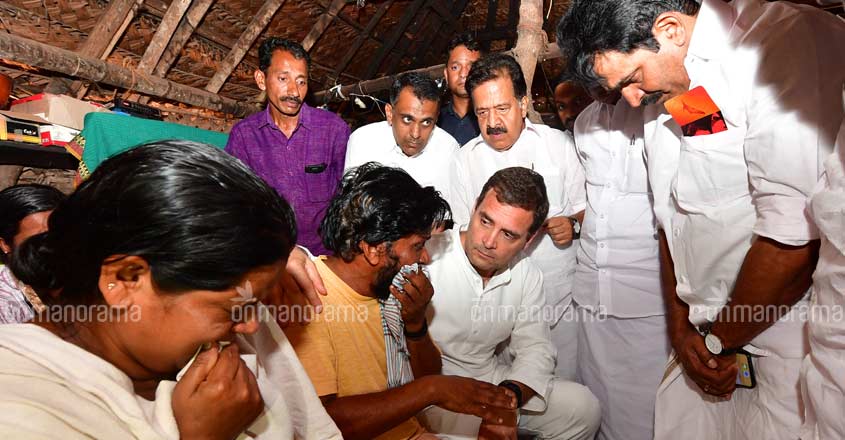 Let me assure those people who had done this, that justice is going to come to them," Gandhi told the media after visiting Kripesh's house at Kallyot in Kasaragod district.
Kripesh's father said Gandhi had assured them that a CBI probe would be ordered into their deaths.
According to sources, during his visit to Sarath Lal's family, Gandhi reportedly told the family that the All India Congress Committee has been viewing the incident seriously and promised all possible help to them.
The Youth Congress workers were allegedly hacked to death by assailants on February 17 as they were returning after a function.
Earlier, Gandhi spent around half an hour with the parents and sisters of slain activist Shuhaib at the Kannur international airport and extended the party's support to them, party sources said.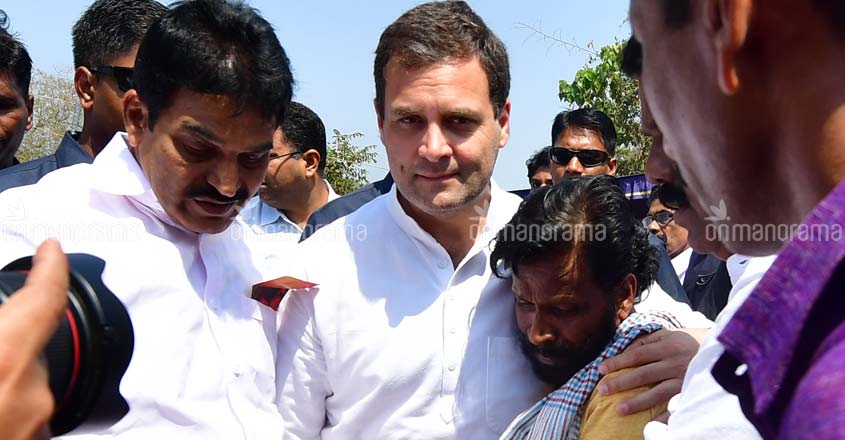 Senior Congress leaders Ramesh Chennithala and Kerala Pradesh Congress Committee president Mulapally Ramachandran were among those present during the meeting.
Party sources said the Congress chief, who arrived on a day's visit to the state to officially kick start the party's Lok Sabha poll campaign, wanted to meet the family of Shuhaib, an alleged victim of political rivalry, despite his hectic schedule.
An active party man hailing from Mattannur near Kannur, Shuhaib, 29, had served as the Mattannur block Youth Congress secretary. He was hacked to death on the night of February 12 last year allegedly by CPM activists.
A number of ruling party activists were arrested later in connection with the murder.
The opposition Congress-led UDF and Subhaib's family members had demanded a CBI inquiry into the killing.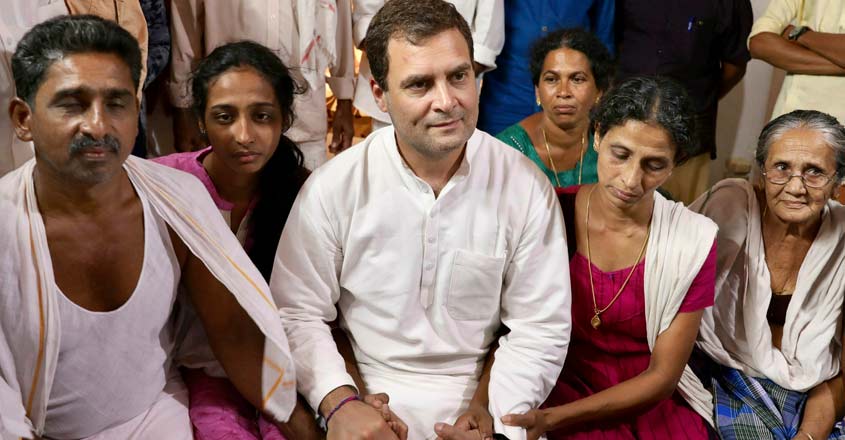 Gandhi had earlier landed in a helicopter at the Central University campus in Periya and headed to Kripesh's house. The Congress chief also inspected the house under construction for Kripesh's family under an initiative of 'Thanal', an organization headed by Hibi Eden MLA.
"Modi govt listens only to industrialists"
Accusing Prime Minister Narendra Modi of ignoring voices of farmers, fishermen and small businessmen, Rahul Gandhi said the NDA government listened only to industrialists such as Anil Ambani and Nirav Modi.
Interacting with fishermen at the National Fishermen Parliament organised by All India Fishermen Congress in Thriprayar near Thrissur, Gandhi said in India, the most important thing is giving voice to the people.
"In today's government, Anil Ambani or Nirav Modi has a lot of voice. Whatever they want to say to the prime minister can do so in 10 seconds. And they don't have to shout. They can even whisper it and the message goes whereas farmers, fishermen and small businessmen...they have to shout very loudly before the government listens to them," he said launching the Congress's campaign for the Lok Sabha elections in Kerala.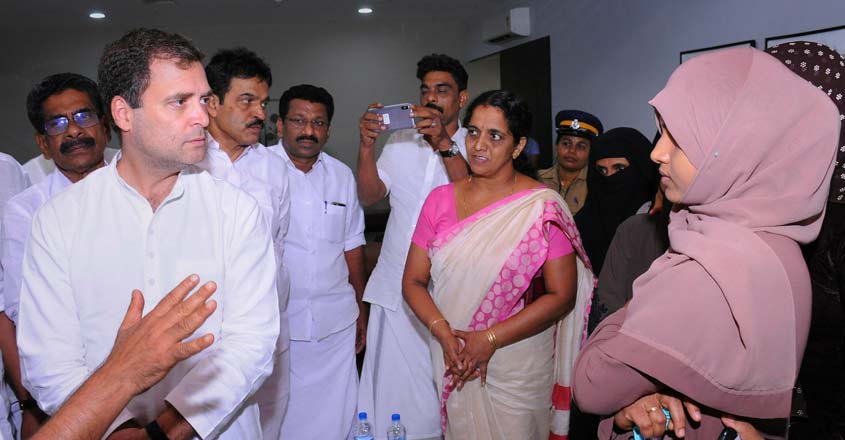 Gandhi said he was talking about the "dishonest" people associated with Modi and "it is really the fight between Congress and Modi".
He also alleged the "dishonest" people help Modi in marketing himself.
Taking a dig at Modi, he said, "I don't call Anil Ambani Anil Bhai, I don't call Nirav Modi Nirav Bhai, I don't call Mehul Choksi Mehul Bhai..."
He also took a dig at Finance Minister Arun Jaitley for allegedly meeting industrialist Vijay Mallya, accused of defaulting on banks loans, before he fled the country.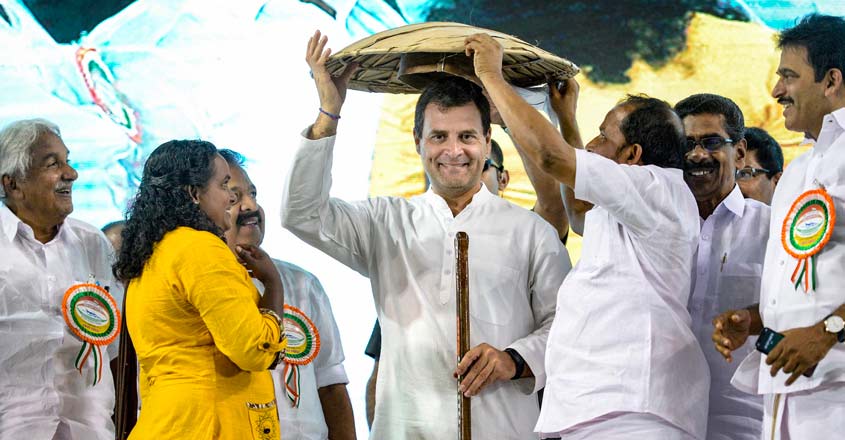 Responding to the grievances raised by members of the fishing community, the Congress chief vowed to set up a separate ministry for fishermen if the Congress is voted to power in the Lok Sabha elections, saying unlike Narendra Modi he did not make "fake promises".
"My commitment to you is that the moment we win the 2019 elections, all the fishermen of the country will get their own dedicated ministry in Delhi," Gandhi said.
Assuring fishermen that he would fulfil the promise if the Congress wins, the Congress chief said, "I am not like Narendra Modi. I don't make fake promises."
"Please look at my speeches. When I say something, I only say it because I have decided to do it," he said.
Gandhi said the fishermen have to prove everyday to the country that they are deserving.