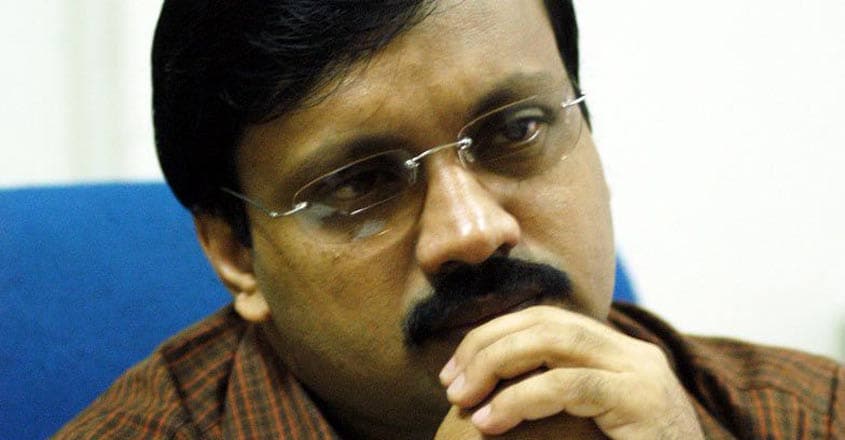 Kochi: The Vigilance and Anti-Corruption Bureau on Friday arrested former Public Works Department (PWD) secretary T O Sooraj and three others over the Palarivattom flyover scam.
The others arrested over the irregularities are Sumit Goel, the projects MD of the construction company RDX; Benny Paul, former MD of the technical consultancy organisation KITCO; and P D Thankachan, the assistant general manager of the Roads and Bridges Development Corporation of Kerala Ltd (RBDCK).
The probe officers submitted the First Information Report (FIR) in this case at the Muvattupuzha Vigilance court. The Vigilance suspect the involvement of 17 people in the irregularities and the report stated that their role in the scam would be clear only after a detailed probe.
However, the probe officers have for the time being named as accused Paul, the KITCO officer who entrusted the Bengaluru-based Nagesh Consultancy to design the bridge; Thankachan, the RBDCK officer who implemented the project; and Goel, the first accused in the case.
Others named in the report are: KITCO former MD Cyriac David, senior consultant at Nagesh Consultancy Manjunath, RBDCK former MD Mohammed Hanish, KITCO joint general manager G Pramod, KITCO senior consultants Bhama and Shalimar, KITCO manager P M Yusuf, senior consultant Santhosh, project engineer Sanjo K Jose, Jijesh, RBDCK former manager P S Mohammed Naufal, Sharath S Kumar, RDX additional general manager Jai Paul, and site manager John.
The scam ultimately resulted in shoddy construction of bridge in the heart of Kochi.
Maintenance alone not enough
In the report Vigilance Ernakulam unit DySP R Ashok Kumar stated that the flyover was in danger now and that the option of reconstruction should be considered. The report made it clear that even if the maintenance works, under the supervision of the Indian Institutes of Technology (IIT) Madras, is over, the bridge should be rebuilt if it was found to pose a threat to the safety of human lives.
The report also recommended that RDX company should fund the expenses of the new bridge.
The Vigilance report pointed out that though the maintenance works were going on, it was doubtful whether this was enough to resolve the serious flaws of the bridge. The flaws are the result of sub-standard construction and careless supervision, the report pointed out.
A team from the IIT Madras had found several cracks in the girders and pillars. It was also found that these cracks were expanding. Experts have called for extensive inspections and checks even after the works are completed, the Vigilance pointed out.
The Ernakulam unit of the Vigilance had held the probe and submitted the report to the Vigilance director after PWD Minister G Sudhakaran sent a letter in this regard on May 30. The FIR was registered as per the instructions of the director.
The flyover was included in the PWD minister's Speed Kerala project and built in 2016. Soon after construction, potholes were found on the bridge.