Kochi: While political parties are busy offering support to the beleaguered residents of flats set to demolished in Maradu, former Kerala Chief Minister V S Achuthanandan has backed the Supreme Court order in this regard.
"It is the builders' ploy to regularise violations through courts. Flats were given for free to prominent people and they were used to trap the others. Helping such people is equivalent to supporting corruption," the veteran Communist Party of India (Marxist) leader said.
The former CM's opinion is in stark contrast with the ruling party's stance over the issue. CPM state secretary Kodiyeri Balakrishnan had made it clear that the party does not want to render the flat dwellers homeless.
However, the CPI, part of the ruling Left Democratic Front (LDF), is of the opinion that the flats should be demolished. CPI state secretary Kanam Rajendran had said that the flats built by violating norms should be demolished.
The opposition Congress is supporting the flat owners.
The Congress and the other allies of the United Democratic Front (UDF) have demanded that the flat owners should not be evicted.
The opposition further said that in case they are evicted, the flat owners should be rehabilitated by the government. The Bharatiya Janata Party (BJP) has also urged the government to initiate action to resolve the crisis.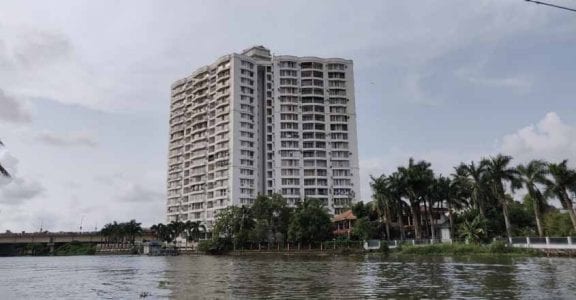 The Chief Minister does not want the opposition to make political gains by stirring up agitations against the government over the issue. Therefore, the government is unlikely to give a clear answer on whether the controversial flats should be demolished or not during the all-party meet that would be held on Tuesday.
The meet would also discuss the future course of action as the deadline set by the SC for the dwellers to move out has ended.
The Supreme Court had on May 8 directed demolition of five apartment complexes, built violating Coastal Regulation Zone (CRZ) norms in Maradu here, within a month.

The state government had last week initiated steps to implement the apex court order and given directions to the municipality to take immediate action for evacuating the residents and rehabilitating them in coordination with the Ernakulam District Collector.
Subsequently, the municipality had served notices last week asking the owners to vacate within five days.
The protesting flat owners had defied the evacuation notice, saying they had nowhere to go.
Meanwhile, the occupants of the flats, who have been agitating against the proposed demolition, stayed put there as the one-day extension given by the municipal authorities to vacate the premises ended on Sunday.