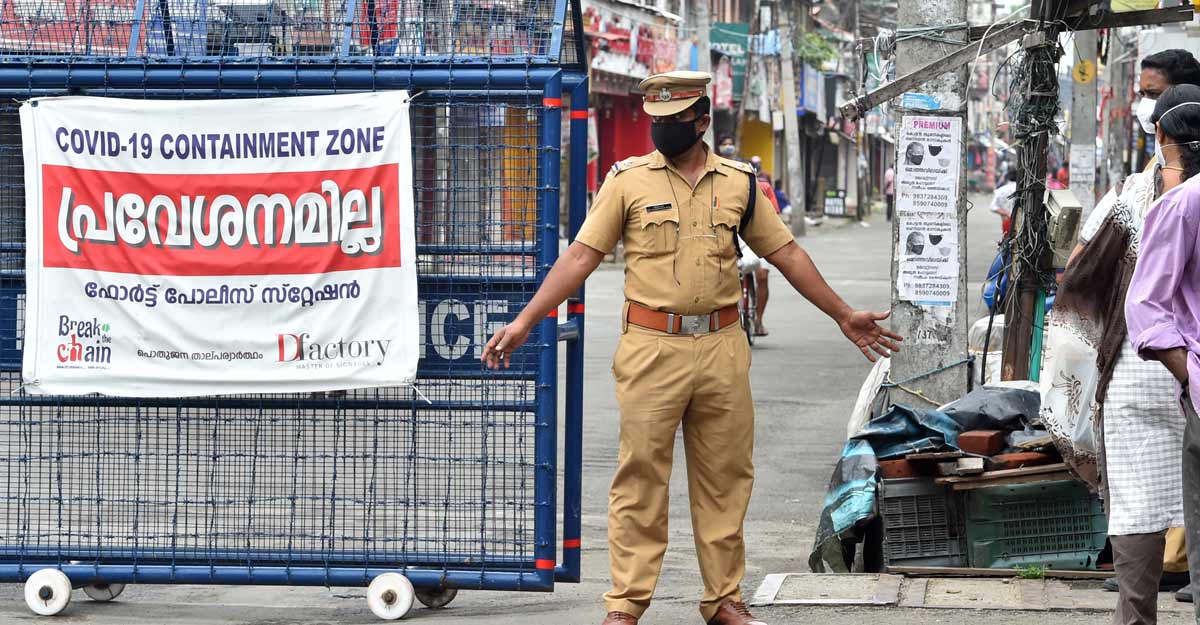 Kochi/Thiruvananthapuram: In view of the sudden surge in the COVID-19 positive cases in Kerala, all 14 districts in the state have barred the assembly of more than five people from Saturday morning.
However, the public transport systems and banks have been exempted from the restrictions.
No more than five people are allowed to assemble in any places, including inside and outside of shops/banks and commercial establishments.
Only 20 people are allowed to enter the places of worship at a time.
Restrictions in containment zones in Thiruvananthapuram
• Any congregation of public function (indoor or outdoor) of more than five people is not allowed.
• Maximum 20 people are allowed for marriages and funerals.
• Sale of only essential groceries, medicines, milk, vegetables, meat and fish is allowed.
• Essentials services like revenue, health, police, local self-government department, electricity, sanitation, and water supply allowed.
• The movement of persons in or out of containment zones will not be permitted except for medical emergencies and maintaining supply of essential goods and services.
Restrictions outside containment zones in Thiruvananthapuram
• Any gathering or public function of more than 5 persons in outdoor spaces, is prohibited.
• All indoor gatherings such as social, cultural, political, academic, religious, inaugural functions, etc; will be limited to 20 people including religious prayers and funerals.
• As many as 50 people can attend weddings, with strict adherence to Break the Chain protocols.
• In Thiruvananthapuram, all public examinations that were announced before October 2 will be conducted as per schedule.
• Public transport, government institutions, commercial establishments, industries, hospitals can function fully keeping Social distancing and break the chain protocols.
• Exams that are yet to be announced will be scheduled only after obtaining permission of the Disaster Management Authority.
Restrictions in other districts
• Only 50 people are maximum allowed for marriages and 20 for funerals.
• Maximum 20 people are allowed for government or religious functions and political, social and other cultural activities.
• Social distancing and Break the Chain protocols have to be strictly followed in markets, bus stations, public transport facilities, offices, shops, restaurants, workplaces, hospitals, examinations, recruitments, industries and other commercial establishments.
• Any voluntary congregation of more than five people in public places is prohibited in the district.
• Local body secretaries have been ordered to disinfect market areas, bus stands and other public places where people generally congregate at least once in a day.
• The order will be in place for a month, starting October 3.