President Droupadi Murmu on Thursday completed her day-long programmes in Kochi on her maiden visit to Kerala.
She flew to Thiruvananthapuram on a special aircraft of the Air Force.
Governor Arif Mohammed Khan, Chief Minister Pinarayi Vijayan, Chief Secretary VP Joy, DGP Anilkanth, Rear Admiral Ajay D Theophilus, Ernakulam District Collector NSK Umesh and Rural SP Vivek Kumar gave the president a send-off at the Nedumbassery Airport Thursday afternoon.
President Murmu's first programme in south Kerala is a visit to the Mata Amritanandamayi Math in Kollam. She will attend a civic reception in the capital on the same day.
Later, the President will dedicate to the nation a Malayalam translation of the Technical Books of Diploma and Engineering. The President's Kerala tour will end with a visit to Kanyakumari on Saturday, from where she will proceed to Lakshadweep.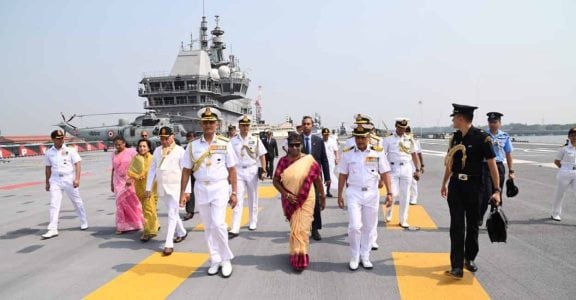 President presents President's Colour to INS Dronacharya
After presenting the President's Colour to INS Dronacharya in Kochi on Thursday, the President said that maritime strength remains critical to India's strategic, military, economic and commercial interests.
"For a nation like India, the fifth largest economy in the world, with a long coastline, island territories and substantial seafaring population, having a strong and modern Navy is of very high importance," President Murmu said.
The President said that for the last 75 years, a combat-ready, multi-dimensional and versatile Indian Navy has not only deterred our adversaries and safeguarded our maritime interests, but also enabled the creation of a peaceful periphery to facilitate socio-economic growth.
The Nation is proud of the Indian Navy's commitment to protecting our maritime borders, securing our trade routes and rendering assistance during calamities.
The President noted that over the years, the Indian Navy has developed significant capabilities to be a mission-deployed and response-ready force across the Indian Ocean Region, and be the 'First Responder' to any contingency, in our maritime neighbourhood. She said that the country looks up to the Navy to protect our maritime interests.
Speaking about her visit to INS Vikrant, just before the Colour presentation function, the President said that the indigenously built modern aircraft carrier INS Vikrant is a shining example of Atmanirbhar Bharat.
Today, India is among a select few nations with the capacity of building an aircraft carrier with indigenous technology. She appreciated the entire team of the Indian Navy, Cochin Shipyard Limited and everyone associated with the journey of INS Vikrant. She said that India is proud of the brave men and women of the Indian Navy for serving the nation with distinction and dedication.
(With PRD inputs)