Thiruvananthapuram: The state government has ordered a Vigilance and Anti-Corruption Bureau investigation into foreign funds recieved by opposition leader V D Satheesan.
The move comes after allegations surfaced of FCRA violation in the overseas funding pertaining to a project to help flood victims in Satheesan's assembly constituency.
The preliminary probe is based on a complaint filed by Chalakudy Kathikudam Action Council member Jaison Panikulangara; it claimed Satheesan sourced the funds in violation of the FCRA for the Punarjani project designed to help those who lost houses and livelihoods in the 2018 floods in his home constituency of Paravur.
The action comes even as the fundraising in the US in the name of the Loka Kerala Sabha programme being organised by the state government has turned into a controversy. Chief Minister Pinarayi Vijayan gave the nod for the investigation against the opposition leader just before flying to attend the programme.
The Vigilance, now probing a complaint it had considered and dropped back in 2020, has raised a few eyebrows. Even the High Court had rejected the matter twice. When the charges were raised in the assembly towards the end of the first Pinarayi Vijayan government, Satheesan challenged the authorities to institute a probe.
Under the project, a total of 280 houses have been constructed so far for the flood victims in his constituency. Out of this, 37 houses were sponsored by Malayali expats. Satheesan had requested the funds during a visit to Dubai and the UK.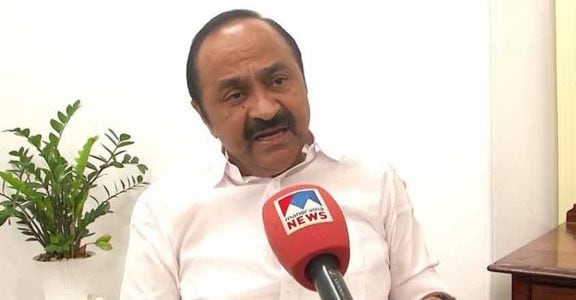 Jaison Panikulangara, in his complaint filed to the Vigilance Director, among others, alleged irregularities in the foreign fundraising. However, the Home Ministry initially adopted the stance that there was no merit in the charges and that a probe was not needed. The Assembly Speaker, too, didn't give a nod to the investigation.
Vigilance itself is "confused"
The Vigilance itself is confused about whether there is merit in initiating a legal probe into the complaint. The government didn't suffer any losses during the fundraising or its spending. The money is not from the public exchequer, either. Another argument is that it is the Enforcement Directorate that should initiate the probe if the FCRA Act is violated.
"I had presented the helplessness of the flood victims who lost everything in the deluge before the Malayali expat community. The fund was not raised. Instead, those among the Malayali community settled abroad who were convinced of the plight of the flood victims came forward to extend sponsorship. They directly constructed houses and handed them over to the needy. I just backed them to the core in my capacity as an MLA," said Satheesan.