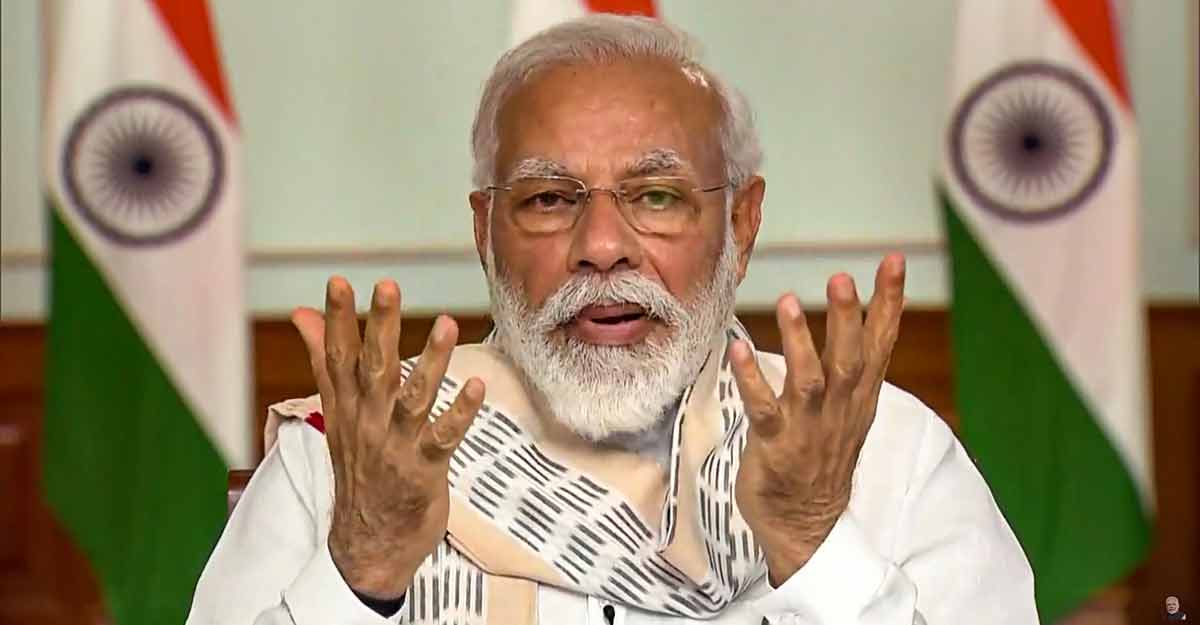 In his sixth address to the nation since the announcement of the first lockdown in late March to contain COV!D-19, Prime Minister Narendra Modi on Tuesday announced free grains for eligible ration card holders for another 5 months.
"Under PM Garib Kalyan Yojana, we announced a package of Rs. 1.75 lakh crore. In the last 3 months, Rs. 31,000 crore has been deposited in the bank accounts of 20 crore poor families. In addition, Rs. 18,000 crore has been deposited in bank accounts of more than 9 crore farmers. Now PM Garib Kalyan Anna Yojana will be extended till the end of November. This is likely to cost another Rs 90 thousand crore," PM said.
"Today, if the government is able to provide free food grains to the poor & the needy, the credit goes to two sections. First, the hardworking farmers of our country and second, the honest taxpayers. I thank you from my heart," PM Modi added.
The development came amid the surge in coronavirus cases across the country. On Monday, the Centre announced guidelines for the sixth phase of the lockdown dubbed 'Unlock 2'. It will come into effect on July 1 (Wednesday) and will remain effective till July 31. It envisages a further reopening of the economy and the easing of restrictions imposed in the aftermath of the coronavirus outbreak.
PM Modi said that strigent measures that India implemented has helped save lakhs of lives.
"Timely lockdown, other decisions saved many lives," PM said. While India is doing better that most countries, Modi urged all to remain viligent and heed all guidelines issued by the Health Ministry.
However, he said people have been negligent since Unlock one began and this has led to a spike in cases. He urged all to remain vigilent and heed the directives issued by the Health Ministry.
Modi also warned that the monsoon, the season of cough, fever and cold, is upon us. He urged all to take care of themselves.
This was Modi's first address after the bitter standoff between Indian and Chinese troops in Ladakh's Galwan Valley, where 20 Indian army personnel were killed in clashes on June 15. However, the PM steered clear of any discussion on the matter.
In his monthly "Mann ki Baat" address on Sunday, the prime minister had asserted that India has given a befitting reply to those who cast an evil eye on its territory in Ladakh.
The Centre on Monday announced its decision to block 59 Chinese-owned mobile applications including TikTok, WeChat and UC Browser.
In a statement, the government said the apps were blocked "in view of information available they are engaged in activities which is prejudicial to sovereignty and integrity of India, defence of India, security of state and public order".
PM's recent announcements:
In his March 19 address, the prime minister announced a "janta curfew" on March 22.
On March 24, he announced a 21-day nationwide lockdown. On April 14, he extended the lockdown period till May 3.
On April 3, in a video message, Modi asked the nation to light lamps for frontline corona warriors on April 5. The lockdown was further extended till May 17 by the Home Ministry.
On May 12, Modi announced a Rs 20-lakh-crore financial package to boost the economy recovering from coronavirus-induced lockdown.
On June 21, Modi called on all to embrace yoga to keep respiratory diseases at bay.