The brutal murders of Soumya and Jisha, Walayar case and many such tragic incidents still grip my mind. It keeps reminding me of how unsafe I am in this country.
As a journalist, I also stumble upon many rape and murder stories every day. The December 2012 Nirbhaya gang rape shook every woman in the country. Seven years have gone by but women are still unsafe in this country, whether it is day or night.
In connection with the observance of Nirbhaya Day, the Kerala Women and Child Development Department is conducting a 'Night Walk' for women on December 29 as part of its women empowerment efforts and to create awareness about the surge in violence against women. The walk will be held from 11pm to 1am at 100 different locations in the state.
But as a woman who travels often in the night, I feel this is nothing more than a joke.
Women, men, politicians, police and others, lend me your ears; I appreciate the message the government is trying to put out that public space is for women too. But I have a problem with the way they are trying to convey this message. Let us get this straight.
Minister for Health and Social Justice K K Shailaja said this initiative has two major aims. One is to help women overcome the mental stress and 'unreasonable' fear to walk in the night.
My response: I always walk to my flat with my keys wrapped around my fingers, rushing and looking all around me every 30 seconds. I don't remember there ever being a time in my life when I felt totally comfortable walking alone after dark. And therefore I don't think the fear is 'unreasonable' like the minister mentioned.
Maybe she meant, women need not be worried to walk in the night. Whatever has happened to many women around me has trained my brain to expect any kind of attack anytime I walk.
Unless the mentality of people change or justice is served properly, I don't think any woman would ever feel safe to walk in the night.
The second point she mentioned in her Facebook post was to identify usual harassers women encounter while walking in the night and provide their details to the police. But isn't that a usual thing any woman would do?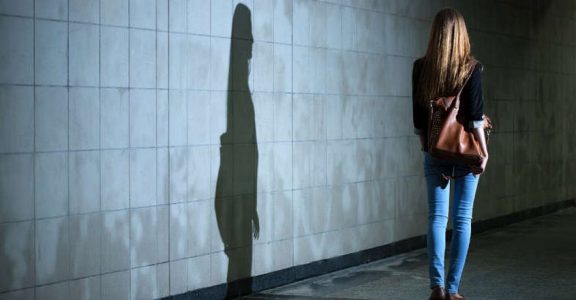 Will she try to flee to safety or inform the police?
So what is the new in this approach the authorities are aiming for? I can't figure out.
Above all, remember, this night walk is held only in areas where CCTV cameras are installed, street lights are working and with police officers and volunteers of women and child development department always around. This itself will make any woman feel safe.
But in reality, this is not the case. You are just making women feel safe for a day and asking them to get on with their lives somehow after that.
I never find police vehicles all the time. I never find well-lit roads all the way to my home. I never find CCTV cameras through the route I travel. So how do I overcome the fear in reality?
Recently, Ninnie Mary Baby, one of our reporters, did a reality check on how safe Kozhikode city was for women at night.
Her story is proof that women cannot venture out alone at night without prying eyes and threats of sexual assault.
She even tried to reach out to the pink police, but got an insensitive response: the service was available only till 9pm.
Forget that, she even had to go through moral policing that too by cops.
"We will teach you a lesson," she was told by a cop when she asked his name. Now that's the reality I am talking about.
Now, tell me, should I walk in the night trusting such a line of thought prevalent among our cops? How will I walk when even the police look at me with suspicion as if I am straying on the wrong side of law?
I will walk as I have to reach home. I have no other way but to face the fear - something which I had to face for the past 26 years of my life.
Whatever I have gone through, like any other woman out there, is more than enough to emphasise that there is no safe zone out here.
Now, so with this initiative, you are asking me to take a stroll in the night under surveillance and be comfortable? But can't I get the same safety net every night when I walk back home? Am I asking too much?
Okay, you might say I am just like any other person who is just waiting to criticise the authorities. Trust me, I am not.
But if things worked the way it was supposed to, we may not need to have the fear in our mind.
The government can identify and map safe areas, conduct proper patrolling by the She Police every night and set up police booths- something that Chennai and many other cities already have.
Proper call centres that 'pick' calls and act on time, having a government app for the safety of women who walk in the night linked with police control, and many more ideas can be worked out to make women feel safe.
Above all, proper functioning of law enforcement system is the need of the hour.
How many culprits are arrested in most cases? If arrested, were they punished? How many are still out there as predators?
I would still say the aim to encourage women to walk in the night is commendable.
But can the authorities ensure the safety of all women if more women get the courage to walk in the night?
I think the government should first ensure safety and then ask women to walk in the night. All we need is to 'feel' safe.
Aside: A safe world for women is still an utopian dream.