Desperate times call for extreme measures. Nearly 4.5 lakh confirmed cases of coronavirus infection are spread across the globe now. The death toll is 20,000 and rising globally, including 11 in India, where we have over 600 confirmed cases. That can only rise in the coming days if we won't stick to basic funda of government-imposed norms to check the spread of a pandemic.
Now, a pandemic is an epidemic spreading globally with scant regard for international boundaries.
The gravity of the situation also stems from the fact that there is no known vaccine to check its spread.
Alarming for a majority, but not for some of our fellow countrymen. And those who revel in mischief making, when desperate measures are to be embraced.
Sticking to official figures alone on the second day of a lockdown enforced in southern Indian state of Kerala, a day ahead of a nationwide lockdown announced by Prime Minister Narendra Modi, we have a huge problem to deal with.
Authorities have slapped cases against 2,535 for wanton travelling when there is a statewide clampdown on getting out of home.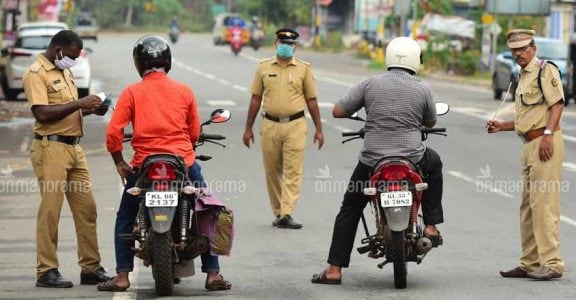 Now getting out of home is allowed in unavoidable circumstances.
But these cases are mostly about indulging in some roadside revelry or "curiosity tourism" when we need to have utmost caution as a virus wreaks havoc on the social fabric of the globe itself.
Police have seized 1,636 vehicles of such irresponsible elements. These numbers lay bare the shrinking civic sense in a state which prides itself on being a role model in the country on many counts, including its famed healthcare system, which has so far excelled in checking the wanton spread of a contagion.
But there is also a need to figure out that hidden behind these numbers, a miniscule percentage of the more than 3 crore population of the state, there is a laudable chunk.
Only because this laudable chunk form an overwhelming majority a pandemic situation cannot be arrested.
And trust us, these numbers are before you only because there is an effective administration.
Otherwise, such irresponsibly exuberant behaviour doesn't know any nationalities.
What we have on our social palette is panic buying, stocking and all sorts of lumpen behaviour that is to be buried in a crisis.
We have had mass gatherings in many parts of the world when social and physical distancing is the only known check for such a desperate situation.
Vaccines are months away. So reforming our social psyche drastically is directly proportionate to our well being.
In other words, not embedding more precious and faceless souls into the dashboard of disaster.