Himself a product of a volunteer organisation, it did not take long for the then Union Home Minister, Rajnath Singh, to realise the power and potential of Kerala's Student Police Cadet (SPC) scheme, when he attended its annual day celebrations in January 2016 in the State's capital, Thiruvananthapuram.
Rajnath, a former physics lecturer, was convinced that the school-based initiative of the Kerala Police enables youth to develop their innate capabilities and empower themselves to resist substance abuse, deviant behaviour and anti-establishment violence.
"Strengthening the good Indian values of universal brotherhood, patriotism, truth and the ability to place the community or the country's interest above that of one's own is very important," he noted during the function. The model would be replicated nationally, he said.
Quite unobtrusively, the State's SPC has now been adopted by the Union Government. Barely two years after his Kerala visit, Rajnath delivered on his promise and launched it nationwide in July, 2018, under the Bureau of Police Research and Development of the Home Ministry. 
Thus the SPC scheme is currently being implemented in more than 11,342 schools all over the country and 7,62,018 students have enrolled as SPC Cadets.  
It must be the largest volunteer group of students attached and nurtured by the police forces,  dedicated to service and value-shaping activities in the country. 
"We learn to Serve" is its motto and the major difference with the NCC functioning under the Defence Services is the emphasis on service and connectedness with society that SPC focuses on.
The SPC scheme's pioneer Kerala has about 65,000 volunteer cadets and  more than 2.5 lakh students have completed being mentored since it was formally adopted by the State Government in 2010. 
The idea was experimented by a socially-committed 1999 batch IPS officer of the Kerala cadre, P Vijayan. 
His story itself is inspirational. Having failed in matriculation, he worked for sometime as a construction help and then staged a remarkable academic comeback. 
He remains the architect of this movement though others including ADGP Manoj Abraham and S Ananda Krishnan and State Police chief, Loknath Behera himself have lent their support.
During Covid, SPC cadets rallied to display the potential of the innovative multi-sectoral model of community-based development that taps sector synergies. 
Sample this:
• Student cadets were urged to set up kitchen gardens during the lockdown and this imparts lessons on self-reliance and self-sufficiency. SPC has set up about 75,000 kitchen gardens with the involvement of the Department of Agriculture. The approach has been multi-departmental.
• Cadets were encouraged to imbibe the idea of "One World". Every living being has a right to the world and student-members arranged about 2,30,000 water pots and food points for birds and animals in the vicinity of their houses
• During the lockdown, student cadets planted nearly 4,00,000 saplings all over the State.
• Students stitched about 3,30,000 masks for distribution to those in need.
• For all cadets, Yoga is now a way of their daily life. This is a habit which they will find it difficult to discard. It is expected to lead them to balance their lives better. 
• Members of the SPC take a pledge against substance misuse and say no to tobacco, liquor and pan masala.
• Students helped the differently-abled to reach polling booths during the recent Assembly elections in Kerala, contributing to making the democratic process more participative.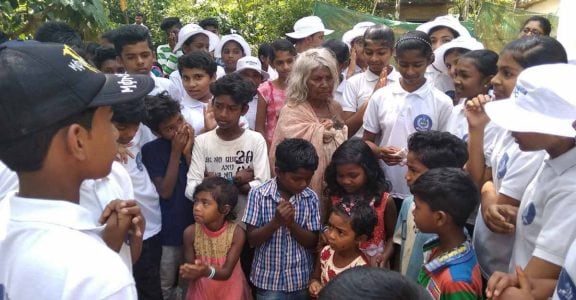 Studentpolicecadet.org is the movement's website and gives an overview of the commendable work done by children with mentoring by the State police and a committed group of teachers too.
"Only because of the SPC did I realise that a teacher's role is not restricted to the classroom. We have to take efforts to mould a law-abiding, self-motivated and responsible student community," Anver K, an English Teacher at a Government school at Vithura, on the foothills of the Western Ghats in Thiruvananthapuram, says.
The cadets have benefited immensely on account of the SPC's activities. Especially those who live on the margins of society. 
"I have picked up the confidence to speak in public only because of the SPC. I have acquired self-confidence and acquired great social skills in just two years. These are things which I cannot learn from text books. SPC is a boon for children like me," says Paanchan, of Attappadi, of a Scheduled Tribe family.
Paanchan is doing a Pre University course in the tribal settlement itself. Attappadi in Palakkad district of Kerala is a concentration of tribal settlements where poverty and deprivation still exists, despite many government initiatives.
There are lakhs of children like Paanchan in Kerala, whose character and lives have been reshaped positively by the SPC's constructive intervention at a formative age of their lives. 
In the age of the internet and app-based lives, nurturing a generation that has got a "connect" is itself an achievement. 
No nation worth its name has achieved greatness without self-discipline and social commitment which is what SPC seeks to foster. For a nation that has got 50  per cent of its population  below 25, this model offers the best solution for nation-building in a non-religious, values-oriented, community-networked basis. 
"The demographic bulge that we have will have to be converted into a demographic dividend in the nation's interest," IG Vijayan's words reflect his passion for this project. And he is happy it is acquiring national spread, albeit slowly. 
Kerala's SPC could well be a template for moulding young minds across the world, with mentoring by the law-enforcing agencies, in the society they serve.
(S Adikesavan is Chief General Manager with SBI working from Thiruvananthapuram. Views expressed are personal.)