Before Vasco da Gama set foot on the Kerala coast, a Russian from Tver, a town 180 km northwest of Moscow at the junction of the Volga and Tvertsa rivers, had reached Kozhikode at the end of his three-year travel across West and South India. Afanasy Nikitin, the 15th century adventurer from Russia who preceded Gama by more than two decades, perhaps represents the strong emotional connect between Russia and Kerala.
The warmth of this bonding was in full evidence as Roman Babushkin, Deputy Chief of Mission of the Embassy of the Russian Federation, spoke in Thiruvananthapuram at a meeting to commemorate Russia Day to commemorate the adoption of the Declaration of State Sovereignty of the Russian Soviet Federative Socialist Republic (RSFSR) on June 12, 1990.
In attendance were CPI leader and Kerala Minister, G.R Anil, celebrated filmmaker Adoor Gopalakrishnan, advisor to a former Indian Prime Minister, TKA Nair, John Brittas, MP and representatives from all walks of life in the capital.
At a juncture in history when global power equations seem to be in a state of flux, the genial Babushkin, in his address, drew attention to the historic ties between India and the Soviet Union starting with its support for the setting up of IIT, Mumbai in 1958, the Treaty of Peace, Friendship and Cooperation in 1971 (which acted as an important bulwark against the West's support to Pakistan during the war for the Liberation of Bangladesh), the first flight of an Indian into space on board a Soyuz flight (Rakesh Sharma), the Russian-assisted Koodankulam nuclear power plant and the multi-dimensional strategic partnership between India and Russia.
In memory of Afanasy Nikitin, the Kozhikode Corporation recently renamed a road after him and will twin with Tver, Nikitin's birthplace, for tourism and city development. Already, Kochi and Thrissur have twinned with Pyatigorsk and Yessentuki in Russia.
Further, while we are familiar with the European Union, Minister Counsellor Babushkin spoke about the Eurasian Economic Union (EEU) which is now in the process of negotiations for a Free Trade Agreement with India. The EEU now consists of Armenia, Belarus, Kazakhstan, Kyrgyzstan and Russia.
Russia is now firmly on the way to increasing the size of its trade relationship with India. On the sidelines of Sunday's meeting, he said his country is keen on ramping up business ties with all parts of India, including Kerala.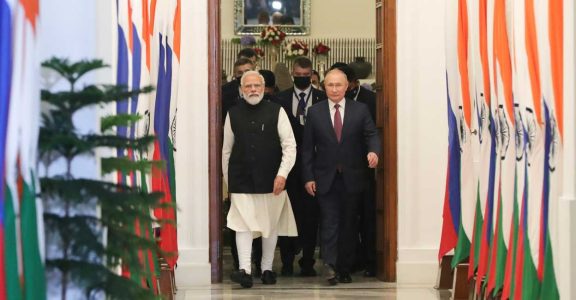 " I am thrilled by the goodwill and the spirit of friendship at the people-to-people level between our two countries," he said, enthused by the full house at the Russia Day celebrations. His genuineness and sincerity in spreading the word about Russia's keenness to build upon old friendships were transparent.
Admittedly, there is greater scope for trade and business between a commodity and energy superpower like Russia and India, the world's fastest-growing economy and the second-most populous country in the world. Against Russia's nearly 150 million population, India has 1,400 million. While the former has a per capita income of US $ 12,000, India's is just about $2,300.
As India aims to increase the income levels of its population and target inclusive growth, the Russian Federation is an actor on the stage, relationship with whom has to be consistently and constructively improved. For those in South Block in New Delhi it is a tough balancing act but so far India has moved deftly keeping its national interest in the forefront and mindful of its old friendship with Russia.
During 21-22, it is estimated that trade between India and Russia rose not less than 45 per cent over the previous year and though the figures are yet to be in, the total volume is expected to have been at least $13 billion. But the two major economic powers have great potential to ramp up trade. While India's highest exports is to the US at about $ 72 billion, China occupies the corresponding position for Russia at $ 112 billion.
Babushkin's outreach to an elite audience in Kerala's capital stuck the right chord and top businessmen of Kerala like B. Govindan of Bhima Jewellers were keen on finding out possibilities of sourcing gold and precious metals from Russia.
In every crisis there is an opportunity, it is said. The Russia-Ukraine war may also add a new chapter in bilateral relations. Earlier in the day, Babushkin had offered to accommodate students of medicine from Kerala, who had to discontinue their studies in Ukraine in Russian Universities.
Welcoming the gathering, the Honorary Consul of the Russian Federation in Kerala, Ratheesh C Nair movingly referred to Russia as a "country with a soul".
For neutral friends of Russia and those who wish for peace everywhere, the sooner the war comes to an end, the better it will be for a further deepening of trade, business and bilateral relationships with Russia and indeed with the entire world. India's motto, as outlined by Prime Minister Narendra Modi, is Vasudhaiva Kutumbakam —the universe is our family.
(S Adikesavan is a top executive with a bank. Views expressed are personal.)