Lahore: Two non-bailable arrest warrants were issued against ousted prime minister Imran Khan on Monday for failing to appear in courts in the Toshakhana case and for threatening a woman magistrate while addressing a public gathering here last year.
A team of Islamabad Police has flown to Lahore to arrest Khan.
Khan, the 70-year-old former cricketer-turned-politician, who has been recovering from a gunshot injury from an assassination attempt in Wazirabad last year, has skipped indictment hearings in these cases.
The courts of Additional District and Sessions Judge Zafar Iqbal (hearing the Toshakhana case) and Senior Civil Judge Rana Mujahid Rahim (hearing the threatening judge case) issued arrest warrants for Imran and instructed the police to present him before the courts on March 18 and March 21 respectively.
The Pakistan Tehreek-e-Insaf (PTI) chief was in the crosshairs for buying gifts, including an expensive Graff wristwatch he had received as the premier at a discounted price from the state depository called Toshakhana and selling them for profit.
The case against Khan, the chairman of the Pakistan Tehreek-e-Insaf (PTI) party was registered in August last year, over his remarks at a rally here, in which he warned Additional District and Sessions Judge Zeba Chaudhry and top police officials of dire consequences for their "biased" attitude towards his party.
He also blamed them for the treatment meted out to his aide Shehbaz Gill, whom he alleged was subjected to torture in judicial custody.
Initially, Khan was booked under various sections of the Pakistan Penal Code after the Islamabad High Court initiated contempt of court proceedings against the former premier.
In September last year, Khan appeared before the sessions judge to personally apologise to Chaudhry.
Consequently, the Islamabad High Court removed terrorism charges against Khan.
However, a similar case was filed against him after the FIR was registered.
Khan has heavily criticised the state institutions after a botched attempt by police to arrest him from his Zaman Park residence in Lahore earlier this month.
According to Khan, he was facing at least 80 different cases in various courts across Pakistan.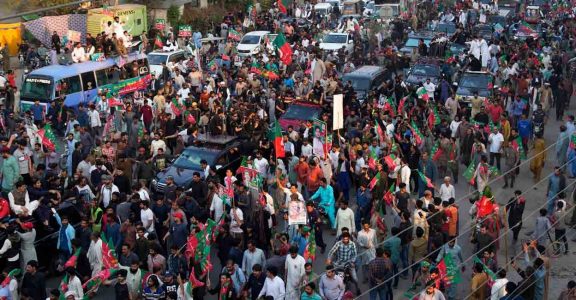 Section 144 imposed ahead of Khan's Lahore rally
Pakistan's ousted premier Imran Khan Monday led a march of thousands of his supporters, a day after he called off his party's election rally following a ban on public gatherings in Punjab's provincial capital.
His supporters threw rose petals at a convoy carrying him to Data Darbar shrine where he is expected to address his PTI workers. A large number of women also joined the rally.
Khan left his Zaman Park residence as Islamabad police arrived in Lahore on a special helicopter to arrest the PTI chief.
Earlier, the Lahore district administration met with the party's leadership to discuss the rally, its route and security arrangements.
The district administration, however, imposed a condition that no leader would give a statement against the judiciary or any other institution.
As the caretaker government had directed the PTI leadership to end the rally at 5.30pm, it could not reach its destination (Data Darbar shrine) at 7.45pm. Khan is leading the rally while sitting in a bomb-proof car.
Senior PTI leader Fawad Chaudhry has warned the government against any attempt to stop the rally. "Watch the scenes of the rally in Lahore at this time and understand that stopping Imran Khan is like inviting people's wrath," he said.
Khan on Sunday called off his party's planned election rally in Lahore after Punjab's caretaker government banned public gatherings in the provincial capital.
In a televised address, Khan on Saturday announced that he will lead an election campaign rally in Lahore on Sunday and urged his supporters and workers to participate in face of the police brutality purportedly committed against the Pakistan Tehreek-e-Insaf party.
Soon after his announcement, the local administration enforced Section 144 in the provincial capital and banned public gatherings, citing concerns in the wake of a Pakistan Super League (PSL) cricket match in the city.
Khan's party approached Election Commission offices and the courts against the government's move, saying the imposition of Section 144 should be declared null and void.
Later, in a surprise move, he postponed the rally, calling on his workers to "not fall into this trap".
"It seems again Sec 144 has been imposed illegally solely on the PTI election campaign as all other public activities are ongoing in Lahore. Only Zaman Park has been surrounded by containers & heavy police contingent. Clearly, like 8 March, Punjab CM & police want to provoke clashes to file more sham FIRs against PTI ldrshp & workers & to use as a pretext for postponing elections (sic), Khan tweeted.
He told his supporters "not to fall into this trap".
"Hence, we have postponed the rally till tomorrow," he tweeted.
However, Punjab's caretaker Chief Minister Mohsin Naqvi said that no ban had been imposed on political activities in the city. "All political parties are freely allowed to campaign, he tweeted.
One activist of Khan's party was killed on Wednesday during a crackdown on his supporters who gathered outside his residence in Lahore, defying a government ban on rallies in the city.
Meanwhile, the Lahore police booked Khan in another case related to the killing of a PTI worker - Ali Bilal alias Zille Shah - in a road accident.
Earlier, the Lahore police had registered an FIR against Khan and 400 others for the murder of Shah.
The PTI had accused the police of murder of Shah after inflicting brutal torture on March 8.
This is the 81th FIR against Khan since the PML-N led federal coalition came into power 11 months ago after toppling his government through a no-confidence motion.
Khan was ousted from power in April after losing a no-confidence vote in his leadership, which he alleged was part of a US-led conspiracy targeting him because of his independent foreign policy decisions on Russia, China, and Afghanistan.