Kherson: Ukraine President Volodymyr Zelenskiy described the bursting of the Kakhovka dam in southern Ukraine on Tuesday as "an environmental bomb of mass destruction" and said only liberating the entire country could guarantee against new "terrorist" acts.
About 42,000 people were at risk from flooding in Russian and Ukrainian controlled areas along the Dnipro River after a dam collapsed, as the United Nations aid chief warned of "grave and far-reaching consequences."
Ukraine and Russia blame each other for the collapse of the massive dam on Tuesday, which sent floodwaters across a swathe of the war zone and forced thousands to flee.

Ukraine said Russia committed a deliberate war crime in blowing up the Soviet-era Nova Kakhovka dam, which powered a hydroelectric station. The Kremlin blamed Ukraine, saying it was trying to distract from the launch of a major counteroffensive Moscow says is faltering.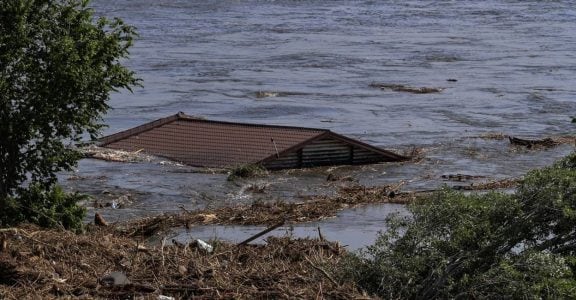 "Such deliberate destruction by the Russian occupiers and other structures of the hydroelectric power station is an environmental bomb of mass destruction," Zelenskiy said in his nightly video address.
Zelenskiy said the destruction of the dam would "not stop Ukraine and Ukrainians. We will still liberate all our land.
Only the complete liberation of Ukrainian land from the Russian occupiers will guarantee that there will be no more such terrorist attacks".
The Kakhovka dam, downstream from the huge Kakhovka reservoir, is crucial to the region. It provides water to farmers and residents, as well as to the Zaporizhzhia nuclear power plant. It is also a vital channel carrying water south to "Russian-occupied" Crimea, the British news broadcaster said.
UN warns of grave consequences
UN aid chief Martin Griffiths told the Security Council that the dam breach "will have grave and far-reaching consequences for thousands of people in southern Ukraine on both sides of the front line through the loss of homes, food, safe water and livelihoods."
"The sheer magnitude of the catastrophe will only become fully realized in the coming days," he said.
No deaths were initially reported, but US spokesman John Kirby said the flooding had probably caused "many deaths".
Ukrainian officials estimated about 42,000 people were at risk from the flooding, which is expected to peak on Wednesday.
Dam collapsed on Tuesday
In Kherson city, about 60 kms (37 miles) downstream from the dam, water levels rose by 3.5 meters (11-1/2 feet) on Tuesday, forcing residents to slog through water up to their knees to evacuate, carrying plastic bags full of possessions and small pets in carriers.
"Everything is submerged in water, all the furniture, the fridge, food, all flowers, everything is floating. I do not know what to do," Oskana, 53, said when asked about her house.
Buses, trains and private vehicles were marshalled to carry people to safety in about 80 communities threatened by flooding.
In Kherson, cracks of incoming artillery sent people trying to flee running for cover on Tuesday. In the evening, Reuters reporters heard four incoming artillery blasts near a residential neighborhood where civilians were evacuating.
Residents in flooded Nova Kakhovka on the Russian-controlled bank of the Dnipro told Reuters that some had decided to stay despite being ordered out.
"They say they are ready to shoot without warning," said one man, Hlib, describing encounters with Russian troops.
The Kazkova Dibrova zoo on the Russian-held riverbank was completely flooded and all 300 animals were dead, a representative said via the zoo's Facebook account.
"More and more water is coming every hour. It's very dirty," Yevheniya, a woman in Nova Kakhovka , said by telephone.
Who is responsible?
Washington said it was uncertain who was responsible, but Deputy US Ambassador to the UN Robert Wood told reporters it would not make sense for Ukraine to destroy the dam and harm its own people.
The Geneva Conventions ban targeting dams in war because of the danger to civilians.
Ukrainian President Volodymyr Zelenskiy said in a video address that his prosecutors had already approached the International Criminal Court about the dam. Earlier, he claimed on Telegram that Russian forces blew up the power plant from inside.
"Residents are sitting on the roofs of their homes waiting to be rescued.... This is a Russian crime against people, nature and life itself," Oleksiy Kuleba, a senior official on Zelenskiy's staff, said on Telegram.

The dam supplies water to a wide area of southern Ukrainian farmland, including the Russian-occupied Crimean peninsula, as well as cooling the Russian-held Zaporizhzhia nuclear plant.
The UN nuclear watchdog said Zaporizhzhia, upriver on the reservoir, should have enough water to cool its reactors for "some months" from a separate pond.
As Kyiv prepares for a long-awaiterd counteroffensive, some military analysts said the flooding could benefit Russia by slowing or limiting any potential Ukrainian advance along that part of the front line.

(With Reuters inputs)