For cricket enthusiasts of my generation, winning the 1983 World Cup will remain the most memorable event of our childhood and adolescence. Our national side winning the trophy defeating the all powerful West Indies in a thrilling final was akin to a dream coming true in real life for us. All the players in that squad, from skipper Kapil Dev to Sunil Valson, retain a special place in the hearts of all of those fans fortunate to witness this historic victory. Hence, it was only natural that the demise of Yashpal Sharma, one of key members of this team, in the week that went by, led to an outpouring of grief of a magnitude usually attached to deaths of only sporting icons.
It is not usually remembered that Yashpal was one of the two rank newcomers in the national cricket team from India that left for touring Pakistan for a three-Test series in 1978. The other was Kapil Dev, who was catapulted to stardom straightaway as he caught the attention of the nation on account of his prowess as a fast bowler. Hence it is only natural that most followers of the game in India remember the advent of Kapil into international cricket as the sole bright spot of this tour, where India lost both the Test series and One-Day International series to a vastly superior Pakistani side. Only very few fans will remember that Yashpal played in a couple of ODIs during this tour, without making much of an impact. Though dropped during the series against West Indies that followed, he forced his way back to the squad that toured England during the summer of 1979. Yashpal made his debut in Test cricket during the second match played at Lord's.
Yashpal started playing for Punjab in Ranji Trophy during the 1973-74 season. In his initial years he had to face all the difficulties faced by a player hailing from a state that was not traditionally strong. This meant that opportunities were few and those that came his way had to be grabbed with both hands. Yashpal first came into national limelight when he played an innings of 173 in Duleep Trophy against South Zone, which boasted of an attack comprising Bhagwat Chandrasekhar, Erapalli Prasanna and Srinivas Venkataraghavan in 1977-78. This earned him a call to the Rest of India side that took on Karnataka in the Irani Trophy match in September, 1978, which was in the nature of a selection game for the forthcoming tour to Pakistan. Yashpal scored 99 in the only innings he batted before being run out, thus winning a place in the squad that toured Pakistan.
After being left out of the playing eleven during the 1979 World Cup, Yashpal scored heavily in the games against counties that preceded the four-Test series against England. He did not set the Thames on fire on his entry to Test cricket but gave the impression that he was a gritty and determined batsman who placed a very high price on his wicket. In fact it were these traits of Yashpal that was to stand him in good stead right through his career at the highest level.
It was during the 1979-80 season, when India played 13 Tests at home, that Yashpal cemented his place in the national side. He began with a half-century against the Kim Hughes-led Australia at Chennai but soon faced the embarrassment of being dismissed without scoring in both innings, thus bagging a pair, in the third Test at Kanpur. He had later remarked that when he was sitting brooding over these twin failures with the bat, it was Marshneil, wife of Sunil Gavaskar, who offered words of comfort saying, "you become a complete Test batsman only after bagging a pair and scoring a century; now that you have bagged a pair, you will soon hit a century." Yashpal took this advice to heart and wasted no time in hitting his first 100 in Test cricket, which came in the very next test at Delhi! He also performed creditably with the bat when Pakistan toured India that season scoring a total of 314 runs, with three half-centuries.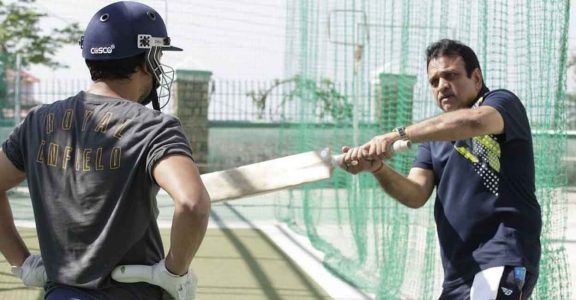 The twin tours of Australia and New Zealand in 1980-81 was not a happy one for Yashpal as he struggled when confronting the fast bowlers of these countries in conditions favourable to them. His form was so miserable that he could play only in the second Test of the series against New Zealand, where he was dismissed for a duck. Not surprisingly, he was not considered when the selectors met to pick the side for the first two Tests of the home series against England that began in November, 1981.
But Yashpal was not one to give up quickly. He returned to the domestic circuit and scored piles of runs and was ready for the call from the selectors when they sought a replacement for an out of form Sandeep Patil. Once again Yashpal grabbed the chance and struck a stroke-filled 140 in the fifth Test at Chennai. He followed this with a half-century at Kanpur, thus booking his ticket for the tour of England that followed. He did not do anything spectacular during this series, where he played in all the three Tests and was distinctly fortunate to make it to the squad that went to Pakistan in 1982-83. He played only in the last Two tests in Pakistan and just made it to the side for the tour of West Indies in 1983.
It can be said with authority that the four-month period from February to June, 1983, constituted the best period in Yashpal's career. He equipped himself well in the Caribbean islands and came out of the tour enhancing his reputation as a gutsy batsman who did not flinch even before the fastest of bowlers. He stuck around bravely, repeatedly taking blows on his body but did not show even the slightest amount of discomfort despite the intense pain that he would have felt.
Yashpal started the 1983 World Cup with a bang, top scoring with 89 in the first match where India shocked the cricketing world by inflicting the first ever defeat on West Indies in the tournament. He won the man-of-the-match award for this performance. He again top scored during the last league match against Australia which India won to secure a place in the last four stage. He played a critical role in the semifinals against England as well, anchoring the Indian chase with a superb knock of 61. The match was critically poised when England captain Bob Willis returned for his second spell but Yashpal coolly flicked an attempted yorker sent by this fast bowler over midwicket for a six to ensure that the upper hand remained with his side. Earlier, he was instrumental in dismissing the dangerous Alan Lamb with a direct hit that caught the England batsman short of his crease while attempting a quick single. He must have been close contender for the man-of-the-match award in this game, as his efforts were not in any manner second to that of Mohinder Amarnath who was selected by the adjudicator for this honour.
However, Yashpal suffered an inexplicable drop in form when a second string Pakistan toured India in 1983. He could not score many runs in the three-Test series and was dropped for the first Test against the West Indies. He came back for the second Test but failed again and was axed, this time for good. He was given another opportunity during the ODI series against England in 1984-85 but he could not utilise them to cement his place in the side.
After his retirement from first-class cricket at the close of 1992-93 season, Yashpal took to umpiring and qualified as a first-class umpire in 1995. However, he soon turned to administration of the game and served first as junior selector and later had two stints as member of national senior selection committee. A friendly and outgoing person, he was always free with a word of advice for young cricketers and never refused an autograph or a request for selfie from the fans of the game.
Yashpal was a cricketer who demonstrated that one can survive at the highest through a combination of grit, guts and fortitude. He was not immensely gifted in the manner of Gundappa Viswanath nor did he possess the technical perfection of Sunil Gavaskar but he made up for these by his steely resolve and never-say-die attitude. He was a committed teamman, always keen to take extra workload on his shoulders and never shrugged at having to play second fiddle in the interest of his side. His sudden demise, at the relatively young age of 66, came as a rude shock for the cricket fraternity as he had remained physically fit and free from illnesses, after his active playing days.
Rest in peace, Yashpal Sharma. You were part of the national side during an extraordinary period in Indian cricket and your contributions will be remembered so long as the game is played in this country.
(The author is a former international umpire and a senior bureaucrat)