Actors Adithyan Jayan and Ambili Devi have earned numerous fans by being part of several popular serials. Ambili is a well-known dancer too. Both of them are now enjoying life together. While Adithyan often sets out on trips, Ambili is keen on travelling even though she has not been fortunate to get many opportunities in this regard.
However, the couple went on a trip recently and Adithyan shares with Onmanorama details of his first travel with Ambili after their wedding.
"Most of my trips have been to temples and my mother used to accompany me. After mother's demise, I felt lonely but I found relief in travels and temple visits," he says.
As an ardent devotee of Shiva, Adithyan has travelled to Murudeshwar a number of times. "The attractions of the place include the tallest temple tower in South India and the second biggest Shiva sculpture in the world. The shrine, where history and myth lie entangled, is located in the Uttara Kannada district of Karnataka. The Shiva sculpture is 123 ft tall and is right on the seashore. A visit here gives me much peace," explains Adithyan.
First trip after wedding
The first trip for Adithyan and Ambili after wedding was also to temples. "We went to Guruvayur and my family temple, the Sree Krishna Swamy Temple at Ambalapuzha. We prayed fervently for blessings during our life's journey together and also made several offerings," says Adithyan.
"Ambili is different from me in the sense she has a number of wishes," says Adithyan.
"In order to make life colourful, short trips can be planned and they can be made enjoyable. However, Ambili had not been lucky to go on long pleasure trips and experience the thrill. We solved that issue to some extent by going to Bandipur," he says.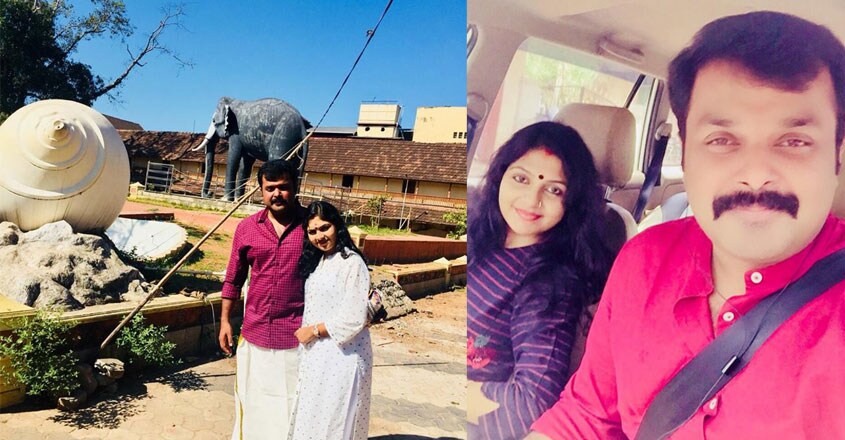 Taking a leave of a few days from their shooting schedule, Adithyan and Ambili headed to the forest. "Every sight in Bandipur was a novelty for Ambili. I was happier seeing the face of Ambili, who was enjoying every moment," says Adithyan.
The couple started late at night from Kerala and reached early next morning at Bandipur. Adithyan's friend had arranged a room for them there. "Watching wild animals at close quarters is an interesting experience. Animals from the forests of Masinagudi, Muthumalai, Moolehole and Wayanad reach Bandipur. Similarly, animals from Bandipur travel to these adjacent forests," says the celebrity.
"We saw many animals, including deer, elephant and others. But we were sad that our son was not accompanying us. It was because he was having exams. Ambili said that she wished to see more of Bandipur and that we should bring our son too next time," says Adithyan.
"The Bandipur trip was planned suddenly. Now we wish to travel to many more places with our son," he adds.
Trips abroad
Adithyan's favourite destination among the places he has visited abroad so far is Dubai. "Ambili also has visited Dubai as part of a programme. Our dream trip now is a journey together to Dubai. The place is much different from our state. It is a very busy city. A visitor would be amazed by the high-rises, illumination, the very tall Burj Khalifa, shopping malls and the media city," he says.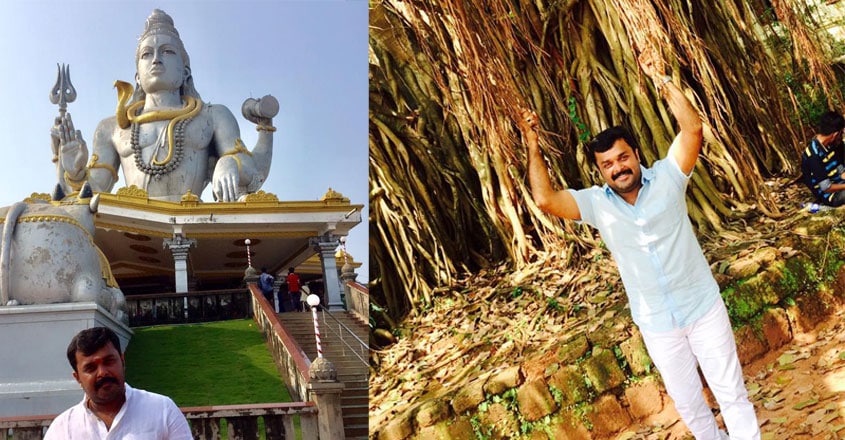 Kodaikanal trip
When summer is at its peak in Kerala, cool weather prevails in Kodaikanal. "This draws many Keralites to the hill station. Moreover, the trip to Kodaikanal is rather affordable. Spending two or three days there is always thrilling and refreshing. Now I wish to make a trip to Kodaikanal with Ambili and son," says Adithyan.
Favourite spots in Kollam
As Adithyan hails from Kollam, he loves all the attractions there. "There are some spots where great food is available in Kollam. I love mutton dishes and in Kollam Ezhuthani Hotel serves fantastic mutton curry and 'vettu' cake. It's my favourite eatery in Kollam - tradition and taste blend in a lip-smacking manner here," he reveals.
"I also enjoy visiting Guruprasadam Hotel and relishing the dishes there," Adithyan adds.
He learns about new destinations and the specialities there from reading and watching pictures. "I feel an affinity to places about which I have read. I also wish to make a journey there at least once in my lifetime. Another hobby of mine is making trips to places where good food is available and enjoy the tastiest item there," says Adithyan.
"Both Ambili and I love travelling and we hope to go together to a lot of places. We pray to God to fulfil our wishes," winds up the actor.