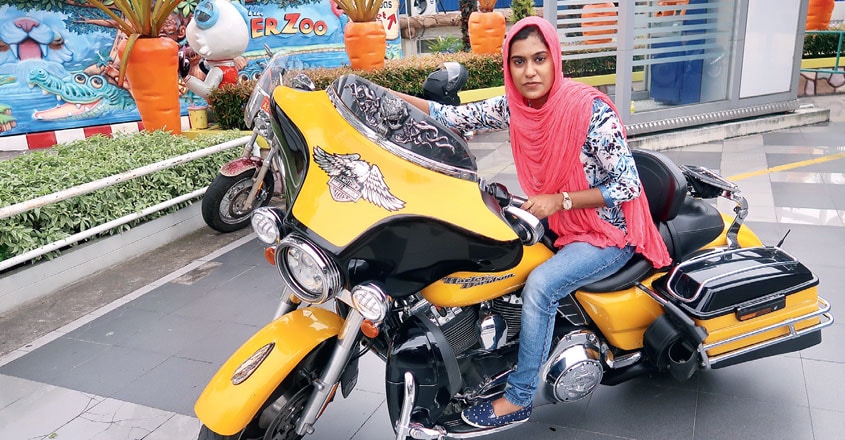 While most of us here find it difficult to save money for an annual vacation tour, vlogger Jinsha Basheer is earning money for every trip she takes. The crossroad of her life was her decision to publish photographs and videos of her own journeys online. When her posts on Facebook crossed 8000 likes, Jinsha was assured. Vlogging is more remunerative than the job of an engineer."

Jinsha Basheer, who grew up in village of Charummoodu near Thiruvalla has only 11 months of experience in vlogging. But this 28-year-old has more following than those who had been dabbling on Facebook for over 10 years. Jinsha became a vlogger by chance soon after landing a job with an IT firm after completing her engineering. The story goes like this: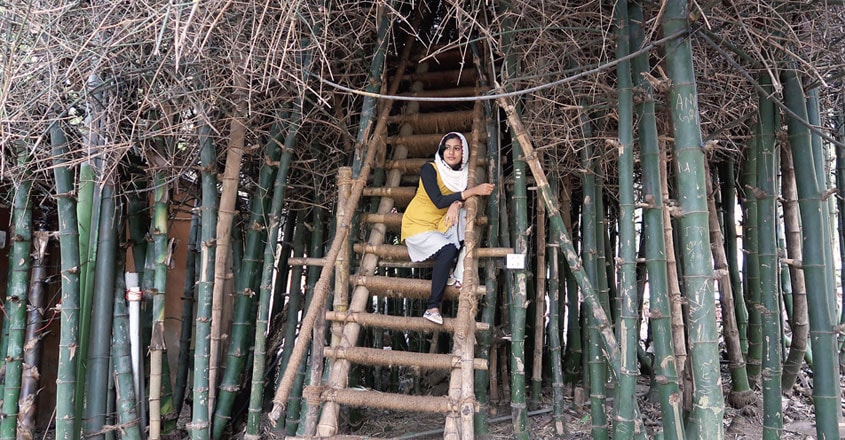 Jinsha and Faisal when refuelling at a petrol bunk near Adoor, happened to witness an altercation involving one of the petrol bunk employees and a biker. The biker claimed that he was given less petrol for the money he had paid. The employee argued that every customer should check the counter to ascertain the quantity of petrol received.
Faisal, deciding to get to the bottom of the issue, enquired with another employee of the petrol bunk who revealed a big secret: Fill petrol for 5 or 10 rupees more than the required quantity. For example, fill petrol for 110, 220, or 1015 rupees. In such cases petrol will be filled as per the exact amount. He talked about those petrol bunks which manipulated the software and delivered less quantity of petrol for the money paid. To make this event public, Jinsha recorded a video and posted it in Facebook with an advice to fill petrol for 5 or 10 rupees more than the usual exact amounts like 100, 200, 1000 etc. Their Facebook page, which till then had only Jinsha and Faisal as members, received 5000 likes within a day.
A reply to trolls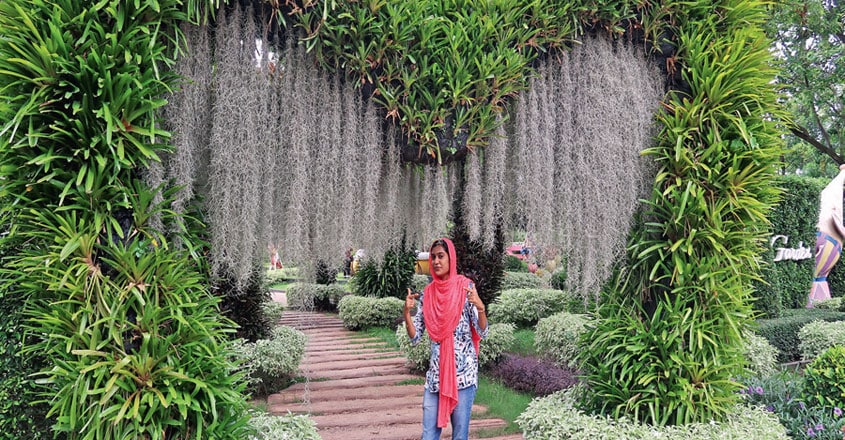 Jinsha was born in Utraula in Uttar Pradesh to Basheer, a military man and Barisha, a nurse, as the youngest of the three sisters. When she was 8 years old, the family resettled in Charummoodu. Jinsha loved travelling since her childhood. During her studies, she travelled to Mysore and Madurai. Taj Mahal, Agra and Qutub Minar remained her dream destinations. On the first weekend of getting married to Faisal, they travelled to Vagamon and her passion for travelling was rekindled.
While she was working in an IT firm owned by Faisal (which was also a period of many journeys), she got an offer for taking up a job of a teacher in Qatar. The school management asked her to send a video depicting a simulation of her teaching the pupils. By the time the school management intimated her of their satisfaction of her teaching video, the 'petrol bunk' video had become 'viral' in the Facebook. Jinsha decided to focus on volgging instead of taking up the teaching assignment in Qatar. Faisal, too, supported that decision. The first vlog trip was made from Masinagudi to Ooty via the Kallatti pass. Another vlog on a journey through the Bandipur forests followed. These videos highlighting the beauty of the forests, too, became viral.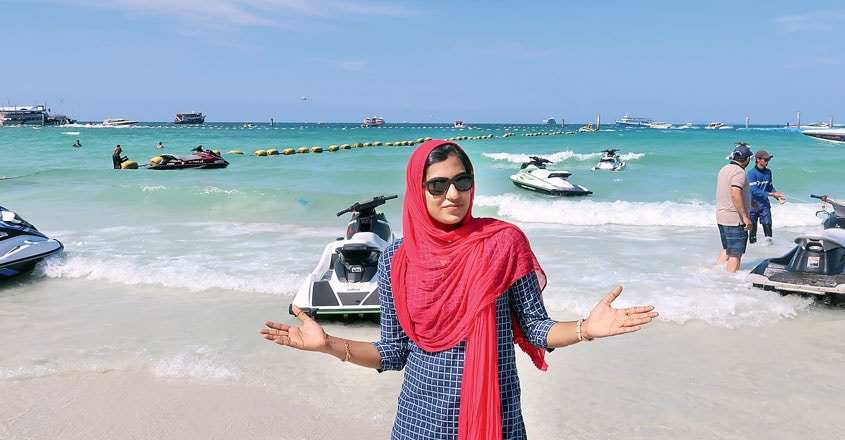 Attempts were made by some elements to hurl abuses at Jinsha and her father through adverse and offensive comments. Jinsha was appalled but decided not to quit. But both Basheer and Faisal supported her cause. "If you bow down now, it will be akin to accepting total surrender."
Jinsha took a screenshot of the Facebook page of the person who was vitriolic on her which also had that person's photograph and posted it on her own Facebook page. Within minutes, the children and nephews/nieces of the person apologized. Soon after that, the Facebook page of the person disappeared.
Making money for and from travelling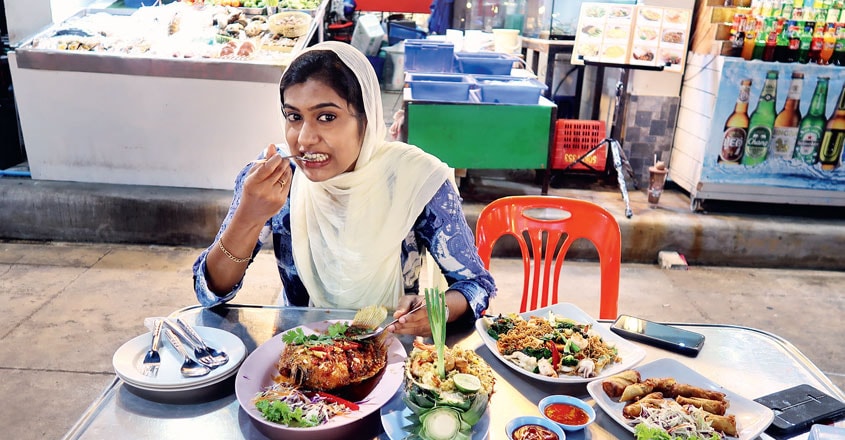 One of the first international vlogs Jinsha Basheer did was in Singapore. Dubai and Thailand followed. The followers were introduced to the facts that in Singapore, a bottle of water costs Rs 350 and that in Thailand, one could take selfies with tigers, all through her vlogs.
"Rains round the year, gentle sunshine, towering buildings, beautiful landscape…Singapore is a place that must be visited at least once in a lifetime. At the same time, Dubai is a place of Guinness Book of world records. There is a village in Dubai with a rivulet and farming. This village is known as Al Barari Farm." More than one lakh likes were received for this vlog alone.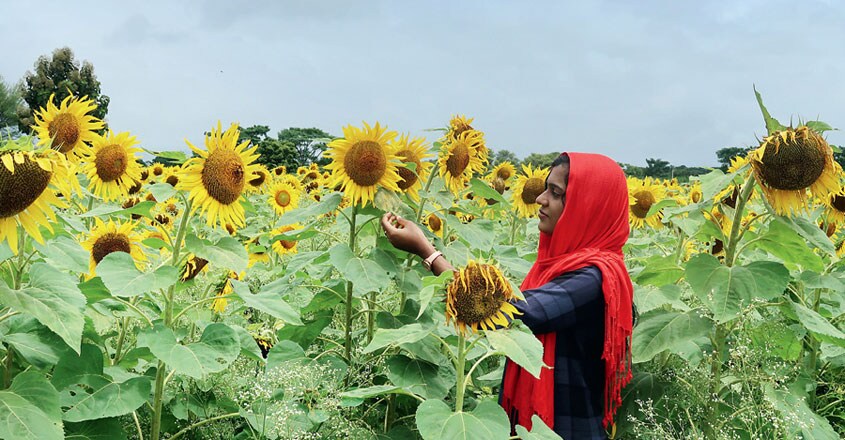 "Thailand is a country of individual freedom. The issue is how that freedom is utilized. There is a zoo housing 200 tigers in Thailand. In the elephant rearing centre, one could play with the elephant calves. Photos can be captured with one riding a crocodile in a lake of about 1000 crocodiles." These facts were included in Jinsha's vlog on Thailand.
'Mariner of the Seas,' a royal Caribbean cruise liner which berthed in Kochi was visited with special permission. "The vlog relating to this visit to the ship with an interior bigger than the Lulu Mall got instant popularity," Jinsha explained how she started getting remuneration from Facebook.
The vlogging technique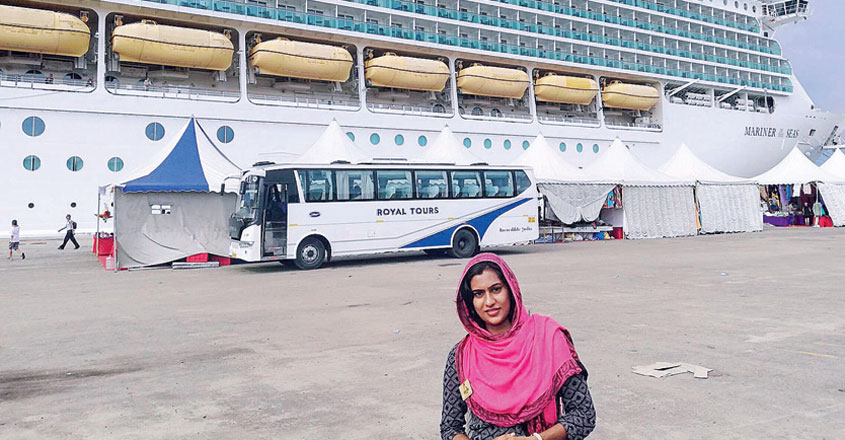 Jinsha and Faisal discovered 'The Earth Lounge' in Kochi international airport while on their way to Dubai. They entered the lounge to avoid the boredom of waiting for their flight. Two hours in there costs Rs 2000. But if you are holding Visa Platinum, Master Card etc it will cost only Rs 2. With that unlimited food and drinks, bathing area, relaxing area etc are made available to you. 'The Earth Lounge' which the airport runs with the promotion of banks, was immediately videoed by Jinsha. Similar videos with little known facts were released on Jinsha's Facebook page. Likes and comments started piling up on such posts. Remuneration flowed from Facebook and You Tube.
"Tour operators approach us. They invite us to film the package tours they conduct. The tour and accommodation facilities would be arranged by the operator. The vlog that is made on the tour should reflect the services provided by the tour operators. The tour operator which took us on their package tour to Thailand saw more number of tourists opting for its services. The income comes through the Facebook posts. If 1000 readers read it, some small amount will come in the account. You Tube is the best paymaster. If there are 1000 subscribers and 4000 minutes of viewing, an account for transferring remuneration can be created. The more the number of viewers, more is the remuneration. Jinsha explains after going through the statistics after turning a professional vlogger she has 87,000 followers on You Tube.
Offers for international tours are waiting her attention. There is some indecision on where to fly next among the options available. Faisal loves Switzerland. Jinsha has decided that as soon as her Dubai trip is over, she would fly out to Europe.