Munnar with its misty mountains, exquisite tea gardens and drizzling rain will always be a favourite of tourists. Even after the summer holidays, Munnar is packed with tourists. Visitors love the fact that they are able to have this beautiful connection with nature at Munnar.
Actor Kunchacko Boban who loved travelling is also enjoying the splendours of Munnar. He shared a video that covered Munnar's scenery and Chandy's Windy Woods resort. A mug that has the picture of Kunchacko Boban, his wife Priya and son can be seen in the video. Kunchacko also thanked Chandy's Windy Woods for the beautiful gift.
Chandy's Windy Woods has become a popular destination for tourists in a short time. This resort is built in harmony with nature. The place offers completely different experiences from other resorts. The balcony of all the rooms is arranged in such a way it gives the impression that the waterfall is situated inside the resort and overlooks the valleys of Munnar which are spread out in greenery.
The driveway to the resort room is also built in the shape of a beautiful forest. From the balcony of the resort, one can also enjoy the view of the fort-covered hills.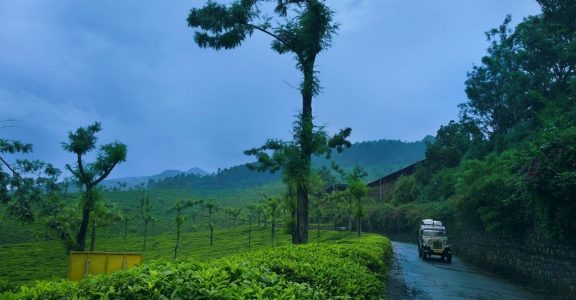 Busy Munnar
The summer holidays just got over but the flow of tourists to Munnar hasn't ebbed. Tourists are coming here to witness the drizzle and mist. Misty tea gardens, unending stretches of greenery and mist-covered roads. And the pleasant cold of the mist. The beauty of Munnar cannot be described in words. There are many places waiting for tourists in Munnar.