Mega star Mammootty's love for swanky cars is quite well known. An excellent driver, Mammootty often drives himself to the film sets. There is even a joke in the industry that the easiest job is to be Mammootty's driver as there is no need to do work at all. The actor is so passionate about driving that he is always seen behind the wheels. Now, the video of the actor enjoying a long drive in the beautiful Australian countryside has become viral. Interestingly, he covered around 2,300 kilometres driving from Sydney to Canberra and from there to Tasmania.
In a Facebook post, Robert Kuriakose who manages the charitable activities of the screen icon said that Mammootty was absolutely enjoying the drive. He was happy when it started raining and couldn't stop talking about his college days. Mammootty was accompanied by his close friend Rajasekharan, his wife Sulfath and Robert.
"As we drove from Sydney to Canberra, Mammootty was at the wheels. It seemed as if time and memories too had been our back-seat passengers. First, we went to Melbourne and then to Tasmania. Mammootty was calm as he drove through the clear road between rows of trees and verdant meadows. I have heard that Mammootty loses his cool when he sees someone violating traffic rules on the road. But, Mammootty was in a good mood, may be because the drivers in Australia are nothing like what we see in Kerala. He hummed a song, enjoyed the drizzle, recalled fond memories from his college and cracked jokes too. I, his close friend Rajasekharan and Mamookka's wife Sulfath were listening keenly.
Mammokka had covered the two coasts of Tasmania, which is an island state that is larger than Kerala. We drove from Hobart to Launceston and from there back to Hobart via Swansea and Port Arthur. He wasn't tired and excitedly drove Roshit's brand new car across Tasmania. Within two days, we drove around three hundred kilometres.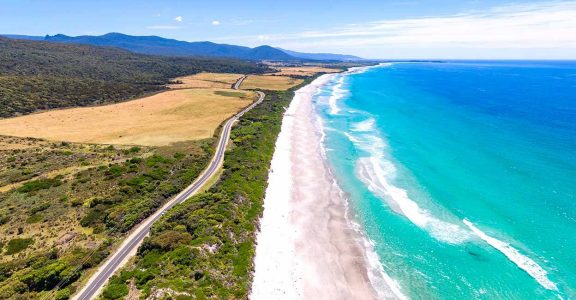 I was surprised by the fact that Mammookka knew the Australian traffic rules better than me, even though I have been living here for over a decade. Meanwhile, we argued about a particular traffic rule; he wasn't ready to give up. So, in order to clarify the doubt, we called an officer in the Tasmanian traffic department (Sanil Nair). Mammookka was right! Kiran James took us around Sydney while Madanan Chellappan helped us during the great ocean drive in Melbourne. Kiran Kayaprakash accompanied us during the coastal drive that includes Philip Island. But, Mammookka surprised them by being more 'Australian' than they were. I couldn't believe that I was enjoying some amazing days and moments that were more beautiful than a super hit movie. I am grateful to God and to time; and to my dear Mammookka who took me along in this epic drive," Robert wrote.