Actress Andrea Jeremiah caught the imagination of film buffs through a stellar performance in Rajeev Ravi directed super hit Malayalam film 'Annayum Rasoolum'. Andrea, who is also a lyricist and singer, later acted in many movies and made a mark in the south Indian film industries.
The multi-talented actress has now shared her travel pictures with her fans on social media. She has posted amazing snaps and videos of her sojourn to Bali in Indonesia. One of the pics includes a surreal photo taken at the Penataran Agung Lempuyang temple in Bali. "Was lost in this one, didn't know I was being photographed… probably why this is my most cherished memory from this trip," she writes.
The revered Balinese Hindu temple is situated on the slopes of Mount Lempuyang and is part of the 'pura' complex, one of the highly-regarded temples in Bali. It is worth noting that the temple is one of the 'Sad Kahyangan Jagad', the six holiest and prominent places of worship in Bali. According to the Balinese belief, the temple is dedicated to Sang Hyang Widhi, the highest god, and the 'Trimurties'.
Undoubtedly, the exquisite architecture of the temple, which is situated 600m above sea level, stands out. Andrea has taken to Instagram to upload mesmerizing photos taken at the candi bentar split gate, which is the gateway to 'jaba pisan', the outer sanctum sanctorum of the temple.
The actress has also posted some breathtaking photos of the Gili Islands, another tourist attraction in Bali. The Gili Islands are an archipelago if three isles – Gili Trawangan, Gili Meno and Gili Air – located on the northwest coast of Lombok in Indonesia.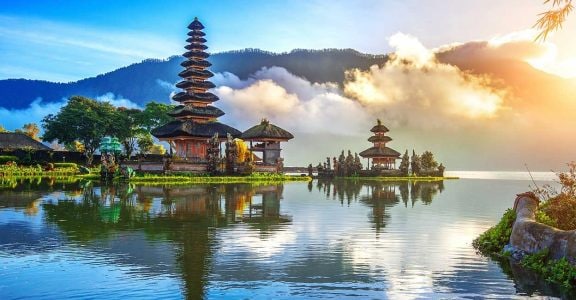 The islands boast of many resorts, hotels and huts for the travellers. It is noteworthy that there is a pronounced concentration of local populace on the Trawangan Island. The inland of the island is on the eastern side and motor vehicles are not allowed in the region. The tourists and the local residents have to depend on bicycles or horse carriages known as 'cidomo' to move around or should travel by foot.
The Gili islands can take your breath away with their sublime coral reefs. The islands are also the favourite destination of tourists who are into scuba diving, free diving and snorkelling, among others. The main diving spots of the islands include Shark Point, Manta Point and Simon's Reef. Indonesia's second highest active volcano Mount Rinjani is near the Gili islands.