South Indian actress Amala Paul is a self confessed travel lover who packs her bags and set out for trips whenever she gets time. The actress often posts beautiful pictures and videos from the scintillating locales that she travels to, on her social media page. Amala is currently enjoying a relaxing vacation in the mesmerizing beaches of Bali.
Sharing a video from Bali, Amala wrote, "Nature – a place where beauty, hope and magic stay alive." In the video, she is seen enjoying the cool rain showers of Bali. Besides, Amala has posted a few pictures from Ubud which is known as the spiritual heartland of Bali. Amala also posted photos of her taking in a dip in a pond at Pura Gunung Kawi Sebatu on the Shiavratri day as part of a purification ritual.
Bali is one of the most popular tourist destinations in the archipelago of Indonesia. Blessed with scintillating nature, Bali is famous for its mountain ranges, lush greenery and pristine beaches. Hundreds of tourists from around the globe reach Bali to enjoy its unique culture, tradition and cuisine.
The spiritual heartland
Ubud is often hailed as a tourist area that provides a complete package. The quaint town is known for ancient temple complexes and great artistic and cultural heritage. However, now, it has become a hub for yogis, digital gypsies and expatriates. Bali is a country that has bustling cities with cafes, galleries, yoga studios, boutiques and museums and also splendid countryside with verdant fields and perfect rural life. Elephant rides and tours to watch fireflies too are organised here. Mount Batur and lake
Mount Batur is an active volcano that is situated in the centre of the Calder mountain ranges towards the north west direction of the Agung mountain. The volcano is also known as the Kintamani volcano. Moreover, the beautiful views of the Caldera which is 13 square kilometres wide and the lake attracts hundreds of visitors.
Pura Besakih
Pura Besakih is the tallest mountain in Bali which houses an ancient temple. It is a giant temple complex with more than 86 heritage temples. The legends say that these temples that face the nine directions to protect Bali from evil. Pura Besakih is believed to be the most ancient and pious temples in Bali.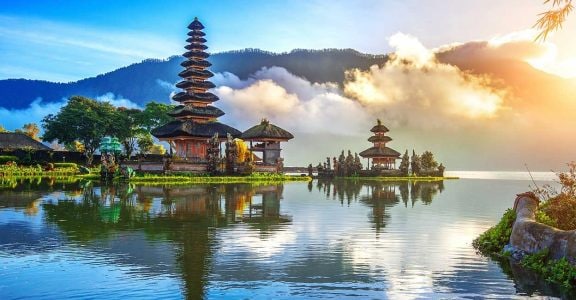 Cuisine
Bali is a food lover's paradise and millions of foodies visit here just to taste their traditional cuisine. Bakso which is a traditional meat ball is a popular dish here. Besides, there are many takers for beef and chicken sates, spring rolls, corn fritters, fried prawn, soup bantut, ubud, calamari, salmon and ox tail soup.