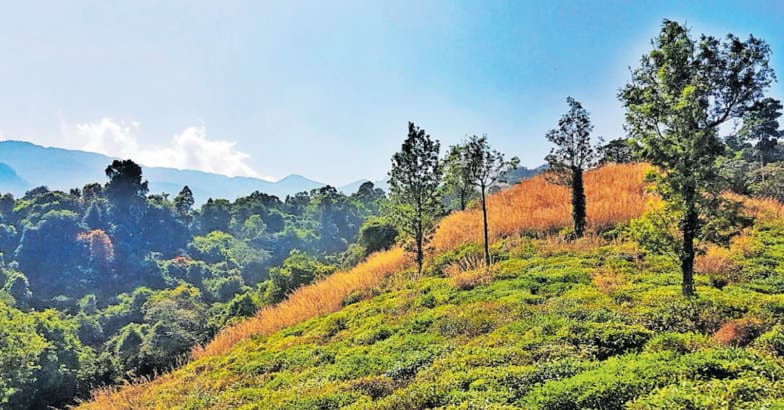 Richly clad in green, the breath-taking scenery invites you to Pachakkad in Wayanad.
A delightful drive through Meppadi-Chooral Mala Road takes you to Puthumala. A little ahead, you can see a sales outlet run by Sentinel Rock Estate of Harrisons Malayalam. Take the narrow estate road which meanders to the top of the hill. All along the hilly route, are mesmerising vistas of typical tropical greenery and tea plantations.
The vast expanse of tea gardens is flanked by lofty hills on one side and plunging valleys on the other. Travelling along the serpentine road around the hills is indeed an exhilarating experience. The path leads to Pachakkad, an enchanting spot. Its pristine beauty suggests that human footfalls in the area are indeed limited. A narrow red gravel road parts the tea gardens and the forest. Stunning natural beauty awaits the explorer taking the path.
The hills that touch the azure skies, tea shrubs that appear as patterns of concentric circles, the verdant hills and valleys and the bright Gulmohar blooms that add a splash of colour - all bestow the place a captivating aura.
You can climb up the hillock through the winding path to the right of the mountain range. The walk entails you to plod through long blades of golden grass that grow as tall as an average human being. From the top of the hill, you can enjoy the panoramic view of valleys dotted with silvery streams and waterfalls.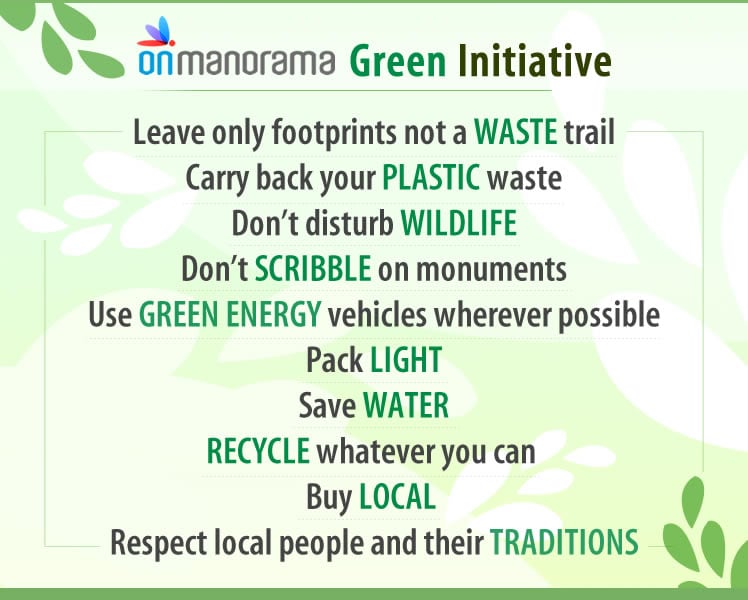 Things to do: Village visit, photo walks, water sports, trekking, nature walk
Places to see
Edakkal caves  - If stepping into the bygone era is something you are passionate about, then the historically significant Edakkal Caves will prove to be a great experience.
Meenmutty - Choose the wilderness and the river to wash away the tedium of city life.
Aranamala  - Fills eyes and hearts
Sugandhagiri -  Where fragrance wafts in every breeze
Banasura Sagar Dam - The largest earthen dam in India is located at Padinjarathara, about 25 km northeast of Kalpetta.
Must eat
Ask your tour operator to make arrangements to try out tribal cuisine of Wayanad, like kaatu curry, then nellikka, etc.
Puttu and beef/fish curry – Have you tried fish for breakfast? If not try, give it a try in Wayanad.
Try it at home Recipe: Puttu kozhi – a whole roasted chicken stuffed with puttu,  Malabar beef roast
Chatti Pathiri - is layered savory pastry made in Malabar and the northern regions of Kerala.
Bread Mukki Porichathu - Amusingly enough, this is a sweet snack.
Neypathiri – It is a must try snacks for vegetarians.
Things to buy: Honey, coffee, tea, cardamom, handicrafts, spices
More in Travel | Getting Around Kerala