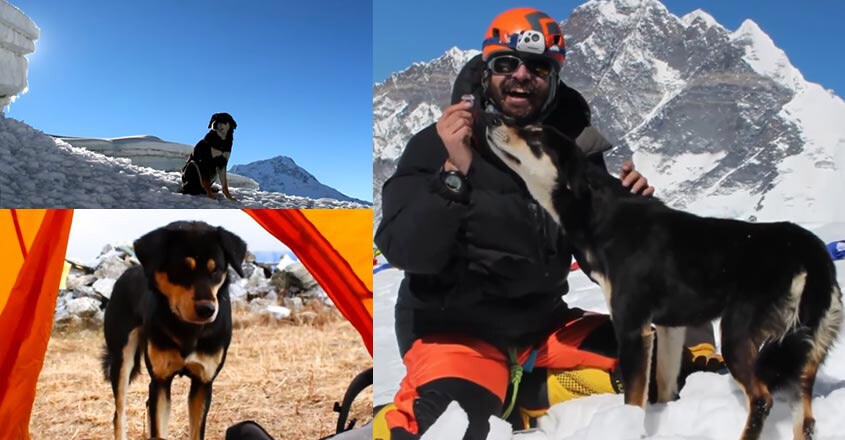 For the first time, a dog conquered a Himalayan peak of over 23,000-feet altitude, that too all by itself. The female canine, christened Mera by trekking guide Don Wargowsky with whom she became friends, is a cross between a Tibetan mastiff and a Himalayan sheepdog.

Baruntse peak, which Mera climbed, is 23,497 feet above sea level and located at the Khumbu area in Nepal. Most mountaineers attempt to scale the peak from the south side. The base camp of Baruntse can be reached only after climbing the Mera peak.
According to the Himalayan database, no other dog has trekked to an altitude of over 23,000 feet before Mera. Canines often reach the base camp of Everest, which is at an altitude of 17,600 feet and a few dogs have scaled Khumbu, at 21,300 feet.
A close bond
Several groups of mountaineers had earlier met a dog after scaling the Mera peak and had tried to befriend it. But all such efforts were in vain. Finally, when a Seattle-based team, of which Don was a part, reached the area, the dog joined the climbers and became very close to him.
It was Don who named the dog Mera as the canine was seen beyond the Mera peak with an altitude of 21,247 feet. Soon Don and Mera were inseparable and shared a tent as well as food. In fact, Don considered Mera his lucky charm.
Tough dog
Mera persisted in accompanying Don's team even at freezing temperatures of minus 20 degrees centigrade. Moreover, while the mountaineers were attired in weatherproof clothes, Mera had no protective wear against the extreme conditions. The canine even suffered injuries to its toes but was not deterred, finally reaching the top of Baruntse Peak.
Mera's feat attracted the attention of the international media and the internet witnessed a spike in searches for 'Mera.'