In view of increased tourist footfall on the picturesque isle of Sambranikodi in Kerala's Kollam district, the District Tourism Promotion Council (DTPC) is chalking out plans to put in place robust safety measures and more facilities in this village situated in the expansive Ashtamudi Lake.
Besides building a fence, the floating boat jetty will be shifted to a spot further from the island and a floating walkway connecting the jetty to the small island will be set up. Plans are also on the anvil to construct two rooms to house visitors on the main shore. A washroom and changing room would also be made ready apart from renovating the restaurant.
Efforts are on to prepare a detailed project report relating to the development of Sambranikodi, said DTPC secretary Remya R Kumar. The fencing would help to protect mangroves and prevent people from entering deep waters.
The isle
The narrow patch of land popped up a few years ago in the Ashtamudi Lake about 350m away from the Sambranikodi coast and it became a complete isle after soil dredged for the construction of the national highway was dumped in the backwaters. The isle would have knee-deep water throughout the year except for a couple of months when the island would be dry.
Four years ago, then DTPC secretary Santosh Kumar deputed Melvin, a DTPC employee and local resident, to study about the scope of converting the isle into a tourist destination. Based on the initial study report, a team comprising DTPC secretary, Tourism deputy director Rajkumar and DTPC executive committee member X Earnest visited the island and gave a report to then Kollam Collector S Karthikeyan. Later, the collector visited the village and gave the nod to start boating services to the small island. And the boating services began on November 30, 2018.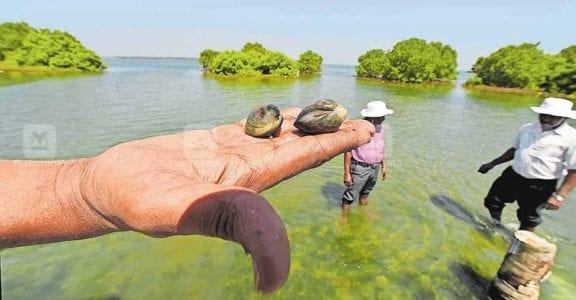 Spike in tourist footfall
The number of travellers visiting the serene isle is increasing manifold. Around 3,000 visitors are logged daily on holidays and weekends, and on other days too there is a steady flow of tourists. Earlier there was only one boat, but now 14 boats, including that of DTPC, are running services to ferry people to the isle. The tourists can visit the island between 8am and 5pm, and everyone has to leave the isle by 5.45pm. The boat fare is Rs 100 per person and lunch and snacks would be served on a boat near the isle.