Are you scouting for a serene place that is far away from the madding crowd? Then hit the road and head to Inchathotty in Kerala's Ernakulam district. The famous Inchathotty hanging bridge is near Neriamangalam, which is not far away from Kothamangalam. Inchathotty and its perfect natural settings have been canned for many feature films and short films besides becoming a rage on social media. This small hamlet on the banks of the Periyar River is now one of the sought-after destinations among travellers.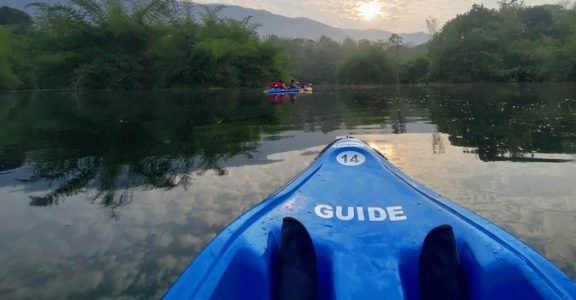 The highlights of this tourist spot include one of the longest hanging bridges in Kerala and kayaking through the Periyar River. The Inchathotty suspension bridge has become a stop off for people visiting the tourist destinations such as Bhoothathankettu and Thattekad bird sanctuary.
The hanging bridge was built as a walkway connecting Charupara in Keerampara panchayat with Inchathotty in Kuttampuzha panchayat. The bridge, which is 185m long and 4ft broad and which hangs 200m above the Periyar River, was designed and constructed by the Kerala Electrical and Engineering Company Limited (KEL), a public sector undertaking owned by the Kerala Government. The wobbly suspension bridge can give you jitters but the view from the bridge is awesome, to say the least. A walk through the hanging bridge will definitely give you the adrenaline rush.
Incredible kayaking
It is an exciting proposition to kayak on the Periyar waters while enjoying the rustic beauty of the wilderness. You can go on a kayaking spree alone or along with friends and a guide on a kayak canoe will direct the kayakers through the waters. Some canoes can carry 30 people and the kayaking charge for a person is Rs 100. All safety measures, including life jackets, are adhered to while kayaking through the Periyar River.