With its beautiful coastal belt, scintillating lakes and backwater and enchanting countryside, Kollam is the perfect holiday destination. The fabulous tourism sector of the district is known for its vibrant beaches like Kollam Beach, Thankassery Beach and Thirumullavaram Beach.
If you prefer the soothing lakes and the delicious seafood, then head to Kollam. Do not forget to visit the iconic Munroe Thuruth if you wish to enjoy the serene countryside. A boat ride through the rivulets and streams that connect the hamlets would open an enchanting haven of greenery and splendid village life. Besides, you could also spot rare avian species here.
There are lots of homestays here to stay comfortably and enjoy the amazing beauty of the village. The tourism route of Kollam-Anjalumoodu-Peruman-Munroe Thuruth truly offers some of the gems in the district.
Fish and crab
There is a ghat in Ashtamudi Lake where nature unleashes it beauty in all its might. From here you could spot an isle lined with mangroves, called Sambranikodi. Ferries are there to take you to these 2 acres of mangrove forest. Interestingly, you can wade through the shallow waters here. The thick mangroves purify the air, giving you a fresh breath of country air. The visitors can catch fish and crabs and even collect beautiful shells. Sambranikodi lures the visitors with its unbelievable beauty and enchanting vibe.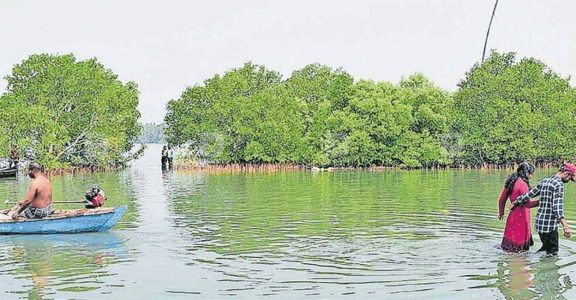 The Kerala State Water Transport Department has arranged ferry boats from Kavanad boat jetty to Sambranikodi. Take a right turn at Kadavur signal in by-pass and reach the ghat via Anjalumoodu and Prakkulam, if you want to reach there by road.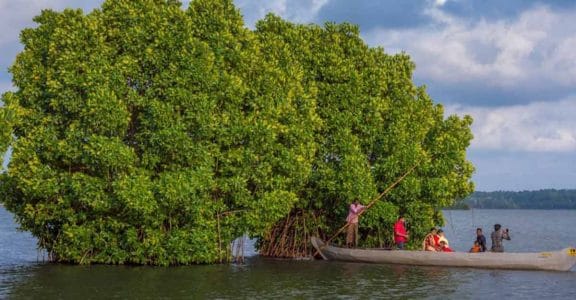 Kollam beach
The beautiful beach is at Kochupulimoodu, just 2 kilometres away from the city. It is one of the most popular tourist destinations in the district. The evenings in the beach are busy, with everyone flocking to enjoy the fabulous sun set. It is a favourite place of families where the kids can run around and play while the grown ups enjoy some calm moments in the sand.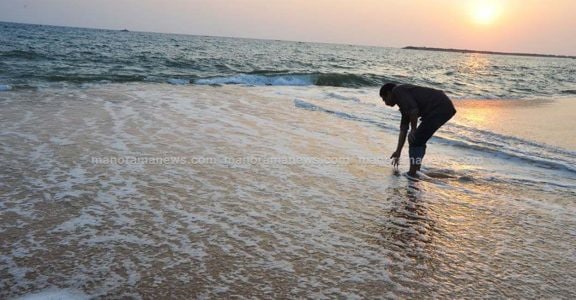 Other attractions
Dutch Quilon, Thirumullavaram Beach, Kollam Beach, Palaruvi waterfalls, Paravur, Punalur, Thenmala, Mayyanad, Deer Park, Thevally Palace, British Residency, Chavara, Jatayu Earth's Centre, Thankassery, Sasthamkotta, Rameshwara temple, Ochira temple, Munoor Island and Neendakara harbour are some of the popular tourist attractions in Kollam.
The Trivandrum International Airport is the nearest airport.