The south Indian state of Kerala is dotted with many distinctive ancient temples and places that have age-old houses-of-worship have become prominent tourist spots. Many tourists, both domestic and foreign, are flocking to these spots to offer prayers, savour the beautiful vistas and for research.
Thrikkakkudi cave temple at Kaviyoor near Thiruvalla in Pathanamthitta district is one such sought-after temple. The unique temple is situated 1.5km northwards of Thrikaviyoor Mahadeva temple. The temple is enshrined in one of the two rock formations that are facing each other.
The cave temple was constructed following the principles of Pallava 'ratha' architecture, which is a monolithic rock-cut architecture. As the temple is carved out of a single rock, it has numerous historic and architectural values. The huge rock has been drilled to create a sanctum sanctorum that is 20ft in diameter and in the middle of it is a 3.6ft tall 'Shiva linga'.
An 'ardhamandapa' (entrance porch) with a flight of stairs in the middle leads to the inner sanctum of the ancient temple. The walls of the 'ardhamandapa' are adorned with the statues of two 'dwarapalakas' (door guardians). The historians are of the view that these kind of 'dwarapalaka' statues cannot be found anywhere else in India.
The sculpture of Ganapathy and images of hermits embellish the north and south walls of the structure respectively. Interestingly, all these sculptures have a striking similarity with those in Mahabalipuram.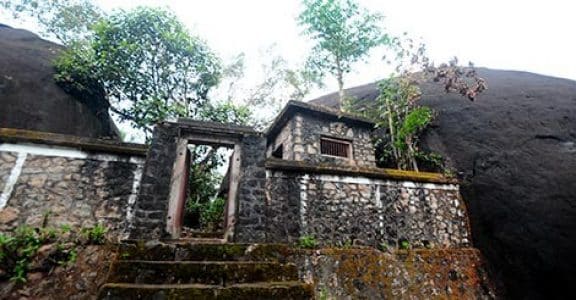 There are many myths surrounding the Thrikkakkudi cave temple. One legend has it that the cave temple was built during the forest exile of the Pandavas. It is believed that the Pandavas loved the picturesque place and its pleasant climate and they put in place a cave temple and installed a 'Shiva linga' idol to offer daily prayers. But the Kauravas got a clue about the Pandavas' whereabouts. After Hanuman came to know about the Kauravas' realization, he informed his brother Bheema about it. After that the Pandavas left the place and it is believed that the cave temple is still incomplete because the Pandavas left the spot in a jiffy.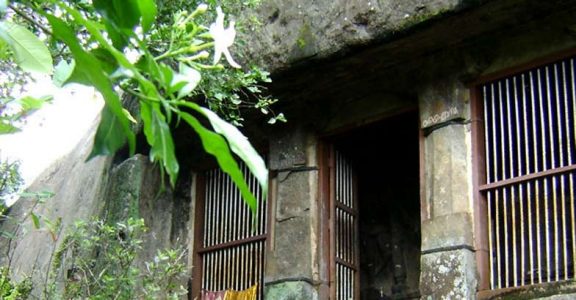 Besides devotees, many historians and travellers visit the temple, which is under the Travancore Devaswom Board, to get a feel of the intricate carvings on the rock. The stone sculptures of this place of worship are the reflection of earliest such engravings in the state. The Department of Archaeology is preserving the temple's sculptures, engravings, and rooms considering their historical value.
Undoubtedly, a visit to this standout temple would be a novel experience to the travellers. It is pretty easy to reach the temple as Thiurvalla railway station is just 4km and the Kochi international airport is 121km from the temple.