The bight-coloured ritualistic art form of Theyyam has a special place in the hearts of people in Kannur, a northern district in Kerala. Theatre and dance coated with rituals blend perfectly in Theyyams wherein man transforms into a personification of God and gives blessings to devotees. When the artists are stripped of their paraphernalia of Theyyams, they are 'koladharikkal' (carriers of figures of God) for the people of Kannur. For many artists who had been performing Theyyam for years, old age has set in early as they are sapped of their youthful energy.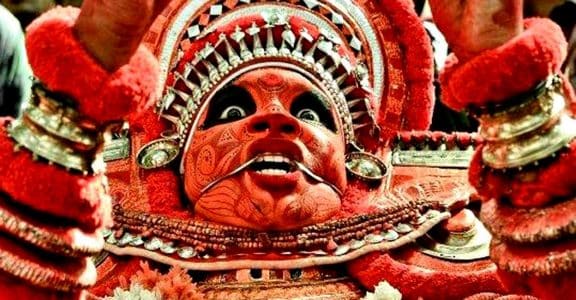 Pradeepan Pinarayi, a resident of Kizhakumbhagam in Pinarayi, started his Theyyam career by representing Lava and Kusha, sons of Lord Ram, at the Andaloor 'kavu' (sacred grove) at the age of seven. Pradeepan belongs to the Peruvannan community, which is traditionally associated with Theyyams. As the Theyyam artists follow matrilineal inheritance, the main roles in Theyyam are given to artists in tune with the matrilineal system.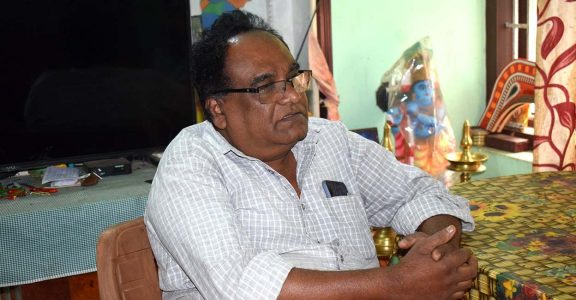 Kunjikannan, father of Pradeepan, found time to perform Theyyam along with his business commitments. As Pradeepan grew up seeing his father as a Theyyam artist, he didn't need any formal training in the art form. Though Pradeepan has taken a back seat due to health reasons, his son Vishal Pinarayi has made a mark in the Theyyam landscape of Kannur. Vishal had donned the Theyyam colours when he was studying in Class III and started going for performances along with his uncles. Later he became 'kaikodan', a 'kutti' (child) Theyyam, as part of the Thekkan Kariyath Theyyam. Usually only people belonging to the Vannan communities perform Thekkan Kariyath Theyyam. Vishal was a 'kutti' Theyyam till he completed Class IX. It is noteworthy that 'kutti' Theyyam also has the same prelude like other Theyyams. Later he took the Theyyam world by storm by becoming 'Thiruvappan', 'Muthappan' and 'Manatharapothi'.
Though Vishal is only 23 years old, he has in-depth knowledge about Theyyam like someone who had been in this field for ages. This young man points to the fact that there is a strong belief behind Theyyam. There is no compromise whatsoever, but to completely surrender and offer oneself to this ritualistic art form with great religious fervour, he notes.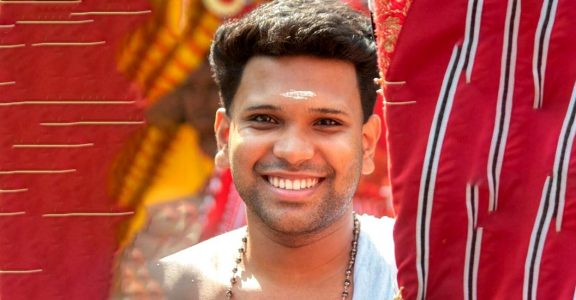 When an artist is performing Theyyam, his mindset is on another level and Vishal explains how. "Many people tell their tale of woes to Theyyams and the manifestations of God pacify them and shower blessings. When the same devotees return the next year with great happiness as their problems had been solved, it is a moment of satisfaction," say Pradeepan and Vishal.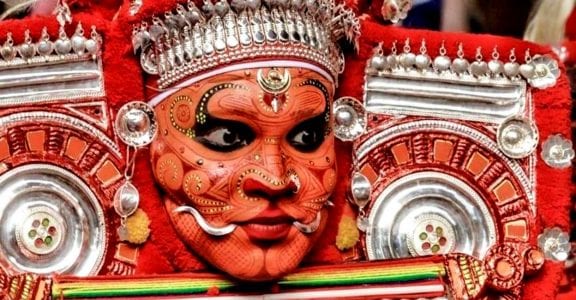 A person watching Theyyam for the first time won't be able to follow the act properly as different Theyyams have different stories to tell. Another interesting factor is that there are no dialogues in the whole act like other temple art forms. When a Theyyam enters the scene another will follow and later the first one will leave after blessing the devotees. The Theyyam season starts from mid-November in north Kerala and ends by mid-February. In some regions, Theyyam are performed till the months of April or May.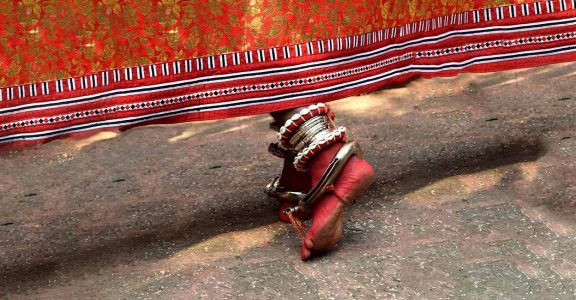 Pradeepan is of the view that youngsters should come forward to take up Theyyams and give much-needed rest to the veterans. He is proud of his son Vishal who followed the family's legacy without any compulsion. Vishal is also proud of his father and uncles who handheld him in the world of Theyyam. He believes that it is their right and calling, like all other Theyyam artists, to perform Theyyams. Undoubtedly, Theyyam is their lifeblood. When an artist is all geared up to perform Theyyam after paying obeisance, as per the rituals, to the gurus and Gods, that person's identity too changes. The Theyyam artists, including Pradeepan and Vishal, will vouch for the fact that they are guided by a divine force while performing Theyyams. Without an iota of doubt, Theyyams are manifestation of God for the devotees. But the viewers never think about the artists are confined in Theyyam forms for hours together. The artists while performing won't have food on time and don't take breaks to answer the call of nature and the devotees believe that who else but only Gods can perform like this. A group of people will always be present before the 'Pothi', 'Muchilottu Bhagavathy', 'Gulikan' and 'Pottan' to air their concerns. Finally, it is a ritualistic festival of Theyyams and human beings that span across day and night.