The much-revered and unique Arthanareeshwara Temple is situated at Veligondu in Arakkuparamba village of Prerinthalmanna taluk in Malappuram district. The temple's uniqueness lies in the fact that the sanctum sanctorum, the 'namaskara mandap' and the pathway for circumambulating the place of worship is in water.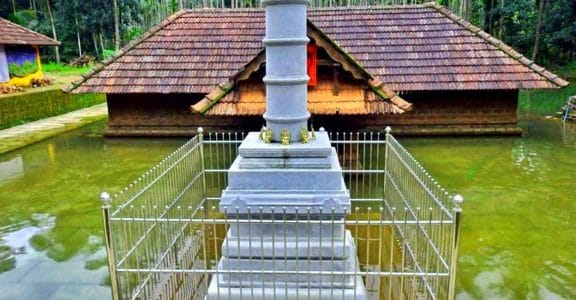 Legend has it that a 'yogi' once lived atop a hill in Veligondu where the temple is located. While meditating, the 'yogi' got the revelation of the presence of Lord Shiva and Parvathy taking a holy dip in the waters where the temple is currently situated. Later, devotees used to offer prayers at the spot where there was the presence of Lord Shiva and Parvathy under the belief of 'Arthanareeshwara', meaning half-male and half-female depicting Lord Shiva and Parvathy. The place where 'velipadu' (revelation) happened became known as 'Veligondu'.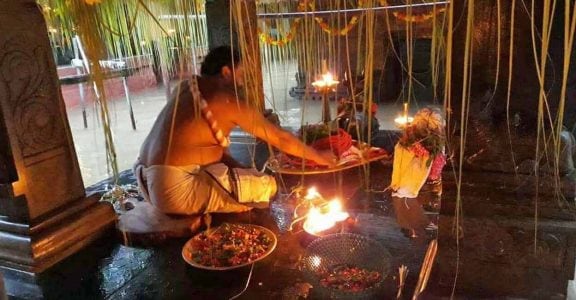 The idol of the main deity of the temple is believed to have emerged there own its own. It is very rare to find the idol of Arthanareeshwara always in water and it may be noted that two stones have gelled together as one to form the idol.
As the deity 'resides' in water, 'naivedyam' and other offerings are made on the south side of the temple. During the Shivratri festival, the water is drained out and 'abhishekam' of the idol is performed at midnight.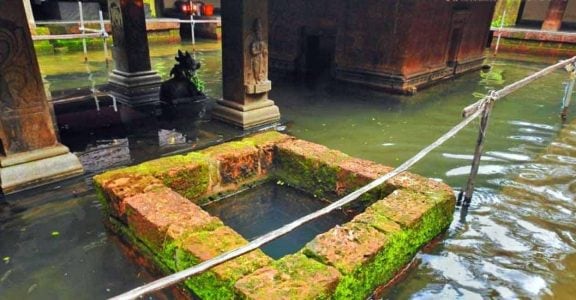 The temple's special days are Shivratri, festival conducted in connection with the consecration of the idol, the annual festival that starts on 'Makam' star on the Malayalam month of 'Dhanu' (December-January) and the 'Thiru arrattu' festival on the fifth day. As part of the festival in the month of 'Dhanu', a three-day 'kalampattu', a performing art involving 'kalam' (drawing) and singing, is conducted. On the 'Makam' star day, 1008 pots of water are used to perform 'abhishekam' on the deity. The Umamaheshwara pooja is conducted at the temple for those who are facing various hurdles in finding the perfect groom or bride.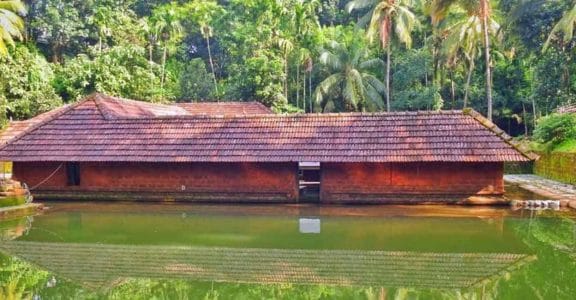 The temple is a treat for the eyes as the sanctum sanctorum, the 'namaskara mandap', the 'ashtadikpalakas' (the Gods of eight directions), the pathway for circumambulation and the 'sopanam' (the holy steps leading to the main deity) are in water. Moreover, this place of worship, which is situated in the backdrop of the Kodikuthimala, is surrounded by lush green paddy fields, and the devotees will be bowled over by the serene and tranquil atmosphere.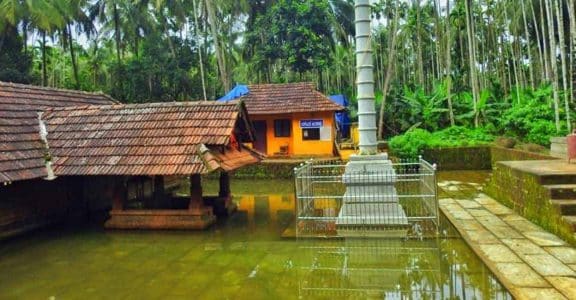 You can reach the temple after travelling 6km from the Karinkallathani bus stop on the Palakkad-Kozhikode national highway.