Thekkady is part of the bucket list of every traveller visiting Kerala. The destination becomes even more attractive during the summer as wildlife ventures into the lake seeking water. A boat ride, especially during early morning and evening, offers visitors more opportunities to observe wild animals.

Tourists can board the buses of the Forest Department after parking their own vehicles outside the national park and reach the boat landing. Apart from the boat ride, several other activities such as trekking in the forest are arranged for visitors at Thekkady by the Periyar Tiger Reserve authorities.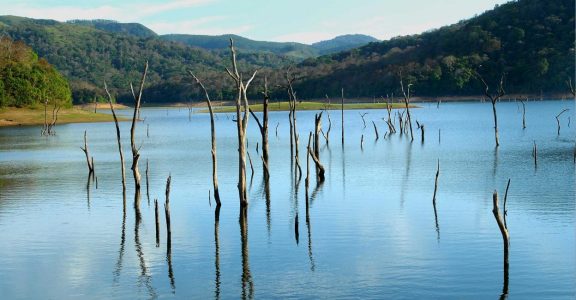 Boating hours
The park opens at 6 am every day and boating starts. The boating will take place till 5 pm, with the last trip beginning at 3.30 pm.
The other boating hours are, 7.30 am, 9.30 am, 11.15 am and 1.45 pm.
Other attractions
Thekkady attracts tourists around the year and they can cover a large number of spots within a day if the trip is planned properly. These attractions include Kurishumala – also known as Spring Valley mountain- located four km from Thekkady; Murikady, which has extensive plantations growing cardamom, coffee, pepper and other spices; the Elephant Camp on Anavachal Road and the ancient Mangaladevi Temple located 14 km from the Periyar Tiger Reserve.
Infinity pool on hilltop
A comfortable stay after visiting the attractions is a crucial part of a trip to Thekkady. Among the numerous accommodation facilities at the picturesque destination, Hills and Hues resort offers premium facilities at a vantage location on the hilltop and is a favourite among film stars. The resort's design resembles an ancient Greek monument on the top of a hill and the colour theme is white and blue. Amazing views of farmlands far below in the neighbouring state of Tamil Nadu are available from every part of the resort, including the infinity pool.
The path to the resort is a steep and narrow village road towards the hilltop. There is greenery everywhere as well as a gentle breeze among the trees. The hills demarcate the border between Kerala and Tamil Nadu. At the edge of a hill stands the infinity pool at the resort. A mist often surrounds the pool and, sometimes, the wind creates waves on the water surface. Guests can enjoy a dip even during a drizzle.
From the resort's balcony – which has been built around a tree in order to save it – one can watch the stars glittering in the sky at night. Moreover, one can observe sights of vehicles racing along the highway to towns such as Gudalur and Kambam far down the hill from the chairs on the balcony. At night, the bedrooms in the resort also offer great views of Tamil Nadu towns immersed in light.
The location of the resort is four km from Kumily town. Phone number is 906191000.