Mysuru is just a stone's throw away from Kerala and if you still do not have any plans to travel this could sound tempting to you. It is 'Dussehra' time in Mysuru and the best time to go visiting, if you love the crowds, that is.
Dasara Quick facts
'Dussehra' is the victory of good over evil. The festival is more than 400 years old. Many famous travelers have written about the festivities over the years. There is a festive air about the city. For the ten days during Navaratri, the Mysuru Palace will be decked up and illuminated during the nights.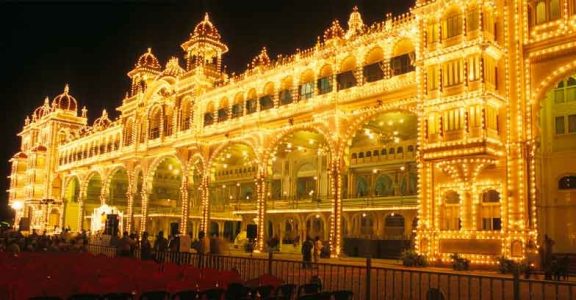 Packages for you
Book yourself on a tour of the city with the Karnataka State Road Transport Corporation's Palace on Wheels tour. The tour that begins at 10 am from Ambavilas Palace will take you to Jaganmohan Palace, Lalith Mahal Palace, Vasanth Mahal Palace, Karanji Mansion, Cheluvaraja Mansion, Jayalakshmi Vilas Mansion, Alok Palace and return to Ambavilas Palace at 6.30 in the evening. You have to shell out nearly Rs 1000 for the trip. Bookings on www.ksrtc.in.
If you miss this tour, worry not, the Karnataka Tourism Development Corporation has a tour which can be booked at www.karnatakaholidays.net
Golden Chariot
If you are in Bengaluru and have not explored Mysuru, this is an ideal trip to sign up for. A ride in the Golden Chariot is a two-day tour which covers all the important places in Mysuru and Srirangapattanam. Priced at Rs 30,000 inclusive of food and conveyance, it will take care of your wanderlust. www. goldenchariot.org
Around town
Flower shows, discount sales, food festivals - the city will be a hub of activity during this time. If you want a detailed plan, log on to www.mysoredasara.gov.in
Akash Ambari
During Navaratri, there will be two flights connecting Bengaluru to Mysuru. The flight will take off from HAL airport and put you in Mysuru in half an hour. This is for those people who do not want to drive out all the way.
Get yourself a gold card
A limited number of Gold Cards are issued every year to watch the Dussehra procession and other festivities. The card comes for Rs 7500 and will give two adults and a child entry to a special pavilion to watch the festivals, procession and also includes a jumbo ride.  

So, are you going?