The picturesque hill stations of Ooty and Coonor in Tamil Nadu are undoubtedly favourite getaways of Keralites. These tourist destinations are sought after by travellers as they are pocket friendly and can be accessed without much difficulty. Next time when you tour Ooty and Coonoor, make sure to include the serene Ketti Valley Viewpoint on your itinerary as it easy to travel to this beautiful place from these two hill stations.
Ketti Valley Viewpoint is 8km and 12.5km away from Ooty and Coonoor respectively and on the Ooty-Coonoor road in the Nilgiris district of Tamil Nadu. As the name suggests, Ketti Valley is the largest valley in the Nilgiris district and the travellers can savour the enchanting beauty of the valley and its surrounding areas.
Switzerland of South India
It is noteworthy that Ketti Valley is the second largest valley in India with human habitation. The majestic mountain ranges, the floating mist that looks like cotton rolls, the green expanse of meadows and the mystical charm of nature can easily emulate the natural appeal of Europe. The region is riddled with captivating waterfalls and boasts of a rich biodiversity. The valley is the focal point of many tribes including Toda and Badaga and the visitors can get a first-hand experience of their vegetable and fruit tree plantations. The valley is the perfect destination for family picnics and photo shoots.
Dazzling sunrise and sunset
The vistas of sunrise and sunset at the valley are enthralling, to say the least. During sunrise and sunset, the travellers can also walk through the lush green Emerald Tea Plantations. The tourists also flock to City Market from where you can buy gifts for your dear ones. The valley also has many fine-dining restaurants, cafes and shops.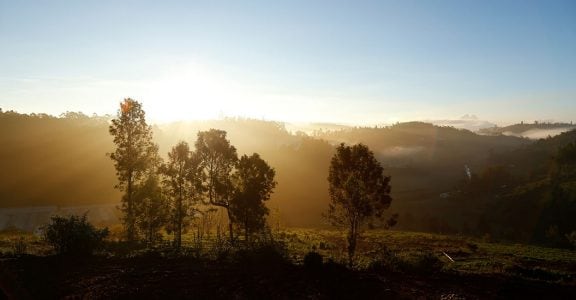 Nearby places of interest
India's largest rose garden, which houses more than 20,000 different plants and nearly 2,800 varieties of roses, is situated 9.7km from Ketti Valley. The Sims Park in Coonoor is a popular tourist spot for tourists and is just an 11km drive from the valley. The park has boating facilities and is ideal for photo shoots.
The famed Ooty Lake and the Thunder World theme park are 9km and 11km from the valley. The tourists coming to the valley can go on a trekking spree and indulge in adventure sports at the Doddabetta Peak and also visit the St. Stephen's Church, Ooty golf course, Pykara Lake, Stone House, Nilgiris mountain railway and Mariamman Temple.
How to reach
You can hail a taxi or a share cab to reach the valley from Coonoor. Coimbatore international airport is the nearest aerodrome and taxi services are available there.