Balram Menon boarded the school bus at 8.30 am, which dropped him off at the Hail Mary School at Mulanthuruthy in Ernakulam around one-half-a-half-hours later. That was years ago.
Little did Menon then know that the daily trip to and from school would be the beginning of a long journey that later took him across the world.
Menon got bitten by the travel bug during his daily journey to school. He has so far visited about 44 countries, taking in the varied sights, smells, and tastes of each place.
Each trip is a life lesson for Menon. But then, life is short and he knows he cannot experience the entire world, He is, however, satisfied with the slice — glimpses — of the world he has received.
Some of the travels had the excitement of a suspense thriller, Menon told Manorama Online while sharing his experiences in Bolivia, Brazil, Peru, Italy, France and other countries.
A life moulded by travels
Menon was apparently an introvert during his student days — too introvert that his class teacher made him contest the class leader election. The teacher felt it would change him.
The election result was shocking. Menon ended up with only one vote that, too, he had cast. The spectacular debacle shattered the boy, who even decided to drop out of school.
But Menon's father stood as a pillar of strength, and Menon returned to school with a realisation. He realised that he did not have friends due to his introvertedness. He made bold, firm steps to change himself, and started meeting people.
The once friendless Menon now has friends across the world. Active on social media, Menon believes his travels changed him, and his life.
Straying into a forest
Menon was in Class VIII when his family decided to hit the road for a trip to Kodaikanal via Munnar in their Maruti car. Google Map was totally unheard of then. En route they lost their way and the family couldn't find anyone to ask for directions.
Adding to the family's woes, their car broke down in a forest, leaving them at a loss. Fortunately, a vehicle ferrying cardamom came their way. They flagged down the vehicle. Those in the vehicle were surprised to see a family stranded and enquired about their presence in the forest. Apparently, the family was then told that the area they strayed into was part of Sathyamangalam forest, the home turf of the dreaded forest brigand Veerappan.
The vehicle transporting cardamom towed the Maruti to a human settlement, Menon recalled his childhood experience.
Grandma who quarreled to chase her passion
Menon hinted that his penchant for travelling was not new in the family. His grandmother used them occasionally. After a while, she would pick up a quarrel over trivial matters and leave for his uncle's place in Bombay (now Mumbai).
After spending a few days there, she would repeat the same and return. Initially, Menon did not understand why his grandmother used to leave citing minor issues. He later understood that she was interested in travelling, though the route — Kerala to Mumbai — was always the same. He realised that those trips made her happy, and she loved travelling. Menon admitted that his grandma's affinity towards travelling had influenced him.
Balram's travels
Menon has so far visited about 40 countries. The first foreign trip was to Kyrgyzstan. His travels continued — to Mongolia, Ecuador, Italy, France, Peru, Brazil and several other countries. He visited Ecuador in South America and Galapagos Archipelago, Charles Darwin's living laboratory, in 2019.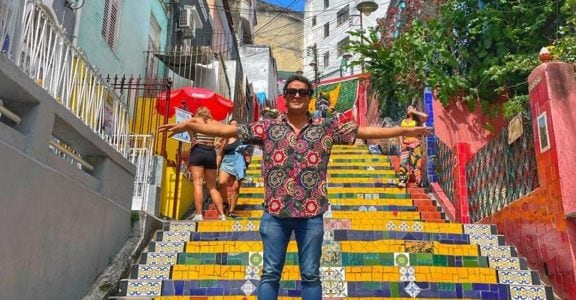 South America kept calling Menon after he had returned home. And it made him pack his bags and visit Brazil, Bolivia and Peru.
Rio Carnival 
Brazil's 'Rio carnival' is called the world's biggest carnival and it is held mostly in February. So, Menon decided to visit Brazil too to check it out.
The 2022 carnival was held in April after a COVID-enforced hiatus of two years, and the carnival this year too was extensive, said Menon, who attended the carnival from February 17 to 25. Menon soaked in the carnival experience during his stay.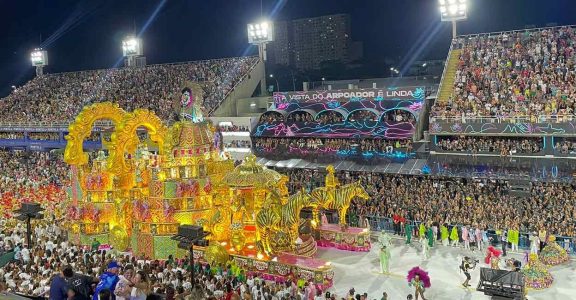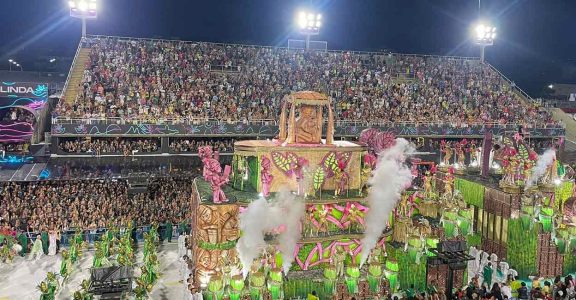 People making merry make one wonder if they are free of worries, said Menon. To be cheerful and make others happy is part of Brazilian culture. Menon said even Europeans are often surprised by the Brazilian way of life.
Samba party
Immediately after arriving in Brazil, Menon apparently also attended a samba party, where samba dancers and a variety of spread are the highlights. The Portuguese brought the carnival to Brazil and it is is a mix of music, dance, food and beverages.
A parade by samba dancers, donning different costumes, is the important part of the carnival. Menon said the samba dance and the accompanying music were a mesmerising experience. He said, the celebrations that begin in November lasts till the first week of March. People normally stay away from work during this period, but indulge in partying.
The initial samba parades could be watched free of cost. Six teams will be short-listed for the final, gala parade. A ticket for a seat in the gallery cost $180. The fare could go up to $1,250. Besides the official parade, Rio also witnesses several smaller samba parades.
Though Brasilia is the country's capital, Rio de Janeiro and Sao Paulo are the bigger cities. Rio de Janeiro hosts the carnival, and samba dancers from different parts of the country attend the carnival.
Sugar Loaf and Christ the Redeemer
Sugar Loaf mountain range is a popular tourist destination in Brazil. A trip to Sugar Loaf, situated 394 metres above the sea level, is expensive, but it provides a thrilling experience. Menon decided to visit Sugar Loaf and boarded a cable car.
The view from Sugar Loaf is breathtaking. The beauty of the entire Rio de Janeiro could be viewed, besides Brazil's most popular beaches, Copacabana and Ipenama. Islands dotting the deep sea, too, could be viewed.
Christ the Redeemer, a colossal statue of Jesus atop Mount Corcovado in Rio de Janeiro, is one among the seven wonders of the world. The statue, standing tall at 30 metres, has a lighting conductor. A visit to Christ the Redeemer is a must for travellers visiting Rio de Janeiro.
The Selaron Stairs have a tale to tell. The stairs are the work of Chilean artist Jorge Selaron, who said it was "tribute to the people of Brazil ''. Selaron, himself a globe-trotter, fell in love with Rio de Janeiro, and settled down in a residence near the stairs.
It has been said that the artist renovated the 215 stairs with more than 2.000 floor tiles collected from different countries. He included the Brazilian flag, its colours and different scripts to beautify the stairs. While working on the stairs.
Selaron reportedly said that the work would be completed only on the day he dies. His words came true. He died on the stairs. The stairs have been considered as Selaron's masterpiece.
The dark underbelly
Brazil is synonymous with football. The colours of the local football club are presented to a newborn — like gifting clothes in Kerala. The Brazilians' craze for football is without parallels. Most cities, including Rio, are well-planned. Brazil has modern stadia and other sporting facilities since it hosted the FIFA World Cup and the Olympics.
However, Brazil has a dark underbelly as well. Favelas — slums or shanty towns — are a separate world ruled by drug mafia and criminals. Police permission is required to visit a favela. Menon said even Brazilians are hesitant to visit the favelas. The thickly-populated favela in Ria de Janeiro cling to a steep hillside on the city's outskirts. Drug users lying stoned on the roads are a familiar sight here. According to reports, 1,000 mobile phones are stolen daily in Rio alone. Reports of abduction of tourists, too, are not rare. However, crime against women is less here. Additionally, Brazil ensures equal pay for male and female sports-persons.
A 'flavourful' tour
Brazil is the biggest country in South America. It is a pluralistic society comprising the indigenous people, the Portuguese and the slaves they brought, and settlers. This diverse population contributed to the country's rich cuisine. Menon took a food tour for a culinary experience.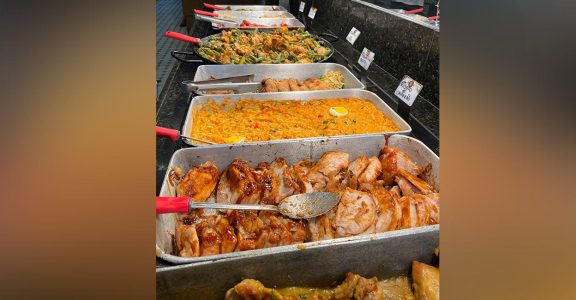 Brazilians consume a lot of fruit. Jackfruit and tapioca (cassava) are widely available. Brazil has several tapioca-based dishes. Pork and beef are essentials on the Brazilian menu. Their main dish is feijoada, a stew made of beans and pork.
Frozen sorbet, made from acai berries found in the rainforests, is their favourite drink. Menon enjoyed different dishes during the tour. Fruits and fruit juice were part of each meal, he said.
The Bolivian dream
Menon went to Sao Paulo from Rio de Janeiro. His plan was to proceed to Bolivia from Sao Paula, and he made the necessary arrangements for the trip. However, unexpected circumstances took him to Peru. He decided not to let the Bolivian trip remain a dream. Read about what he did next in the second part.