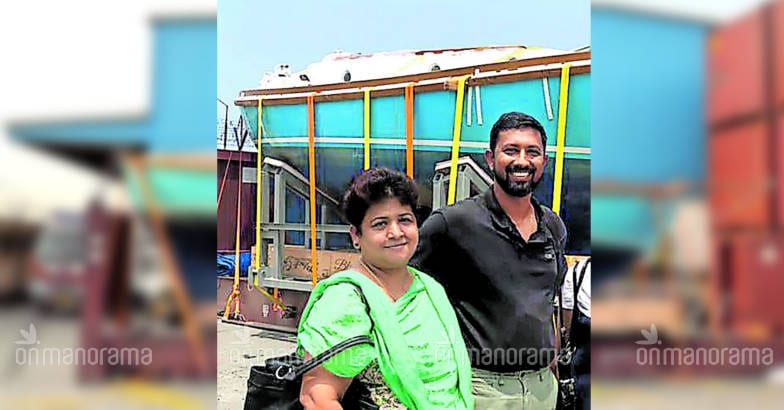 Kochi: Commander Abhilash Tomy, the first Indian to circumnavigate the globe in a solo nonstop voyage in a sailing boat, is all set to wear his adventurous hat for a second time. Abhilash will represent India in the prestigious Golden Globe race which will begin on July 1, 2018 from France. The Golden Globe race is conducted to commemorate the 50th year of Sir Robin Knox–Johnston's historic solo circumnavigation which he undertook in 1968.
In 2013, Abhilash Tomy, hailing from Kandanadu in Kochi, set sail in the iconic INSV Mhadei from the Gate Way of India and returned to same place, 151 days later, where the President of India was waiting to receive him. He undertook the adventurous ocean challenge as part of the Indian Navy's ambitious project 'Sagar Parikarma 2'.
Abhilash will take on the seas for the Golden Globes race in Thuriya, which was made in Goa. Thuriya will be shipped off from Kochi in a freighter ship called 'Al Manama' on 30th March and will reach Rotterdam within a month. Thuriya was shifted from the boat yard at Vallarpadam to the harbour on Tuesday as part of the shipping procedures.
This is for the first time that India will be participating in the Golden Globe race. The race requires the participants to use the same equipment and navigation technology that was used by Sir Robin in 1968. Participants from 19 different countries will take part in this adventurous race. In the race where modern technologies like satellite phones or GPS system cannot be used, the navigator should rely only on maps, compass and determine his direction by reading the position of the stars.
Abhilash Tomy said that the wooden frames of 32-foot-long Thuriya is made with high quality wood from Kerala. The sail boat will then undergo minor repairs at Rotterdam before setting sail to France via England through the ocean. Meanwhile, Abhilash's mother Valsa Tomy reached Vallarpadam on Tuesday to see Thuriya.