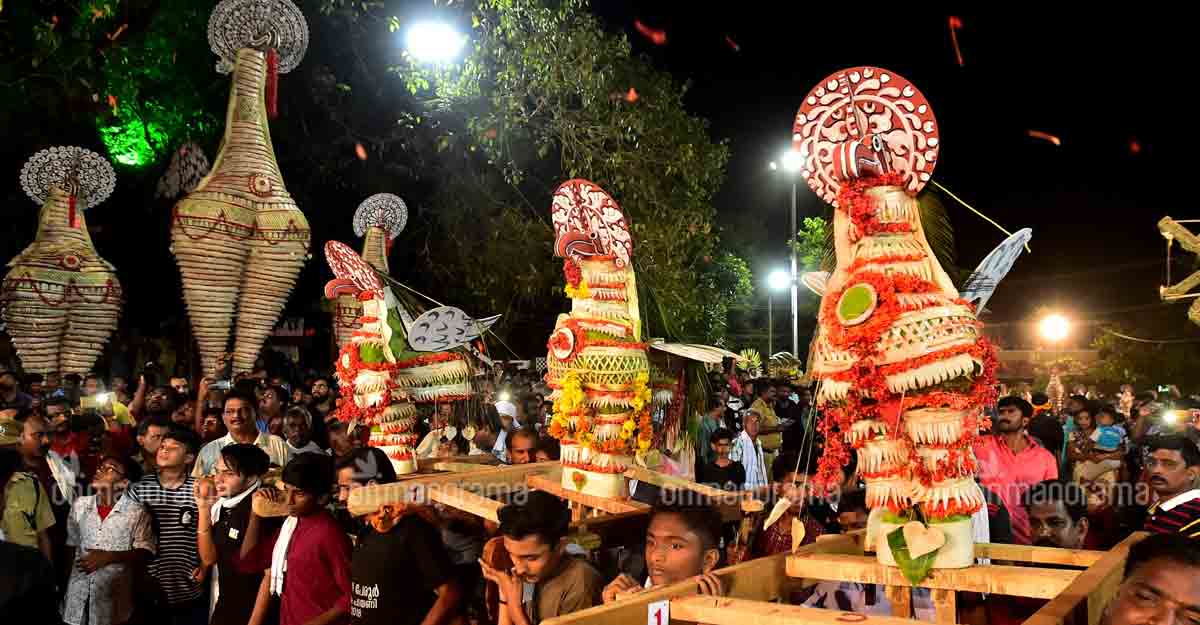 Changanassery: The final stage of the annual Padayani festival held at the famed Palli Bhagavathy Temple at Neelamperoor in Kerala's Alappuzha district has begun.
The grand finale, which extends up to four days, would end on September 27, putting the curtains on the 16-day Padayani celebrations.
The Padayani is a symbolic victory march of goddess Kali after vanquishing a mythological figure Darika, known for his fierce temper.
Natural products are used to create a spectacular display of effigies and swans at the Neelamperoor Padayani, which attracts scores of people from across the state.
The arrival of the mythological figures Bhim and Hanuman, made using jackfruit leaves, marked the end of the third phase on Monday. Legends link Bhim's quest for Kalyanasougandhikam to Padayani.
The Kudampooja and Thottakali were also held during this stage.
The main highlight of the Padayani, Kodikoora, reached the temple grounds on Tuesday night. Kodikoora is made using the banana plant. Kavalpizhachu would reach the Padayani grounds on Wednesday.
Unlike the last two years, the Padayani has been extended up to 16 days this year due to the change in the astronomical position of the stars. During the Padayani of the last two years, Kodikoora and Kavalpizhachu arrived on the same day. However, this time around, they are arriving on two consecutive days.
How to reach the temple
Neelamperoor can be accessed from Thuruthi Punnamood Junction and Outpost Junction on the Kottayam-Changanassery MC Road. It's three kilometres through Kavalam Road from Outpost. From Punnamood, one has to take a turn to the right from Essar Pump on Valadi Road.
After the turn, it's three kilometres on the road to Eera. Those who come from Alappuzha can also proceed via Punnamood.