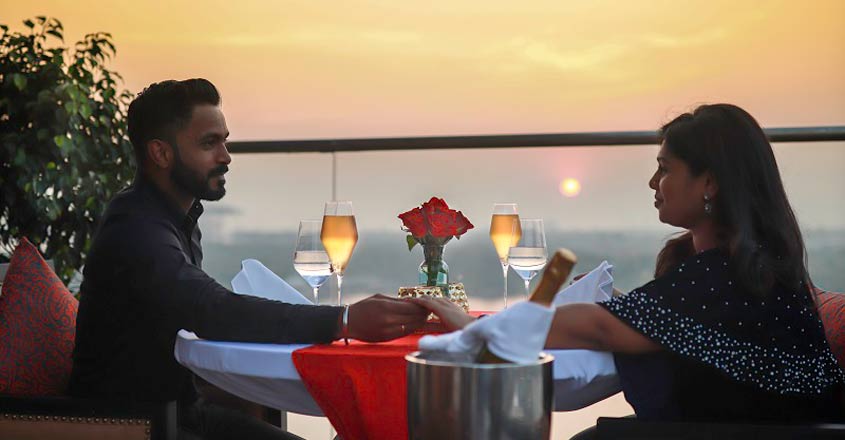 The Grand Hyatt Hotel in Bolgatty, Kochi is gearing up to celebrate Valentine's Day in style. From couple spa therapy to romantic dinner, the premium hotel brand has an array of interesting activities on the list to lure couples who wish spend a calm and romantic day.

The poolside near the Thai Soul restaurant would be decked up in the romantic mood of Valentine's Day. The couples can enjoy an extremely romantic dinner date at the Poolside Cabana as well. The hotel's celebrations would be held in the comfortable ambience of Colony Clubhouse and Grill, which is the European-themed restaurant of the hotel. You could even try some authentic Malabari dishes at the Malabar Cafe while enjoying the beauty of Vembanad Lake.
Couple therapy is arranged at the Santata Spa throughout February as part of the extended Valentine's Day celebrations. The poolside buffet dinner at the Thai Soul restaurant will be open from 7 pm to 11 pm and it costs RS 4229 per head. Meanwhile, the buffet dinner at poolside private cabana will be available at Rs 11,999.
You can enjoy the romantic poolside dinner at the Cabana from 8 pm to 11 pm. The dinner at the Colony Clubhouse and Grill is for Rs 5999 and would be served from 7 pm to 11 pm. The authentic Malabari spread at the Malabar Cafe Rs 1999 and is available from 7 pm to 10.30 pm. The couple spa at Shanthata costs Rs 15000 per session. For more information and reservations call – 0484 2661234 / 2661831.