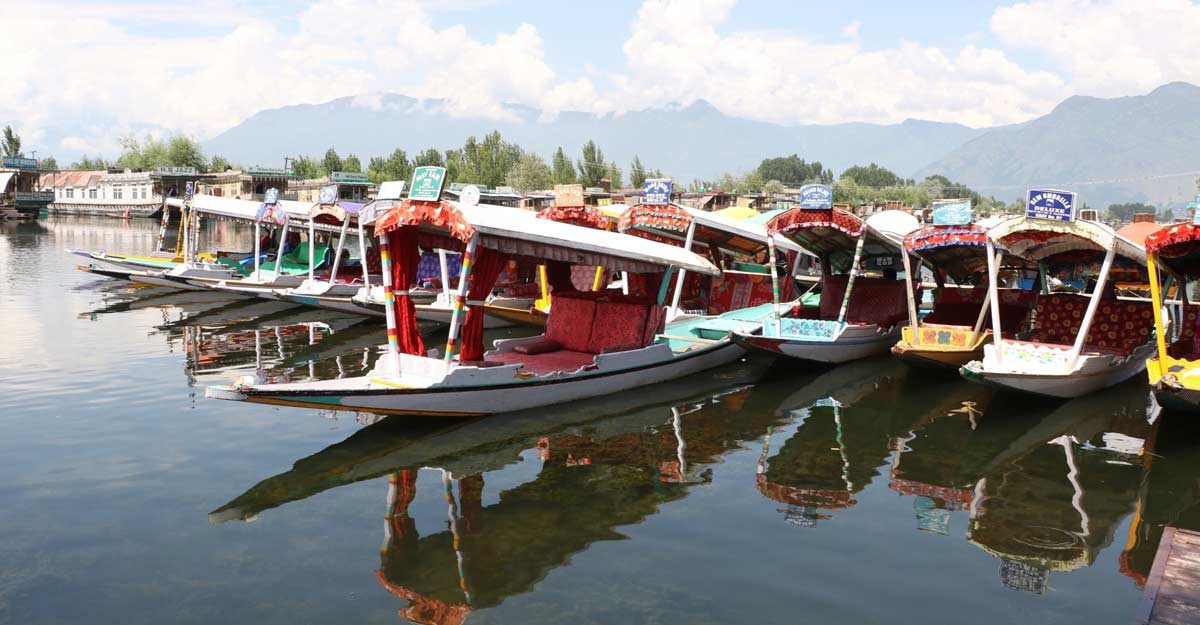 Srinagar: Ali Mohamamd, 65, a shikarawallah on the Dal Lake is down but not out. He has been rowing boats on the lake since his childhood but never saw a situation this bad in his life. Every day he goes to the lake with his boat in the hope of finding some work but returns home in the evening empty-handed without finding a single customer.
As the coronavirus lockdown completes three months, life on the picturesque Dal Lake in Kashmir has come to a standstill. Shikaras are empty and parked along the edges of the lake. For hours, people, mostly young boys, spend time on the lake embankments catching fish, as shikarawallahs watch hopelessly from their boats.
This is a very quiet lake much unlike the buzz and roar it threw up in happier times when it was choc o block with tourists.
In the months leading to the abrogation of Article 370 on August 5 last year the Dal Lake was bustling with visitors going for boat rides in large numbers. But two lockdowns in less than a year crippled the lake economy causing major suffering to its inhabitants. Houseboats and hotels are vacant. There are no tourists and there is no business. But despite the monumental economic losses people living in the Dal Lake are sensitive to the dangers of coronavirus. Dealing with the pandemic is their topmost priority.
The lockdown in the wake of coronavirus was enforced in Srinagar in March a week before it came into force in the rest of the country. Ali Mohammad remained confined to his house for more than two months. But as his savings started drying up he ventured out in the hope of earning a living. He is strictly abiding by the government guidelines and protocols which include wearing masks and keeping hand sanitisers ready in his boat. For him and other boatmen on the lake social distancing has been the norm. Sitting in his boat all day Ali Mohammad remembers the good times, a life before the pandemic, when business was thriving and hope floated.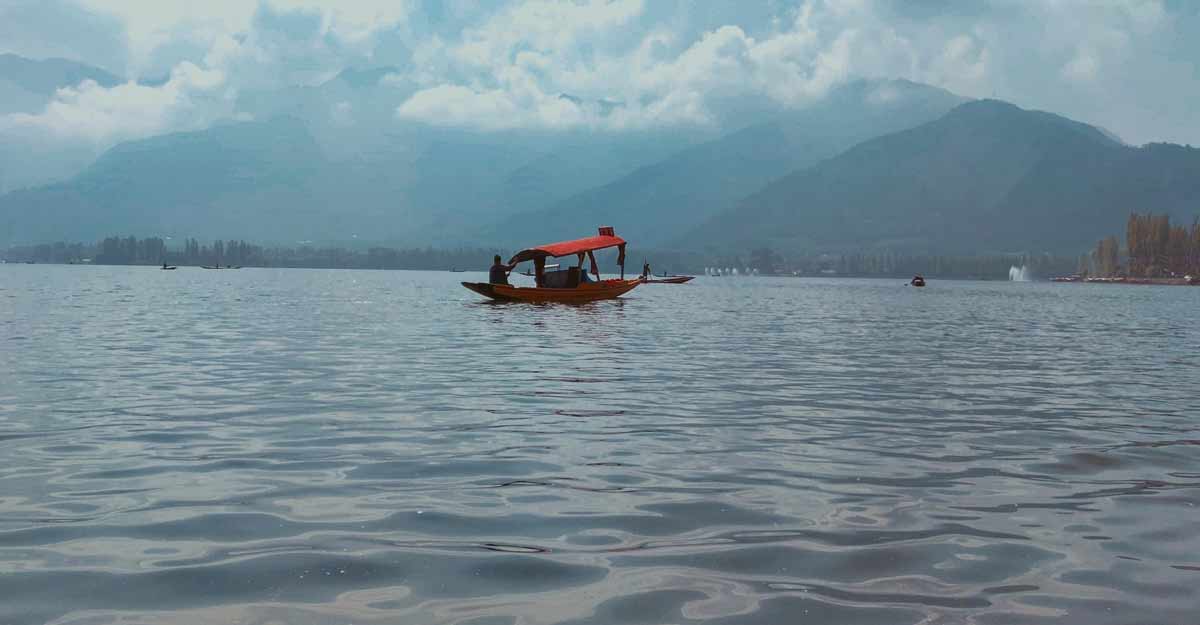 "Earlier I earned a thousand rupees on any given day, today I don't earn a single rupee, we don't know when this phase of lockdown and restrictions will end and life will return to normal in Kashmir, but the priority right now is to deal with the pandemic," he says. "I am in my sixties and more vulnerable to the disease, so initially I decided to stay back in my home when corona pandemic erupted, that was the best thing to do, but life eventually has to move on, so I came out of my home after 64 days to look for work."
There have been 6,549 coronavirus positive cases in J&K till June 25 and 90 deaths. Out of the 90 deaths, 79 are in Kashmir.
"I have been strictly following the social distancing protocols. I have also asked all my family members to move out of home only when it is very important to do that, we cannot afford to take the coronavirus pandemic lightly," he says.
Dal lake dwellers are often accused of encroachment and ruining the lake's beauty and health in the absence of proper lake conservation plans.
The lake is home to around 50,000 families. The families residing inside Dal lake are accused of resisting government's relocation plan and preferred to live in makeshift houses with poor infrastructure than shift their base as it would directly affect their livelihood.
With literally no tourists on the lake currently, the Dal dwellers are not missing to abide by all the COVID-19 protocols. Shikarawallahs like Riyaz Ahmad are ensuring that when it comes to preventing the spread of the pandemic people like him take the lead.
"Stopping the spread of the pandemic is on top of our minds. We have seen crisis of a different kind in the past and emerged out of it, we will come out victorious this time around as well," Riyaz Ahmad said. "Whether it is at home or on the boat, keeping coronavirus away is something that always occupies our mind, we are not really looking at profit these days, if just want to see through this pandemic," he said.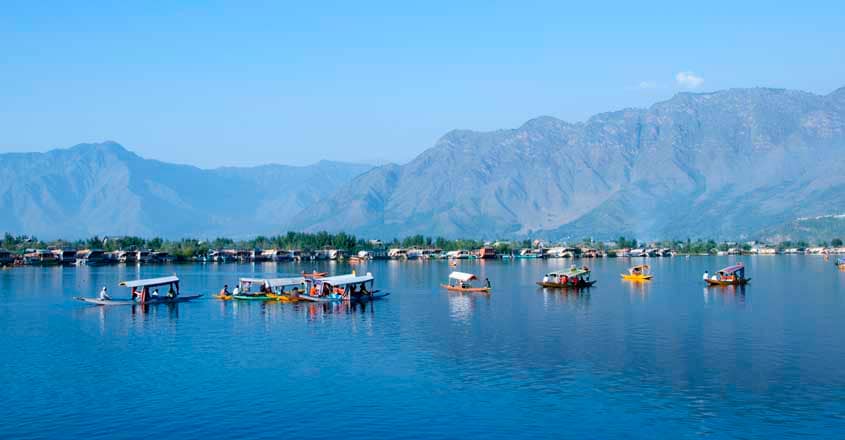 Kashmir is witnessing a second lockdown in less than a year leading to major economic losses. The valley remained closed for months altogether after the abrogation of Article 370 on August 5 last year. A harsh winter further curtailed the activities and now a corona lockdown for three months has only made things worse.
"We are not sure what happens next, when will people start to come out of their homes, is there a possibility that that we will earn, we can't say anything," Ali Mohammad says as he begins to turn his boat in the interiors of the Dal lake towards his home.
"But what we know is prevention is better than cure, we have to take coronavirus head on. No crowds and social distancing that must be the mantra," he said.
Ali Mohammad's boat moves slowly fading out in the vast expanse of the Dal lake as the sun is about to set.